In this Careerist vs Course Careers comparison article, I will tell you everything you need to know about these platforms so you can make a choice today.
Let's dive in.
Note: To get a 45% discount or more on any of Careerist courses, use this link to enroll today. Or, use this link to get a $50 discount on any of Course Careers programs today.
Careerist vs Course Careers Overview
Careerist Overview
Ever wondered what Careerist is all about? Well, it's a nifty career-boosting program based in the United States.
They offer online courses in various tech-related fields like Manual QA, QA Automation, Tech Sales, UX Design, Data Analytics, Systems Engineering, etc.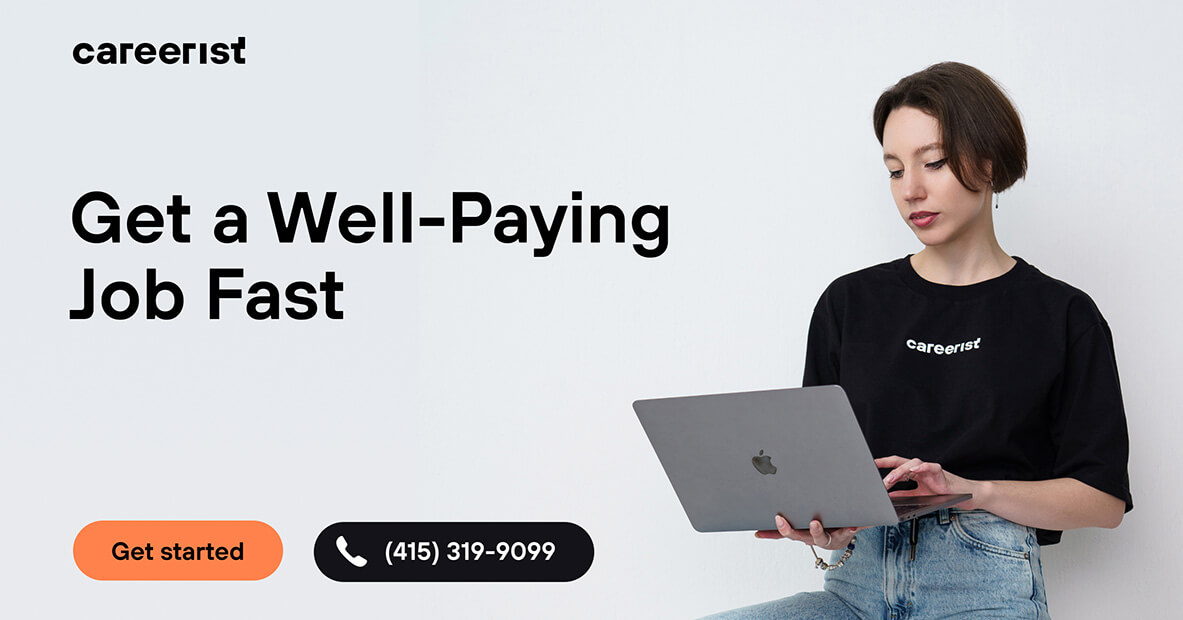 Careerist is all about helping folks acquire the skills they need to snag a tech job. They're really committed to making sure tech education is within reach for everyone.
Plus, they want to open up new career avenues for folks who dream of diving into the tech world.
What's even more impressive is that over 1,000 companies across 40 states have hired graduates of Careerist. And get this, 57% of those grads are rocking the remote work scene!
But how do they do it? Careerist has some awesome training programs. They've got live classes, internships, career coaching, and mentorship in the mix.
And guess what? Those live lessons are recorded, so you can go back and review them whenever it suits your schedule.
Careerist's main goal? To help people like you reach for the stars in your career and land those high-paying, inspiring tech jobs.
They've got your back with services like Job Application Support, personalized 1-on-1 assistance, and mentoring.
They'll teach you the ropes on how to ace the job hunt, nail those interview questions, and seriously up your chances of landing that dream job.
And here's the kicker: Careerist is so dead-set on their student's success that they offer a full-on money-back guarantee.
If you don't land a tech job within one year of graduating from their boot camp, they'll give you your money back, no questions asked.
<< Click Here to a Get a 45% Discount on Careerist Courses <<
Course Careers Overview
CourseCareers is your go-to online platform for learning in the modern world. They offer many tech-related courses that won't break the bank, and you can go through them at your own pace.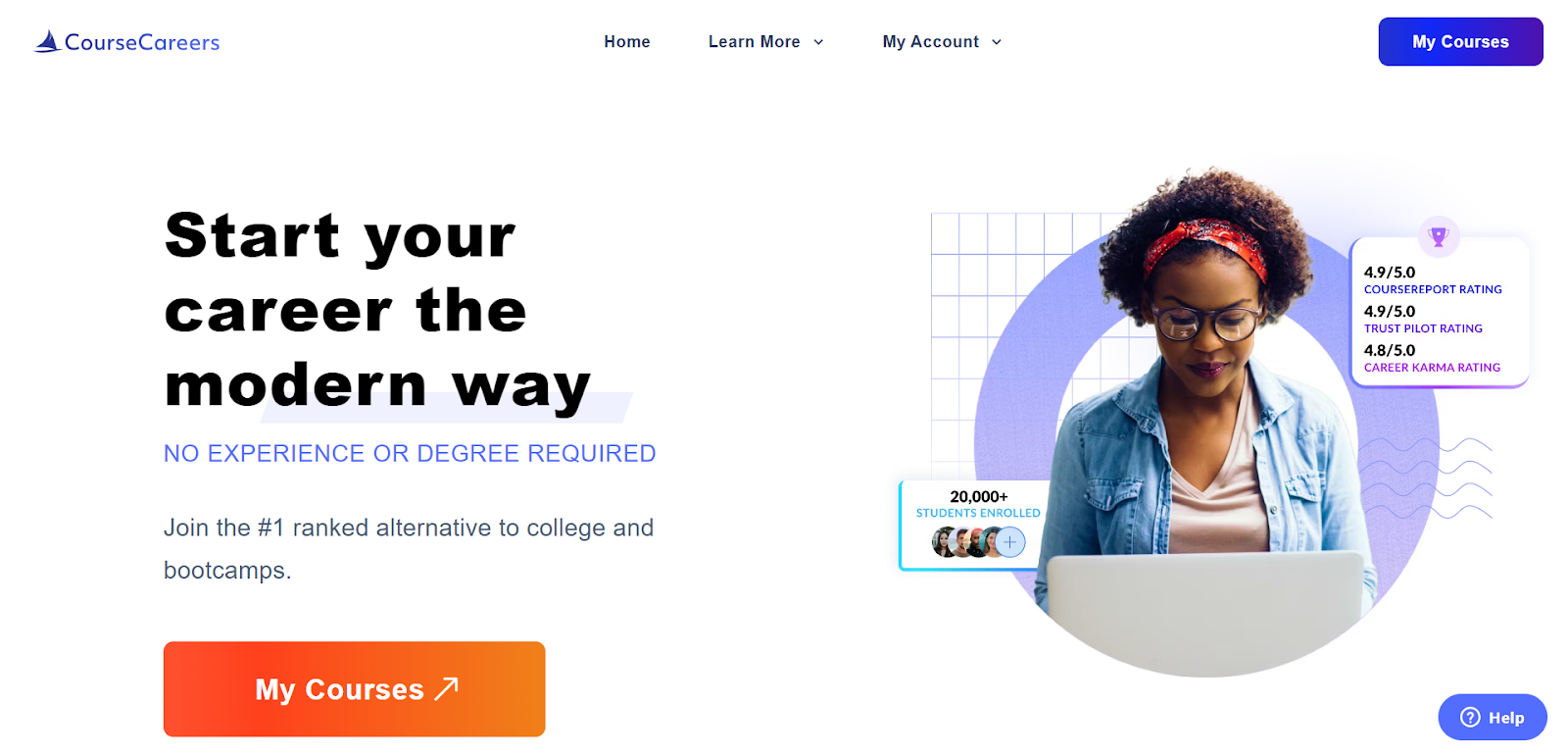 Here's how it works: You kick things off by diving into a free intro course. It's like a sneak peek that helps you figure out which career path suits you best.
Once you've got that sorted, you can sign up for the specific course that tickles your fancy, and yes, that one's gonna cost you.
Now, the beauty of CourseCareers is that you're in the driver's seat when it comes to how fast you complete your course. It could take you a few weeks, or you might stretch it out over a few months.
It all depends on how much time you can dedicate to it.
But what's the real magic here? CourseCareers spills the beans on how to score an entry-level job or an internship.
They give you the inside scoop on how to apply to companies, what to watch out for when crafting your resumes and applications, and even how to get ready for those nerve-wracking interviews.
So, you're not just learning stuff, you're learning the stuff that'll actually land you a job!
And here's the kicker: You don't need fancy degrees or experience to get in on the action. CourseCareers is all about being inclusive, so everyone gets a shot.
They're also matchmakers with companies that are itching to hire folks like you for entry-level gigs and internships.
And the best part is that those companies that partner with Course Careers are willing to drop their degree-requirement standards. This means that as long as you are a graduate of Course Careers, they can hire you without asking for your degree.
<< Click Here to Get a $50 Discount on Course Careers Programs <<
Careerist vs Course Careers: Programs Overview
Both Careerist and Course Careers are fantastic platforms for those looking to kickstart a high-paying career, but they cater to different industries.
Course Careers also stands out by offering a wider array of programs than Careerist. So, let's dive deeper into the programs offered by both of these platforms:
Careerist Programs
At the moment, Careerist offers 4 courses, and they are:
1. Manual QA
With this course, you'll become a Quality Assurance specialist. You'll ensure that tech products work seamlessly and bug-free. After completing the program, you could land roles like a QA Tester or Analyst.
The salaries in this field are pretty decent, and there's a consistent demand for QA professionals across various industries.
2. QA Automation
This course is your ticket to the world of automated testing. You'll learn how to streamline the testing process and increase efficiency.
Upon completing this course, you can expect to become an Automation Tester or QA Engineer, and rest assured, the salaries in this niche are quite attractive.
3. Sales Engineering
For those interested in tech sales, this training provides the knowledge and skills you need to excel.
After graduation, you could work as a Sales Engineer, and trust me, the pay in tech sales can be quite appealing. Also, job opportunities are abundant, given the ongoing need for tech products and services.
4. UX/UI Design
If you're passionate about making apps and websites user-friendly, this course is right up your alley. It will teach you the ropes of User Experience and User Interface Design.
Afterward, you'll be all set to become a UX/UI Designer. Salaries in this field are pretty good, and job options are aplenty, as companies continue to prioritize user-friendly interfaces.
<< Click Here to a Get a 45% Discount on Careerist Courses <<
Course Careers Programs
At the moment, Course Careers offers 10 courses, and they are:
1. Technology Sales
This training opens doors to a career in tech sales. You'll master the art of selling tech products and services.
After the course, you'll be equipped for roles like Sales Specialist or Account Executive.
Salaries in tech sales can be impressive, and job opportunities are vast, considering the ever-growing tech industry.
2. Information Technology
IT is the backbone of today's technology-driven world. With this program, you'll learn the foundational knowledge needed to succeed in IT support, networking, or even cybersecurity.
Graduates of this course often find roles like IT Support Specialist or Network Administrator. Salaries in IT are competitive, and the industry constantly seeks skilled professionals.
3. UI/UX
You can dive into the creative side of tech with this training. You'll learn how to craft seamless user experiences and visually appealing interfaces for apps and websites.
Also, job prospects are solid, and the pay for UI/UX Designers is quite attractive, given the critical role they play in product development.
4. Customer Success
If you enjoy helping clients succeed and providing exceptional support, this course is perfect for you.
It prepares you for roles like Customer Success Manager, where you'll be the go-to person for ensuring customer satisfaction.
Salaries for customer success managers are reasonable, and you can find opportunities in various industries, as every company values satisfied customers.
5. Human Resources
HR is the heart of any organisation, responsible for hiring, managing, and developing employees.
Completing this program can get you qualified for roles like HR Coordinator or Talent Acquisition Specialist.
Also, salaries are competitive, and HR professionals are always in demand as businesses continue to grow and evolve.
6. Software Development Fundamentals
This course lays the foundation for a career in software development. You'll learn the basics of coding and programming.
Graduates of this program often find entry-level roles like Junior Developer. Salaries are promising, and the tech world is always in need of skilled developers to create and maintain software.
7. Frontend Software Development
If you're eager to dive deeper into coding and focus on the front end of websites and applications, this course is your gateway.
You'll become a Frontend Developer and work on the visible parts of websites and apps that users interact with.
Salaries in this field can be quite attractive, and job opportunities are ample, as businesses continually enhance their digital presence.
8. Back-End Software Development
This training delves into the backend of websites and applications, focusing on server-side development.
After completing it, you'll be well-prepared for roles as a Backend Developer.
Salaries in this niche are competitive, as businesses rely on backend developers to maintain and optimize their systems.
9. Software DevOps
DevOps is all about streamlining and automating software development and IT operations.
After taking this course and becoming a graduate, you can find roles like DevOps Engineer or Release Manager.
Also, job opportunities are available, and salaries in this field are decent, given the importance of efficient development processes in the tech industry.
10. Data Analytics
In the age of big data, the demand for data experts is on the rise. This CourseCareers Data Analytics course equips you with the skills to analyze and interpret data.
Afterward, you could work as a Data Analyst, where salaries are good, and job opportunities continue to expand as companies rely on data-driven insights for decision-making.
So, whether you're leaning toward Careerist or Course Careers, your choice ultimately depends on your interests and career goals.
Both platforms offer valuable programs that can pave the way to a successful and well-paying career in various industries.
<< Click Here to Get a $50 Discount on Course Careers Programs <<
Careerist vs Course Careers Cost
Careerist courses cost from $6,500 to $11,500. However, you can get a 45% discount or more if you use this link to enroll in Careerist today.
On the other hand, Course Careers cost from $0 to $499. You can get a $50 discount on any of their courses if you use this link today.
Careerist vs Course Careers: Which One?
Both Careerist and Course Careers are good and have hundreds of success stories. It's simply not that easy to pick among the two.
However, for a few reasons, I will pick Course Careers over Careerist.
1. Variety of Course Options
Course Careers offers a more extensive range of programs compared to Careerist. This diversity provides learners with a broader selection of fields to explore and potentially find the perfect fit for their interests and career aspirations.
So instead of getting limited to just 4 courses on Careerist, you can have options of up to 10 programs on Course Careers.
The truth is you want to keep your options as wide as possible. I mean, why stick to 4 options when you have 10?
2. Budget-Friendly
Even though Course Careers offers more course options than Careerist, their courses are also cheaper.
Course Careers programs are about 10X cheaper than Careerist courses, making them budget-friendly for people will a small investment.
This means you can get the best possible education with no experience and get a high-paying job with just a small investment.
3. Introductory Courses
Another reason I will pick Course Careers over Careerist is because the former offers free introductory courses for all of their main courses.
This means you can get to know exactly what to expect with the actual course just by going through the free courses.
The reason why this is important is that as a newbie in the tech space, you might find it hard to know which field is the best for you.
So, for example, instead of buying the UI/UX design course only to discover that it's not a perfect fit for you, you can just take the free course instead.
The free introductory course will tell you everything you need to know about UI/UX as a profession and help you decide if it's the perfect choice for you.
4. Free Weekly Coaching
Unlike Careerist which offers an occasional 1:1 coaching, all of Course Career's courses include free weekly group coaching sessions where you can ask questions and get help with coursework from leading industry experts.
These Career coaches help you go from graduate to hired by providing you with valuable insights and the latest industry standards.
The reason I personally prefer the weekly group coaching sessions over an occasional 1:1 approach is that it keeps you up-to-date with the latest information, which might not be in the course.
And even if you don't have any questions to ask, you can learn a lot from other people's questions.
Read more: Course Careers Review
Conclusion
In conclusion of this Careerist vs Course Careers comparison, I will say that both platforms are worth it. They actually prepare you for a high-paying job.
However, if you are looking for only one option to pick, then I recommend Course Careers.
You can use this link to get a $50 discount off any Course Careers training of your choice.