Summary: S30 interview prep is a great course for acing your interviews but it doesn't cover enough ground, which is why I recommend Tech Interview Pro, a proven program offering hundreds of coding walk-throughs that also prepare you for every aspect of your interview.
Are you looking for an in-depth S30 Interview Prep review?
You are in luck!
I have spent the past couple of hours researching this course to help you make a profound decision on whether it's worth it or not.
This article will cover:
S30 classes review
S30 fees
How to get started
The best S30 Interview Prep alternative and more
Let's get started!
What is S30 Interview Prep Course?
S30 is a technical interview prep course aimed at helping SWEs land jobs at big tech companies. The course will equip students with techniques, tools, and resources to ace their interviews.
The training is delivered in daily tasks, mock interviews, live classes, and more, and it takes around four months to complete a session.
Advantages of S30 Interview Prep Course
In this section of this S30 interview prep review, I will expand on the benefits and the training pattern of S30.
1. Daily Assignments
As a member of the S30 community, you will be given daily assignments to solve algorithm and data structure problems. These tasks aim to prepare you for similar questions you might encounter during your technical interview.
Once you complete your assignments, you will receive feedback from the instructors to know how well you perform and what to improve.
2. Private Slack Channel
You will be added to the S30 Slack channel once you sign up for the program. This channel is divided into several categories.
In the resume-channel, you can get your resume and LinkedIn profile reviewed. You will receive great insights and recommendations on how to tactically structure your resume to entice recruiters and hiring managers.
The cohort-channel is where every discussion about your batches, classes, and assignments will occur. In case you don't know, when signing up for S3o, you will need to select a cohort that fits your goal. More on that later.
In the general-channel, you can discuss anything about interviews, coding, or anything confusing you. The channel doesn't have strict rules like others.
3. Live Classes
From Monday to Friday, there will be up to 2 hours of live lectures that every student must attend. The lessons cover different topics, and all attendees must keep their webcams on.
Should in case you miss the live lessons, there are always the recorded versions that you can access from your dashboard.
4. Mock Interviews
What is a tech interview course without mock interviews?
Every week, students of S30 interview prep will have to face mock interviews to prepare them for their actual tech interviews. After the interview, they will receive feedback from their instructors on what to improve.
There are about 15 mock interviews for every student.
5. Job Posting Portals
On the S30 dashboard, students can access a job portal that shows current intern/new graduate openings by clicking on Job Openings. This is a big plus for students looking for jobs.
How Much Does S30 Interview Prep Cost?
S30 interview prep offers different prices depending on what you want to achieve and your current status. Your S30 fee will depend on the cohort you select.
Here is the detailed breakdown of the cost of registration:
Algorithms Cohort – US MS Students and Working Professionals: $799
Algorithms Cohort – US Undergrad and 1st semester/incoming MS and Canada students: $699
Algorithms Cohort – For working professionals in India: $599 + 18% GST
Algorithms Cohort – For B.Tech students in India: $399 + 18% GST
System Design Cohort: $299
Mock Interviews Only: $160
You can pick the one that best aligns with your goal.
S30 Interview Prep Review: The Drawbacks I Discovered
There's no doubt that S30 is a great interview prep course, but does it tick all the boxes?
I fear NO!
I found some downsides to S30 coding interview training that need to be looked into.
1. No Lifetime Access (not self-paced, not evergreen)
I already mentioned that all the live lessons from S30 interview prep will be recorded, and you can have access to them forever
But even with the high registration fee, you can't rejoin the program once you complete your four months (your course session).
Simply put, it's not a self-paced course. You must complete it during the stipulated time. I believe most students love to be able to take a course when they are 100% free instead of rushing it just to meet up with time.
Also, the course is not evergreen. Unlike some advanced interview training that updates their training and allows existing students to access the new materials for free, S30 doesn't let past students have access to new content.
Meaning if there are new materials or resources added to the course, only the current students will know about them. Past students might have to register for the course again to see the latest training.
2. No Systems Design
S30 classes are more focused on data structure and algorithms. All the problems and solutions, live classes, and mock interviews in this course are based on DS&A.
To get Systems Design interview training, you will need to join a separate cohort which costs an additional $299. I know you would have expected Systems design to come along with the course from scratch.
Well, there is a better alternative at a lower price that covers both subjects extensively.
3. Not Expert-Led
Don't get me wrong, the team behind S30 are experts in coding and know a lot about technical interviews. However, I usually recommend tech interview courses created by experts that have worked in top tech companies like Facebook, Google, Amazon, etc. For example, Interview Camp, Tech Interview Pro, or Interview Kickstart.
I believe someone that has been directly involved in the technical interview process of these companies has better knowledge of the dos and don't without adding any guesswork.
I mean, if you will be spending that much ($700+) on a course, it should tick all boxes.
Related: Byte By Byte Coding Interview review
4. Kind of Expensive
To ace your technical interviews, you need a strong foundation of data structure & algorithm and system design. So if you want to go for S30 interview prep classes, your total investment will be around $1000.
That wouldn't have been expensive if there was no better and more budget-friendly alternative.
What about a course that offers everything you can get in S30, comes at a lower price, gives you lifetime access, and more? That makes sense, right?
You are in luck; I found one.
Best Alternative: S30 vs Tech Interview Pro
I recommend you pick Tech Interview Pro over S30 because it's a value-packed interview prep program created by a former Google and Facebook software engineer, Patrick Shyun (popularly called Techlead), who has a ton of experience in this space.
Techlead has worked as a software engineer for top tech companies and has conducted more than 100 interviews. He gathered everything he had learned from these technical interviews into his Tech Interview Pro course.
Here is why I prefer Tech Interview Pro over other programs:
1. Reasonable Price, Higher Quality
Tech Interview Pro is a very detailed course that trains you on every aspect of the interview (including Systems Design). The training contains 20+ hours of video lessons.
Here is the full breakdown of TIP's outline. The bolded texts are the behavioral aspects that most courses ignore:
Understanding The Interview Process
Four Axes of the Interview

Coding
Data Structures & Algorithms
Systems Design
Communication

Interviewing Masterclass
Data Structures & Algorithms
100+ Coding Sessions
The Mock Interview
Systems Design
Transitioning Careers
Negotiating & Accepting Your Offer
Looking at the Tech Interview Pro course outline, you can see that it prepares students for both the technical and behavioral aspects of their technical interview. It's complete training for anyone looking to ace their technical interviews.
2. Private Facebook Group
Once you sign up for TIP, you will be added to a private Facebook group where you can find former and present students of the course. You will also see students posting about their success stories.
It's not surprising that students are getting enormous success with this course since the course creator knows exactly how the technical interview process works.
3. Resume Reviews
The course creator, an Ex-Google and Facebook Tech Lead who has conducted more than 100 interviews, will review your resume when applying for a job.
As a student of Tech Interview Pro, Patrick will personally go through your resume whenever you are applying for a job to give you an edge over other candidates.
He knows what these tech companies are looking for, so he will make sure you submit an eye-catchy resume that presents you as the best candidate for the job.
Having a resume that impresses the recruiter will likely make the rest of the interview flawless.
4. Bi-Weekly Q&A Sessions
The bi-weekly Q&A session is another benefit of Tech Interview Pro not present in other courses. If you need more clarity about a topic or issue, you can ask the course creator in these live sessions.
Examples of questions you might want to ask in the Q&A sessions include:
I want to get hired at Amazon. How do I get started?
I didn't get the internship I wanted at Google. What should I work on over the next 6 months to ensure I get the next one?
I have an upcoming phone screening on Facebook. What should I be thinking about?
I have an upcoming interview at Microsoft. How should I prepare?
Every Q&A session is recorded. You'll gain access to all previous Q&A sessions once you join Tech Interview Pro.
Even if you aren't asking questions, you can learn from what other students say concerning their interviews or their next big moves.
The best part is you don't have to pay any extra fee to access this feature; it comes with the Tech Interview Pro one-time price.
5. Frequent Update + Lifetime Access
Tech Interview Pro costs a one-time fee, which gives you access to the course for life.
You will also get access to new updates without paying an extra dime. Fair play, if you ask me.
The course is a living course that keeps improving over time (more materials are being added regularly). Once you buy it, you will have access to all its benefits for life.
Tech Interview Pro Reviews & Success Stories from Students
See what students of TIP are saying about the course: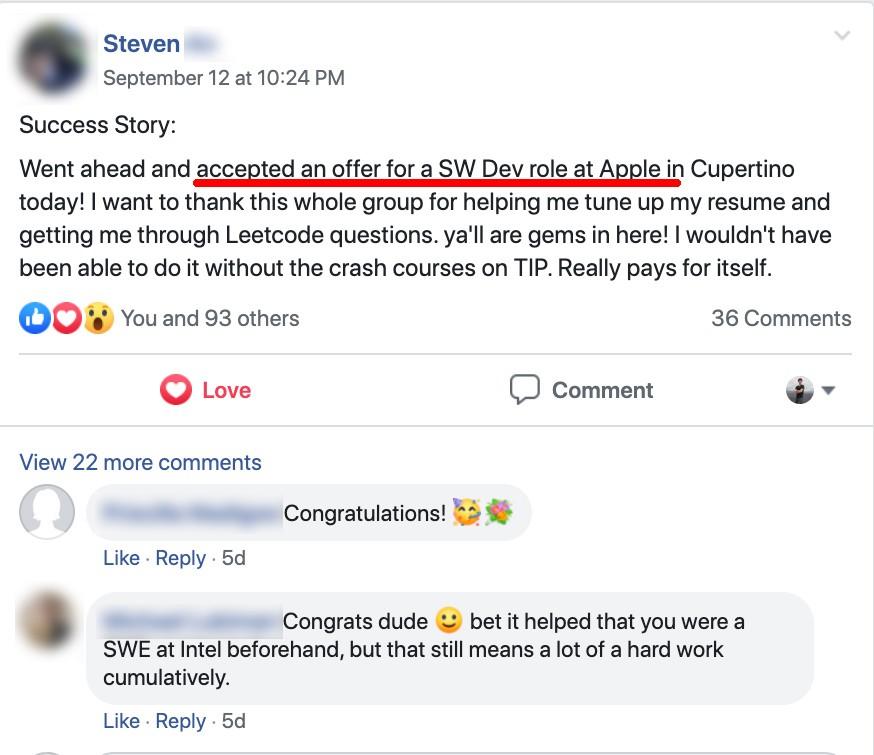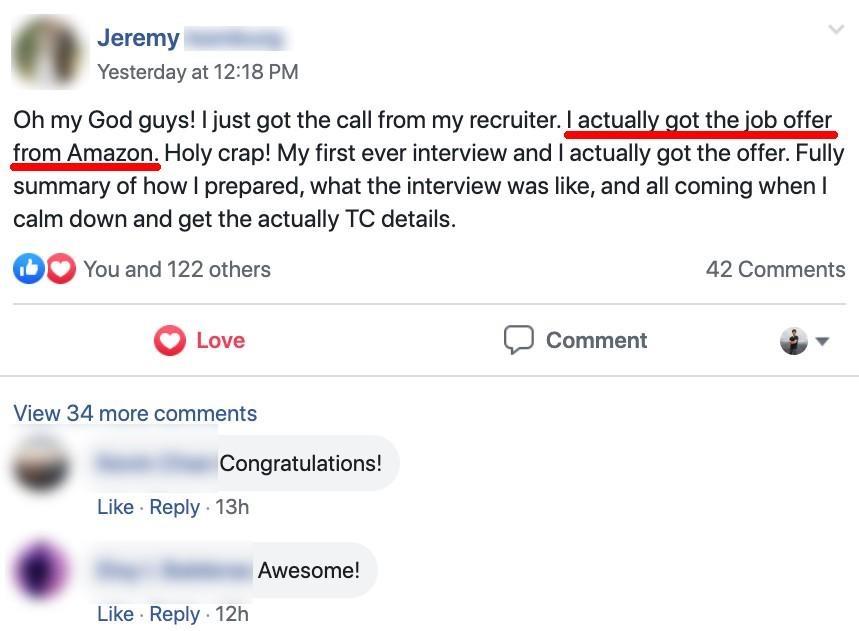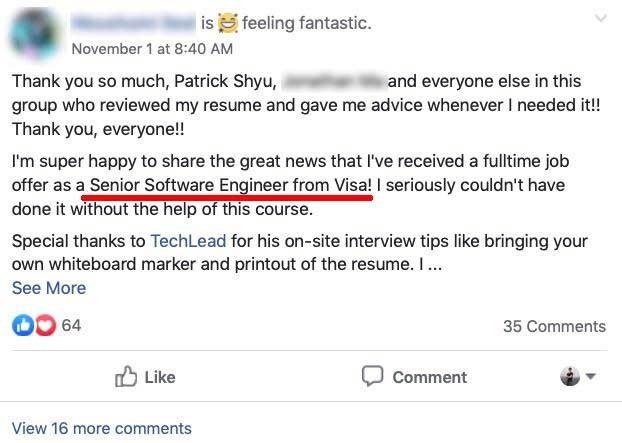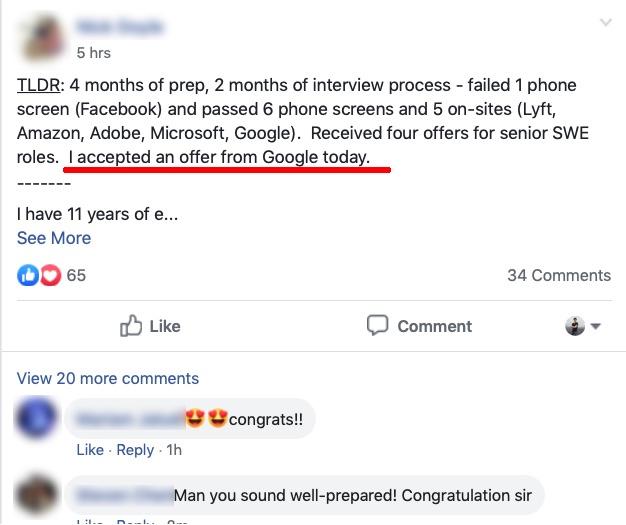 How Much Does Tech Interview Pro Cost?
The standard price for Tech Interview Pro is a one-time fee of $997.
However, I negotiated a 40% discount deal for my readers.
If you use this discount link, you will only pay $597 to access the entire course. This discount is a limited-time offer. It will end very soon. There is also a monthly payment plan ($97 six times).
The course is also risk-free. If you go through it and you are not impressed within 14days, you can ask for a refund.
S30 Interview Prep Review: Is it Worth It?
I believe this S30 interview prep review has enlightened you on everything you need to know about this course and how it can help you prepare for your FAANG interviews.
S30 is an excellent tool to prepare for your technical interviews but not good enough.
The thing with tech interview courses is that they are not cheap, so if you are buying, you better buy the one that will serve all your purposes.
This is why I recommend Tech Interview Pro. It's better, cheaper, offers lifetime access, is taught by an ex-techlead, and more. I also get you a limited-time 40% discount.
Related: