This is an in-depth Excel Campus review that tells you everything you need to about Jon Acampora's Elevate Excel Course.
Let's dive in.
Elevate Excel (or Excel Campus) Overview
Tired of feeling expendable and want to become an indispensable Excel Hero at your company? The Elevate Excel training program is what you need to boost your Excel skills and help you become the go-to expert, regardless of your current experience level.
The training program is designed to transform you into an Excel master, whether you're a beginner or have some prior experience. No matter where you stand, Elevate Excel promises to empower you to succeed and use Excel more efficiently and confidently.
The step-by-step tutorials in the Elevate Excel training program will take you from the basics to advanced techniques, allowing you to build upon your existing skills. It got you covered with a range of resources, including video lessons, screencast videos, handy handouts, cheat sheets, and more. You'll have everything you need to excel at Excel!
If you're a self-starter and a motivated learner, this program is tailor-made for you. Whether you deal with data, systems, or reports in your professional life, or if you frequently turn to Excel to solve problems, make decisions, and get results, Elevate Excel is the perfect fit.
And here's the best part: Elevate Excel is designed for everyone, regardless of your specific job title or field. Whether you're a financial analyst, project manager, marketer, or anything in between, this program will help you enhance your skills and become a true Excel pro.
Who is Jon Acampora?
If you're looking to take Excel lessons from someone who truly knows their stuff, Jon is the go-to person you need.
Before Jon founded Excel Campus, he spent more than a decade immersed in the world of Excel. Picture this: all day, every day, he was knee-deep in Excel while working in corporate finance and systems analysis roles.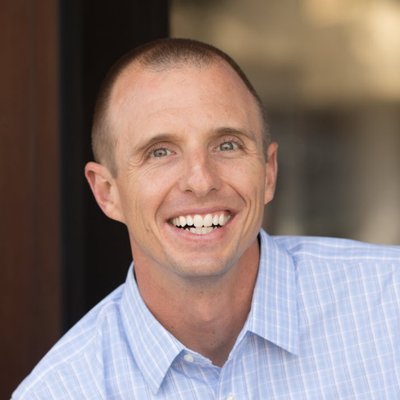 His knowledge of the software was so extensive that he became hyper-efficient. While his colleagues were stuck at their desks for 60 to 80 hours a week, Jon was completing his tasks in just 40 hours. Talk about being a productivity guru!
Jon's Excel mastery made him absolutely essential to his company. He became the go-to Excel guy—the person everyone relied on for their Excel needs. His expertise not only made him invaluable, but it also provided him with job security and the freedom to work from home when his company shifted jobs overseas. Say goodbye to that daily commute!
In 2010, Jon decided to share his Excel wisdom with the world and started Excel Campus. His goal was simple—to teach others how to maximize the potential of the software that had opened so many doors for him.
Jon has taught millions of people through his Excel Campus blog, YouTube channel, and online courses. With over 38,000 visitors to his site every day, it's clear that he's making an impact in the Excel community.
His dedication to sharing his knowledge and helping others learn has earned him Microsoft's Most Valuable Professional (MVP) Award. This recognition is a testament to his commitment and expertise in the field of Excel.
So, if you're looking to up your Excel game, Jon Acampora is the person you want by your side. His real-world experience, efficiency techniques, and passion for teaching make him the best choice when it comes to buying an Excel course. 
With Jon's guidance, you'll unlock the true potential of Excel and become a master in no time.
Elevate Excel Review: How Does the Course Work?
So, you're interested in finding out how Elevate Excel works? Well, let me tell you, it's not your typical "one-size-fits-all" kind of course. Elevate Excel goes the extra mile to understand where you currently stand in terms of Excel knowledge before diving into the content.
When you join the program, Elevate Excel won't just start feeding you with random content and overwhelm you from the get-go. Nope, that's not how it works here. Instead, the course instructor takes the time to get to know you and your current Excel skill level.
Now let's dive into the Excel proficiency levels this program covers:
Level 1: Rookie / Lite User
Are you a Rookie when it comes to Excel? No worries, the Elevate Excel training program got you covered! Everyone knows Excel can seem big and complex at first, but as you go on, it becomes easy.
If you're feeling overwhelmed by Excel, Level 1 is your starting point. At this level, you will be equipped with the essential skills to confidently navigate Excel, create formulas, apply formatting, modify rows and columns, and work with multiple sheets.
This program will take you by the hand and show you the ropes. First, you will learn how to navigate Excel like a pro. No more endless scrolling and slow mouse movements! With shortcuts and tips, you can zip around Excel in no time, saving precious minutes on every task. Copying and pasting? That'll be a breeze for you!
You will also delve into the world of formulas. This program will teach you how to create basic formulas that will perform calculations for you. No more manual number crunching! You'll learn number formatting, too, so your data looks clean and professional.
Absolute references? Don't worry. It's not as complicated as it sounds. This program explains it in simple words and shows you how to use them effectively. You'll be able to modify rows and columns effortlessly, adjusting your data to fit your needs.
Oh, and let's not forget about working with multiple sheets. You'll also learn how to navigate different sheets and organize your data. 
Level 2: Junior
You're already a manual data machine, navigating Excel and creating basic formulas like a champ. But it's a headache city for you when it comes to more advanced tasks.
You know there's more to Excel than meets the eye, and you're ready to optimize your time and take your skills up a notch.
So, if you're ready to save more time, optimize your Excel skills, and become a data wizard, Level 2 is the next step for you. This program will help you unlock the advanced features of Excel, making you a force to be reckoned with in the world of spreadsheets.
The Elevate Excel training program will teach you to quickly filter and analyze your data, saving you valuable time and effort. No more sifting through endless rows and columns—it's all about finding what you need easily.
The program also dives into financial models. You'll discover how to construct financial models that'll impress even the savviest of number crunchers. Basically, you'll have the skills to handle everything from forecasting to budgeting.
The Elevate Excel training program covers important functions like VLOOKUP, INDEX, MATCH, IF statements, and more. You'll be able to tackle complex calculations, manipulate text, work with dates, and so much more. These formulas will become your secret weapons, allowing you to automate tasks and unleash your Excel potential.
Level 3: Senior
If you're no stranger to Excel and already have a solid arsenal of tips and tricks up your sleeve, good for you. But the thing is your reports are becoming more complex, and you need to keep up with the ever-changing landscape of data analysis.
If you're ready to level up your Excel skills and become a true data analysis superstar, Level 3 is the perfect fit for you. The Elevate Excel training program will help you conquer complex reports, find trends, share your analyses, and confidently make data-driven decisions.
In Level 3, this program equips you with the Excel skills to take your analysis game to a new level. First up, you'll explore the power of Pivot tables. Also, you'll discover how these magical tools can help you analyze millions of data points with just a few clicks.
That means no more manual calculations. All you'll have are easy-to-read reports and charts that your company will absolutely love. Also, finding trends and patterns in your data will become a breeze.
This program also dives into conditional formatting and advanced formulas. These tools will bring life to your reports, making them visually appealing and easier to read. You'll be able to highlight important information, identify outliers, and make your data pop like never before. Your reports will leave a lasting impression.
And who doesn't love interactive charts and dashboards? You will also learn how to create stunning visual representations of your data that will make data-driven business decisions quick and easy. From dynamic charts to interactive dashboards, you'll have the skills to present your findings in a compelling and engaging way.
Level 4: Expert
You've earned the title of an Expert, and your Excel knowledge is top-notch, that's sweet to hear. But deep down, you know there's always room for improvement, especially when it comes to automating your data processes.
It's time to take your Excel skills to a whole new level and become an indispensable power user!
To ascend to Excel mastery and become an indispensable power user, Level 4 is your gateway to Excel greatness. The Elevate Excel training program will guide you through the world of automation, advanced data manipulation, and dynamic reporting.
In Level 4, you will be equipped with the tools and techniques that will make you a force to be reckoned with in the Excel world. First, you will be introduced to Power Query. This incredible tool will revolutionize the way you handle data transformations.
With Power Query, you can automate tedious tasks like data cleaning, merging, and formatting. With this knowledge, you can kick manual updates away and embrace periodic automation. You'll also learn how to combine data from multiple sources effortlessly, saving you time and effort.
This program also explores the power of Power Pivot. Prepare to be amazed as you easily import millions of rows of data and identify relationships between different data sources. Your pivot tables will reach new heights as you take advantage of advanced features and unleash the full potential of Power Pivot.
And, of course, we can't forget about DAX formulas and CUBE functions. These powerful tools will help you create flexible and dynamic reports. You'll be able to perform complex calculations, analyze trends, and extract valuable insights from your data.
Your reports will be elevated to a whole new level of sophistication.
Level 5: Master
You've reached the pinnacle of Excel proficiency, and your knowledge knows no bounds. But you know there's always more to learn, and you're ready to take your understanding of Excel to an art form.
If you want to ascend to this stage of Excel wizardry, Level 5 is your gateway to becoming an Excel legend. The Elevate Excel training program will guide you through the world of automation, problem-solving, and unleashing the true power of Excel.
In Level 5, you will learn how to become a true guru of efficiency. Not only will you excel in your own tasks, but you'll also become the go-to Excel person in your office, providing assistance and mentorship to others.
With Macros and VBA (Visual Basic for Applications), you'll eliminate repetitive tasks that used to eat up your time. Imagine the joy of pressing a button and watching Excel perform complex operations for you.
Not only that, but you'll also empower your colleagues by allowing them to run real-time reports for up-to-date information. Efficiency will be the name of the game.
This program will also show you how to automate all aspects of Excel, making it easier for others to use. You'll become a wizard of customization, tailoring Excel to fit your specific needs and the needs of your team. Say goodbye to manual input and hello to streamlined workflows.
And again, you'll unlock your creative thinking and apply it to Excel challenges. Fun and creativity will be infused into your work as you find innovative solutions and push the boundaries of what Excel can do.
No task will be too daunting, no challenge too complex. With Macros & VBA, you'll automate like a pro. You'll save tons of time, make Excel easier for others to use, and add a touch of fun and creativity to your work.
Once you know your current skill level and next steps, you'll receive access to Detailed Video Training. Don't worry when enrolling in the course, you will know how to identify your current level as an Excel user.
Excel Campus Review: What's Inside the Elevate Excel Training?
Get ready to embark on an exciting journey of Excel mastery, packed with valuable resources and expert guidance. So, what can you expect to find inside the Elevate Excel training program?
1. In-depth Excel Training
In the Elevate Excel course, you will have access to a bunch of useful lessons. Here is an overview of the materials in this program: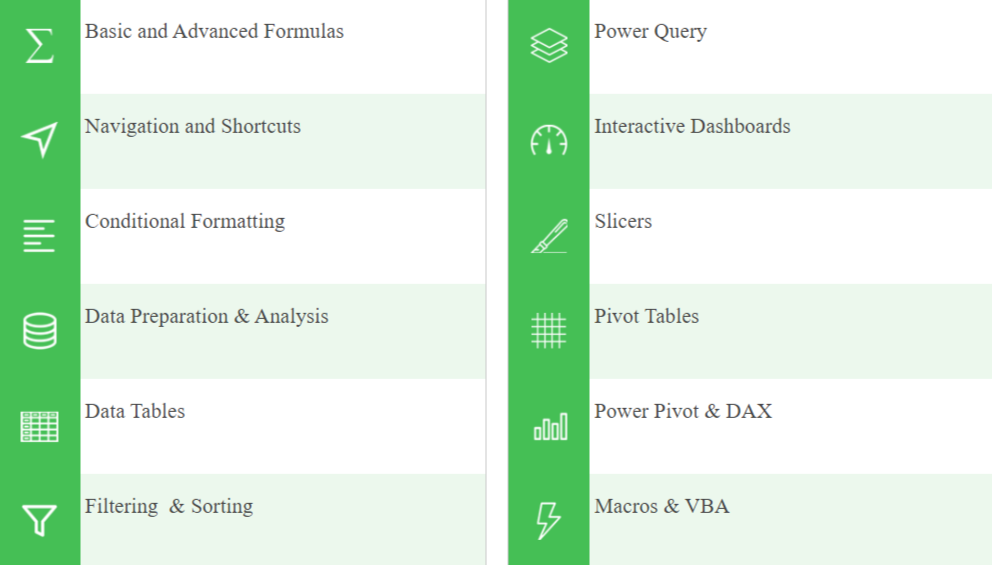 Basic and Advanced Formulas: No more fumbling around with formulas! The course will guide you through the fundamentals and advanced formula techniques, ensuring you have a solid understanding of how to harness the full power of Excel's formula capabilities. You'll learn to perform complex calculations, leverage built-in functions, and gain the confidence to tackle any data challenge that comes your way.
Navigation and Shortcuts: Say goodbye to scrolling through endless rows and columns! This course will teach you how to effortlessly navigate through large datasets, saving you valuable time and energy. You'll discover handy shortcuts that will have you zipping through spreadsheets like a pro, boosting your productivity and efficiency.
Data Preparation & Analysis: Data can be messy, but fear not! Elevate Excel will equip you with the skills to clean, transform, and analyze data like a pro. It will guide you through best practices for data preparation, ensuring accuracy and consistency. You'll learn how to organize and structure your data, making it easier to extract valuable insights and make informed decisions.
Data Tables, Filtering & Sorting: The course will help you unlock the power of data manipulation with data tables, filtering, and sorting techniques. You'll learn how to efficiently organize and manipulate your data, allowing you to slice and dice information with ease. Say goodbye to manual searching and hello to quick and accurate data retrieval.
Power Query: Say hello to automation and efficiency with Power Query! The course will introduce you to this powerful tool that simplifies data transformation and cleansing. You'll learn how to connect to various data sources, combine multiple datasets, and automate repetitive tasks, freeing up your time for more important work.
Interactive Dashboards and Slicers: Elevate Excel will guide you through the creation of visually appealing reports and dashboards using slicers, enabling you to filter and analyze data with just a few clicks. This allows you to gain valuable insights at a glance and take your data presentation skills to the next level.
Pivot Tables: You'll also learn how to master the art of summarizing and analyzing large datasets with pivot tables. This course will demystify this powerful feature, teaching you how to quickly generate meaningful reports and extract key insights. You'll learn how to manipulate, customize, and format pivot tables to present data in the most effective way.
Power Pivot & DAX: With this lesson, you can go beyond traditional Excel functionality with Power Pivot and DAX. You will be introduced to DAX, an advanced tool that enables you to work with massive datasets and create complex calculations. You'll discover how to build relationships between tables, design sophisticated data models, and leverage the power of DAX formulas to perform advanced calculations.
Macros & VBA: Take your Excel skills to the next level with macros and VBA automation. I'll guide you through the process of recording and editing macros, automating repetitive tasks, and customizing Excel to suit your specific needs. Unlock the full potential of Excel's programming capabilities and become a productivity powerhouse.
With Elevate Excel course, you'll gain the confidence and expertise to tackle any Excel challenge that comes your way.
2. Case Studies and Q&A Sessions
One of the best parts of Elevate Excel is the recorded case studies. We know that seeing Excel in action is a game-changer when it comes to truly understanding its power.
That's why the Elevate Excel training program has prepared real-life case studies where you can witness Excel being used to solve complex problems and tackle real-world scenarios. It's like having a front-row seat to Excel magic!
But that's not all—the program tries to make sure that all your Excel questions are answered. That's why you would find a dedicated Q&A session. These sessions give you the opportunity to ask the experts anything you want to know about Excel.
Whether you're seeking clarification on a concept, facing a specific challenge, or simply curious about advanced techniques, there is a team to help.
Life can get busy, and you may not always be able to attend live online events. No worries! The case studies and Q&A sessions will be recorded and made available to you. That means you can access the valuable content at your convenience, whenever and wherever you want.
3. Community Forum
You will get exclusive access to a lively community forum inside the Elevate Excel program. The community is a place where Excel enthusiasts can get together, exchange ideas, and learn from one another's experiences. The forum serves as a sort of online hangout for Excel enthusiasts to discuss formulae, graphs, and other Excel-related topics.
The Elevate Excel Community Forum is also a space where you can get valuable feedback on your questions.
Have a burning Excel dilemma or need some guidance on a specific topic? Simply post your question in the forum, and community members and facilitators will be there to support you. You'll benefit from diverse perspectives and insights that will help you overcome challenges and advance your Excel skills.
The Elevate Excel Community Forum is also a place where you can find inspiration, encouragement, and solutions to Excel puzzles. It's like having a virtual team of Excel experts by your side, cheering you on and offering assistance whenever you need it.
4. Certificate of Completion
You'll receive a shiny Certificate of Completion when you complete the Elevate Excel Training. It's more than just a piece of paper—it symbolizes your dedication, growth, and Excel prowess. Hang it proudly in your office, and let it serve as a constant reminder of your accomplishments.
We live in a digital age and understand online presence's power. That's the program has made it super easy for you to share your achievement on your LinkedIn profile. Showcasing your Excel skills to your professional network has never been this simple. Let the world know you've mastered Excel through the Elevate Excel training program certificate.
5. Reimbursement Scripts
If you're considering being reimbursed by your employer for the Elevate Excel Training, a plug-and-play email template is ready for you.
Reaching out to your manager can sometimes feel intimidating, so this program has crafted these templates to make it as easy as copying and pasting. You'll have a well-crafted message at your fingertips explaining the value of the training and why it's a win-win for you and your organization.
This program will also walk you through some of the strongest cases you can make to your manager. The template will highlight the specific benefits and skills you'll gain from the training, showcasing how it will directly contribute to your job performance and the company's success.
The groundwork has been done for you, so you can confidently make a compelling case.
And hey, we've all made mistakes, right? That's why this program will also show you what NOT to do when requesting reimbursement. You will learn the common pitfalls and missteps to avoid, ensuring that you approach the conversation most effectively.
6. 30-Day Money-Back Guarantee
Once you enroll in the Elevate Excel Training, you'll have a full 30 days to dive into the program, explore the resources, and immerse yourself in the world of Excel mastery.
However, if for any reason you find that the Elevate Excel Training isn't the right fit for you, simply reach out to the support team within 30 days of your enrollment. The support team will process a full refund—no questions asked!
How Much Does Elevate Excel Cost?
For individual learners, the Elevate Excel training program offers two flexible pricing options: The monthly payment Plan which you can enroll in for $49 per month. And the annual plan if you're ready to commit for a whole year. The annual plan is available for $490, which means you'll save $98 compared to the monthly payment plan. 
If you're part of a team eager to elevate their Excel skills together, with the team plans, you can enroll each member of your team for only $399 per person. For example, if you have a 2-person team, it would be a total of $798. And if you have a 10-person team, it would be a total of $3,990. 
Each team member will have their own account, granting them full access to all the features of the training program, including the bonuses and community forum. It's the perfect way to foster a collaborative learning environment and supercharge your team's Excel expertise.
As the team administrator, you'll also receive a handy reporting feature. This allows you to track the usage and progress of each team member, ensuring that everyone is making the most out of their Elevate Excel Training experience.
Conclusion
In conclusion, Excel Campus (Elevate Excel) is the ultimate solution for individuals seeking to master Excel and unlock its full potential. The comprehensive course equips you with the necessary skills and knowledge to navigate the world of spreadsheets with confidence and efficiency.
Whether you're a beginner looking to understand the basics or a seasoned professional seeking to enhance your expertise, the program caters to all levels.
By joining Excel Campus, you will gain access to top-notch instructional content, hands-on exercises, and practical examples that bring Excel concepts to life.
The instructor (Jon Acampora) will guide you every step of the way, ensuring that you grasp essential concepts and techniques while building a strong foundation for future growth.
Don't miss out on this opportunity to become an Excel power user! Enroll in Elevate Excel today to elevate your Excel skills to new heights. Start your journey towards Excel mastery and open doors to endless possibilities in your personal and professional life. Let's excel together!
This is the end of my Excel Campus review. Any questions?
More: