This is an in-depth Phon Baillie's High Level Proofreading Pro review that touches everything you need to know about this proofreading training.
Let's dive in!
Overview of High-Level Proofreading Pro
The High-Level Proofreading Pro course is a leading training and coaching program that will teach you everything you need to know about building a proofreading and copyediting business from scratch.
It teaches proofreading, copyediting, marketing, editorial business management, publishing knowledge, and business startup. And in my opinion, it's the only course of its kind in the market.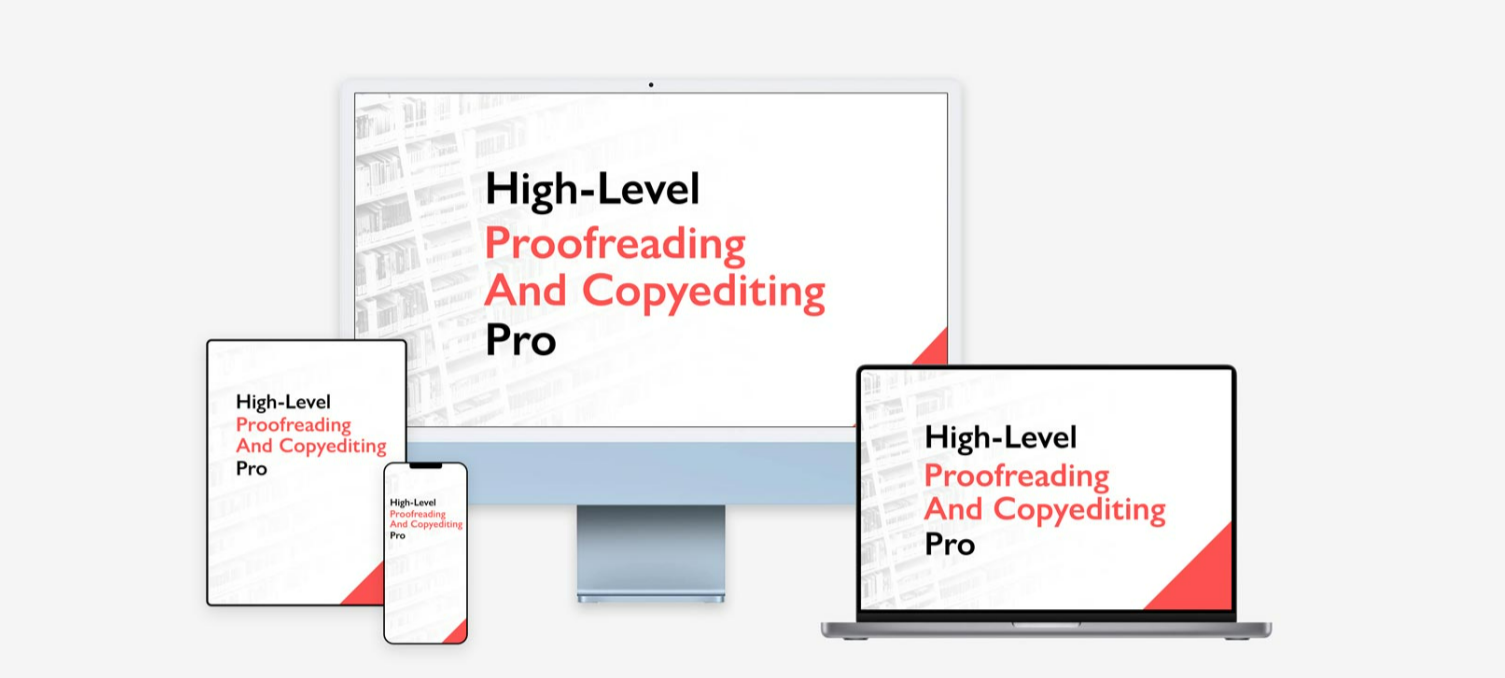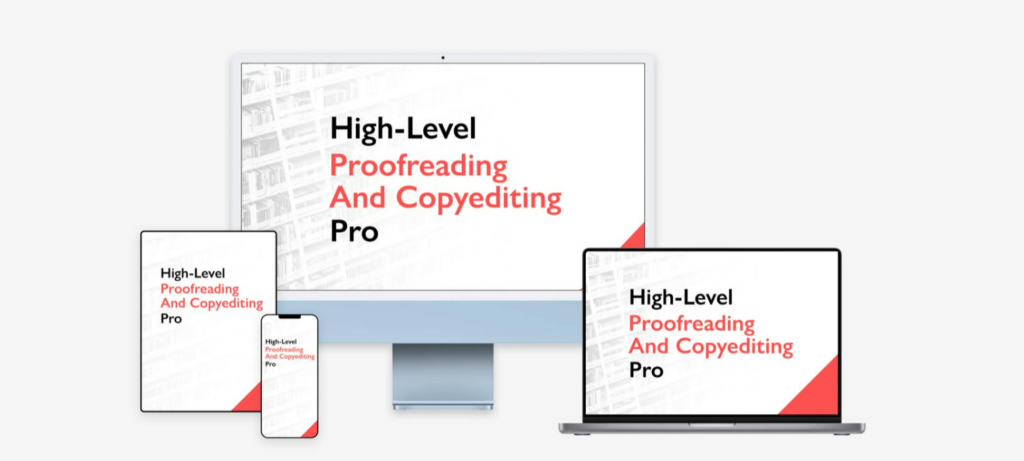 This course is focused on helping you develop expert-level proofreading and copyediting skills that will make you stand out in the industry. Say goodbye to doubt and hello to confidence in your strategy.
With this comprehensive training, you'll have all the tools you need to turn your command of the English language into a thriving business.
High Level Proofreading Pro provides everything from professional best practices to insider hints and recommendations. You will graduate from this course with the skills and knowledge necessary to succeed in the editorial industry.
Additionally, this course provides the most thorough proofreading and copyediting training, enabling you to develop into a true editorial professional.
You can achieve independence and live a life where you are your own boss by taking the High Level Proofreading Pro course. In fact, this wish can come true in less than a month if you put in the work.
The course is designed to guide you through the process of transforming your passion for careful reading into a lucrative career.
Additionally, it gives you a solid foundation and equips you to perform at an expert level by covering everything from the foundations to more advanced techniques. You will advance from reading for free to reading for a fee because of this training.
Also, While most programs are proofreading only, HLPCP also teaches copyediting, so you have more skills and knowledge and can work with a broader range of clients and content.
Knowing copyediting future-proofs your business against AI; proofreading is not enough if you want a sustainable business!
Who is Phon Baillie?
Phon Baillie has been working as a proofreader and editor since the 90s. Back in the day, she started off by proofreading stuff for free, you know, helping out family and friends. But as time passed, she decided to turn her passion into a profession.
When Phon began proofreading professionally, she found herself working on these huge paper manuscripts. I am talking about manuscripts that weighed a whopping 5 pounds!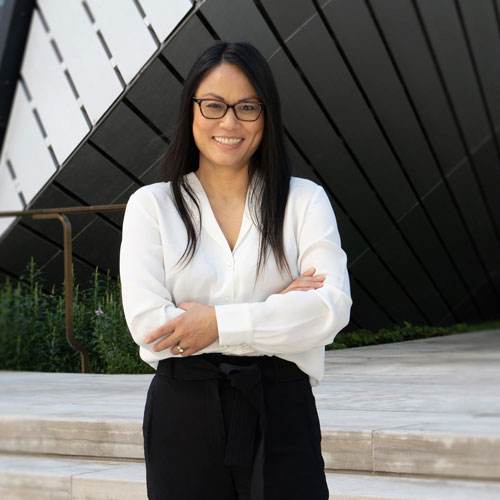 But then something interesting happened. Self-published authors and entrepreneurs started popping up everywhere, and the game changed. Those heavy manuscripts turned into digital files. It was like a whole new world.
As content continued to evolve, so did Phon's clients. They had new needs and higher expectations. They were publishing content at lightning speed and wanted proofreaders who could do more than just polish their work. They needed someone who could take a deeper look, someone with copyediting skills.
That's when Phon came up with her brilliant 4-step framework. She wanted to meet her clients' new expectations and stand out from the crowd. She realized that basic proofreading wasn't enough anymore.
Her framework allowed her to give the extra attention to detail that her clients craved. She became a pro at not just catching typos and grammar mistakes but also improving the overall flow and clarity of the content.
Pros of High-Level Proofreading Pro Course
Here are a few things I love about this course.
1. 8 Training Modules​
You'll master editing by completing these 8 training modules. This four-step framework covers all crucial elements—client acquisition, knowledge, skills, and editorial business management.
By the time you thoroughly consume the content in these 8 modules, you will soon become an expert proofreader that can satisfy clients of any caliber and take any kind of job, no matter the complexity.
What's even more appealing to me is that the modules are adequately explained, allowing you to grasp all the content in the training quickly.
2. Monthly Group Coaching​
As part of this fantastic package, you'll be able to join the monthly group coaching calls led by Phon Baillie. Through these live coaching sessions, you'll have ongoing access to Phon's wisdom and guidance.
This monthly group coaching is what makes the course a living course. The best part is you will likely learn something new every time you join this group coaching. Plus, it gives you regular access to Phon herself.
Phon prioritizes value; she wants to ensure all of her students excel, leveraging everything she is teaching them. And that's one thing I love about her.
3. Course Workbook
With the Course Workbook, you'll gain invaluable knowledge on correcting those pesky common errors that pop up in all sorts of content. No matter your business type, these skills will come in handy!
Inside the Workbook, there are tips and tricks to help you tackle those errors head-on. From grammar and punctuation to sentence structure and clarity, this course got you covered.
You'll learn how to polish your content like a pro, ensuring it's error-free and delivers your message with impact.
4. Regular Update
As soon as you sign up for this course, you'll have access to regular updates that will keep you informed of the latest standards and procedures in the business.
You'll always be on top of the game when it comes to the proofreading business.
Cons of High-Level Proofreading Pro Course
There's only one thing I think can improve in the course.
1. Not Affordable to All
While the course is not expensive considering the value it contains, it might still not be affordable to everyone. Some people might expect the cost to be cheaper than it currently is.
However, knowledge is not cheap. For me, I care more about whether a course will equip me with the training I need rather than the price. However, High Level Proofreading isn't even expensive if you think about it.
You will learn one of the most in-demand skills and prepare yourself to start making a good consistent income.
High Level Proofreading Pro Review: Breakdown of the Modules
For this part of this High Level Proofreading Pro review, I will break down what's included in all the modules, so you know what to expect.
Module 01: Intro to Proofreading & Copyediting
In this module, you'll learn about all the responsibilities that come with being a pro proofreader and copy editor. This module will break down what it means to be a proofreader and a copy editor.
You'll get a clear understanding of the tasks and duties involved in these roles. It's not just about catching typos and fixing grammar; there's a whole lot more to it!
Next up, you will learn how to find your niche. Ever wondered what kind of content you enjoy working on the most? Well, in this module, Phon will walk you through the process of discovering your passion and specialization.
Finding your niche is like finding your superpower—it sets you apart from the rest and allows you to focus on what you love most.
But it doesn't stop there! You'll also delve into industry expectations and get an inside look at what clients and employers expect from top-notch proofreaders and copy editors.
Also, you'll explore the standards and best practices that will help you exceed those expectations and deliver exceptional results every time.
Last but certainly not least, the module will talk about editorial due diligence. It will teach you how to go the extra mile to ensure the quality and accuracy of the content you work on.
You will also learn how to conduct thorough research, fact-check like a pro, and pay attention to every tiny detail. Trust me; these little things make a big difference in the editing world.
Module 02: Fixing Common Editorial Errors
In this module, you will learn how to correct those pesky errors that pop up in all sorts of content.
You'll start by tackling common errors that tend to sneak their way into any type of content. From grammar goofs to punctuation problems, this module covers it all. You'll learn the tricks of the trade to spot these errors and fix them like a pro.
You'll also explore the differences between US and UK English. Yep, there are some subtle (and not-so-subtle) variations between these two English flavors, and this module will help you navigate them with ease. Whether you're dealing with "color" or "colour," this module got your back!
Now, let's talk about the fun part—quizzes and exercises! In this module, you will face a bunch of interactive quizzes and exercises to put your newfound knowledge to the test. It's hands-on learning at its finest. So get ready to dive in, practice what you've learned, and sharpen your editing skills along the way.
Module 03: Working With Visual Content
This module is all about tackling projects that are filled to the brim with graphics, art, and eye-catching images.
So, this module starts by showing you the ropes when it comes to working with graphics. Whether it's infographics, charts, or illustrations, it will guide you through the process of making sure they're on point.
You'll learn how to ensure visual elements complement the written content and enhance the overall message.
But that's not all! You'll also delve into the world of proofreaders' marks. You will learn how to confidently mark up documents, giving clear instructions to the designers or typesetters. It's like leaving a trail of editing breadcrumbs for everyone to follow.
And let's not forget about typography! You will also explore the art of selecting the right fonts, paying attention to spacing, and maintaining consistency throughout the document.
Typography may seem like a small detail, but it can make a world of difference in a project's overall look and feel.
Module 04: Preserving The Writer's Style
This module teaches you how to preserve the author's distinctive style and voice. It all comes down to finding the perfect balance between polishing the content and maintaining the writer's voice.
The necessity of maintaining style and the client's voice is emphasized throughout this module. You must respect and uphold each writer's unique style and tone as a proofreader and copy editor.
You'll look at techniques to make sure the author's voice comes through while maintaining accuracy and precision.
Additionally, you will delve into the specifics of editorial procedures and best practices. This module will lead you through the method that experts utilize, step by step, from the initial content assessment to the final proofreading stage.
With the right tools, you will be able to optimize your own editing process and obtain a thorough understanding of the editorial workflow.
This module is jam-packed with instructions on popular style manuals! Grammar, punctuation, formatting, and other rules are all provided by style guides, which are like editors' dependable companions.
You'll explore some of the most popular styles guides out there, helping you navigate their rules and implement them effectively in your editing work.
Module 05: Working With Editing Software
This module will provide you with the know-how to operate editing software as a pro would. Effective editing procedures are here to replace manual editing.
The editing program that professionals use exclusively will first be shown to you. These programs are made to simplify your life as an editor significantly. But if you've never used them before, don't panic; there are step-by-step video tutorials to guide you through the process. You'll quickly be able to follow along and feel at ease using the software.
So, you will learn all about the editing program in this module, from its fundamental features to its more sophisticated ones. Additionally, you'll learn how to use the user interface, edit precisely, and make the most of the software's robust capabilities to increase the effectiveness of your editing.
You'll have the knowledge and abilities necessary to operate smoothly with the editing applications that the industry prefers by the time you finish this subject.
You will no longer struggle with outdated techniques or put in endless hours of tedious manual editing. With these software abilities under your belt, you will be able to step up your editing game and produce outstanding results quickly and accurately.
Module 06: Understanding Diverse Content
This module will broaden your knowledge so you can tackle a wide range of projects. You'll dive into the exciting world of content creation. Also, you'll learn the ins and outs of crafting engaging and compelling content that grabs readers' attention.
And again, you'll explore different content formats, such as articles, blog posts, and social media content, and discover the secrets to creating content that resonates with the target audience.
But that's not all—brace yourselves for some B2B and B2C goodness! This module delves into the realms of business-to-business (B2B) and business-to-consumer (B2C) publications.
You'll gain insights into these publications' unique demands and expectations, equipping you to work with entrepreneurs, businesses, and brands.
By the end of this module, you'll be armed with the knowledge and understanding to work on a diverse range of projects. Whether you're crafting content, collaborating with businesses, or working with entrepreneurs and brands, you'll be ready to tackle it all with confidence.
Module 07: Proofreading & Copyediting Books
This program delves into the fascinating realm of book editing. Books have unique characteristics that distinguish them apart from other sorts of literature, whether they are traditionally published or self-published.
You'll learn about dealing with authors and editors in detail and learn about the inner workings of the publishing business.
This session initially examines the collaborative approach of working with writers and editors. You'll learn the craft of giving useful criticism, having insightful conversations, and preserving a cordial working relationship. You'll be given the tools you need to help authors shine and improve their storytelling abilities.
Additionally, this module covers the publishing sector's norms and procedures. You will learn more about the rules and standards that control the book publishing industry. It covers everything, including how to grasp manuscript layout and deal with copyright issues.
By the end of this module, you'll be well-versed in the art of proofreading and copyediting books. Whether you're working with traditional publishers or self-published authors, you'll have the knowledge and expertise to polish those literary gems and bring out their full potential.
Module 08: Marketing, Business & Gaining Experience
In this module, you will learn how to take charge of your editorial business, attract clients, and navigate the exciting world of marketing.
First up, you'll dive into the art of marketing your services. You'll learn strategies to promote yourself as an editor, showcase your skills, and stand out in a competitive market. This module covers everything from crafting a compelling portfolio to utilizing social media platforms to reach potential clients.
This module also unlocks the secrets of managing your editorial business like a boss. You'll explore the nitty-gritty details of running a successful business, from setting rates that reflect your value to creating contracts that protect both you and your clients.
Also, this module will walk you through the process of holding discovery calls, gathering testimonials, and fostering strong client relations. It's all about building a business that thrives and leaves clients raving about your exceptional editing skills.
This module also got you covered with strategies to gain valuable experience, even as a newbie in the field. You'll discover practical tips and approaches to showcase your skills, build your reputation, and attract clients who see your potential.
When you finish this module, you'll be armed with the knowledge and tools to market your services, manage your editorial business like a pro, and gain the experience you need to shine in the editing realm.
All High Level Proofreading Pro Bonuses
As a part of this incredible program, you will get access to comprehensive training modules and a range of exciting bonuses designed to enhance your editing journey.
So for this part of this High Level Proofreading Pro review, I will break down all the bonuses that come along with this course.
Here is what you will be getting:
Bonus 1: Social Media Marketing
This bonus offers thrilling knowledge into the exciting world of using social media to market yourself for free. It will equip you with strategies to sell yourself on platforms like Facebook, Instagram, Twitter, and more.
You'll learn how to create engaging content, build a strong online presence, and connect with your target market like a pro.
It also takes a step further by showing you how to leverage the power of blogging as a marketing tool. Discover the secrets to creating captivating blog posts that showcase your expertise and attract your ideal clients. It will guide you on what to do (and what not to do) to make your blog a magnet for your target market.
In the end, you'll be armed with the knowledge and strategies to make social media work for you and use blogging as a powerful marketing tool. Say goodbye to expensive advertising and hello to the world of free and effective self-promotion.
Bonus 2: Mindset and FAQs
This bonus will help you gain confidence and overcome those pesky doubts that creep in when you're starting out. It will help you drive away Imposter Syndrome and build a mindset that propels you toward success.
This bonus tackles the common concerns and questions that proofreaders and copy editors often have. Whether it's about pricing your services, dealing with difficult clients, or finding your niche, it got you covered.
Consider this your go-to resource for answers to the burning questions that keep you up at night.
This bonus will also address the psychological hurdles that often come with starting a new career. From battling self-doubt to imposter syndrome, you will be provided with strategies and tools to conquer those internal roadblocks. It's time to step into your power and embrace the confident proofreader and copy editor within you.
By the end of this bonus course, you'll be equipped with the mindset and knowledge to navigate the challenges that come with being a newbie in the field. No more second-guessing yourself or feeling like an imposter. You'll have the confidence to tackle any obstacle that comes your way.
Bonus 3: Money Forecaster Pack
This special bonus will arm you with a powerful bundle of spreadsheets that will revolutionize the way you handle your finances. This will take away the guesswork and teaches you budgeting, forecasting, and tracking like a pro.
With the Money Forecaster Pack, you'll have all the tools you need to create a solid financial plan. This bonus will provide you with customizable spreadsheets that will help you budget your expenses, forecast your income, and keep track of your financial progress. It's like having your very own virtual accountant at your fingertips!
No more juggling numbers or wondering where your hard-earned money is going. The Money Forecaster Pack will empower you to take control of your financial journey. You'll have a clear picture of your income, expenses, and savings, allowing you to confidently make informed decisions and plan for the future.
Bonus 4: Email Support
With Email Support, you'll have direct access to a team of experts. Whether you have questions about the course material, need guidance on gaining experience, or want feedback on your professional development, this bonus got your back. Simply shoot an email, and wait for assistance.
Bonus 5: Exclusive Student & Alumni Community
Imagine having a place where you can connect with fellow students and alumni who share your passion for words and editing. It's a community where you can ask questions, share insights, and celebrate your successes together.
This group is about fostering a supportive and collaborative environment.
Inside this exclusive community, you'll have the opportunity to engage in lively discussions, participate in valuable peer feedback sessions, and even form study groups to deepen your knowledge. It's a hub of inspiration, encouragement, and valuable connections that can take your editing journey to new heights.
This bonus allows you to be part of a thriving community of proofreaders and copy editors, united by a shared passion for perfecting the written word.
Bonus 6: Personally Marked Final Assignment
This bonus takes a deep dive into your final assignment, providing you with valuable feedback and insights into your skill development.
You've worked hard and honed your proofreading and copyediting skills throughout the course. Now it's time to showcase your newfound expertise. Submit your final assignment, and Phon will be there, ready to review it with a keen eye.
Your work will be carefully assessed, highlighting your strengths and identifying areas where you can further refine your skills. Expect detailed feedback that will guide you toward becoming an even better proofreader and copy editor.
Whether it's your attention to detail, your command of grammar and punctuation, or your ability to preserve the writer's voice, you will be given the personalized insights you need to thrive.
This bonus is all about taking your growth to the next level. You'll receive constructive feedback tailored specifically to you, giving you the confidence to tackle any editing challenge that comes your way.
You'll better understand your strengths and weaknesses as a proofreader and copy editor. You'll have the tools to continue honing your craft and elevate your skills to new heights.
Bonus 7: Learning Hub
Inside The Learning Hub, you'll find a plethora of exercises, quizzes, and mini-lessons designed to keep your skills sharp and your knowledge expanding. It's like having a personal library filled with valuable insights and practical exercises at your fingertips.
Whether you want to fine-tune your proofreading prowess, deepen your copyediting expertise, or explore new aspects of the editorial world, the Learning Hub has got you covered.
Think of The Learning Hub as your virtual playground for continuous growth and development. It's a place to challenge yourself, test your knowledge, and discover new areas within the exciting world of proofreading and copyediting.
In all, you'll have an extensive collection of resources at your disposal, allowing you to further refine your editorial skills and stay ahead of the game. The Learning Hub is your gateway to ongoing learning and professional growth.
Bonus 8: Certificate of Completion
When you successfully complete the course, you'll be awarded a shiny Certificate of Completion, proudly commending you on acquiring top-notch proofreading and copyediting skills.
This certificate is not just a piece of paper; it's a symbol of your accomplishments and a testament to the knowledge and skills you've acquired throughout the course. It's a well-deserved recognition for all your hours in honing your craft.
How Much Does High Level Proofreading Pro Cost?
The High Level Proofreading Pro course costs $597 (one-time payment). But Phon grants part-payments which can either be $245 per month for 3 months or $125 per month for 6 months.
Do I Recommend High Level Proofreading Pro Course?
I wholeheartedly endorse the High Level Proofreading Pro course for anyone seeking to enhance their proofreading abilities. This course has proven to be an invaluable resource in my journey toward becoming a proficient proofreader.
The comprehensive training provided by this course goes above and beyond the basics, equipping me with a wide range of advanced proofreading techniques and strategies.
One of the most significant advantages of this course is its focus on accuracy. Through in-depth lessons and practical exercises, I have honed my ability to spot even the most subtle errors in grammar, punctuation, spelling, and syntax.
The course also emphasizes the importance of maintaining consistency in style, tone, and formatting, ensuring that the final document is polished and professional.
Efficiency is another key area where the High Level Proofreading Pro course truly shines. By introducing time-saving techniques and effective proofreading workflows, I have been able to significantly improve my productivity without compromising the quality of my work. The course teaches efficient proofreading methods that help me maintain a steady pace while maintaining a keen eye for detail.
Furthermore, this course has greatly enhanced my attention to detail. By emphasizing the importance of thoroughness and providing practical exercises to reinforce this skill, I have become more meticulous in my approach to proofreading.
As a result, I am now able to catch subtle errors and inconsistencies that might have previously gone unnoticed.
The High Level Proofreading Pro course stands out due to its comprehensive curriculum and engaging learning materials. It covers a wide array of topics, including proofreading techniques for various types of documents such as academic papers, business reports, and creative writing.
The course materials are well-structured, combining theory with hands-on practice, allowing me to apply the acquired knowledge immediately.
The course is perfect if you want to start a side hustle, career, or a flexible online business.
Conclusion
At the end of this High Level Proofreading Pro review, all I can say is to enroll in the training if you are thinking of building a successful proofreading and copyediting business.
More:
Online Business Academy Review