Pramp is surely helpful if you just want to practice coding interviews and don't have any REAL interviewing forth-coming. However, to nail your Technical interviews, you need something more robust, which is why I recommend Tech Interview Pro, a proven program (created by an Ex-Google and Facebook engineer) offering hundreds of coding walk-throughs that also prepare you for every aspect of your interview.
In this Pramp review, I will tell you everything you need to know about this platform and whether it's enough to help you ace your technical interviews.
This article will cover:
What is Pramp
How does Pramp work
Advantages of Pramp
Pramp pricing
Pramp vs Interviewing io
Pramp alternatives
Let's get started.
What is Pramp?
Pramp is a peer-to-peer platform that allows software engineers to practice their technical interviews for free. SWEs preparing for coding interviews will be matched together, and they will conduct the interview themselves.
How Does Pramp Work?
Pramp works in 3 steps:


1. Register & Get Paired
The first step is to sign up for your Pramp account. Then fill in the details of the kind of interview you want to practice. Pramp will find a peer who fits your needs and pair you up.
They will also provide the interview questions and an interactive digital environment to conduct the interview.
2. Practice
Next, you and your interviewer will conduct the interview using a collaborative environment over video. The interview will last for about 30-45 minutes.
At the end of the interview, both you and your interviewer will provide feedback on areas of improvement.
You can interview as many times as you want.
3. Nail your Interview
You can master the art of interviewing, leveraging the feedback you receive from your peers. You can continue scheduling interviews until you are sure you've got everything right.
So is Pramp enough to nail your technical interviews? You are about to find out.
Benefits of Pramp
For this part of the Pramp review, I will walk you through the benefits you can enjoy using this interview practicing tool.
1. Practice Interview
Pramp allows you to practice your coding interviews by automatically matching you with engineers based on your practicing need, availability, and programming language preferences.
The interviews are conducted in 1-on-1 live video sessions on Pramp's collaborative editor. You can practice as much as you want.
2. Become an Interviewer
You can also become an interviewer on the Pramp platform. Meaning you can interview a software engineer. The process is similar to practicing for an interview.
Pramp will connect you with engineers practicing their interviews. They will also provide the interview content. You can then conduct the interview and give each other feedback at the end.
Being able to act as a recruiter could help you prepare better for your coding interview better.
3. Multiple Interview Topics
Pram allows engineers to pick the kind of interview they want. This will enable them to connect the right peers easily.
You can choose between interviewing topics like data structures and algorithms, product management, behavioral, system design, frontend, and data science.
This is great because engineers can focus on improving their weak spots.
4. Access to Interview Materials
Pramp will provide you and your interviewer with the materials needed to conduct the interview, including the interview questions and answers and advanced tips to make the practice professional.
Pramp Alternatives
There are many Pramp alternatives that allow SWEs to practice coding interviews. They are:
Interviewing.io
Tech mock interview
Pramp Pricing
Pramp cost $0. It's 100% free.
You only need to sign up, pick your preferred programming languages, get paired, and attend the interview. Pramp will provide all the required materials.
Related: Code Ninjas Reviews
Pramp vs Interviewing Io
Pramp and Interviewing are almost similar. The former allows engineers to conduct interviews by pairing them with other peers and providing them with the necessary interview materials.
Interviewing io, on the other hand, allows engineers to book mock interviews conducted by senior engineers from big tech companies like Google and Facebook. Interviewing.io's lowest price per interview is $120.
Isn't that expensive?
The Drawbacks of Pramp
While Pramp is suitable for practicing your coding interviews, is it enough to help you land your dream tech job?
Unfortunately, I don't think so! Here is why.
1. Inexperienced Interviewer
Even though you can practice coding interviews hundreds of times or as much as you like on Pramp, the truth is your interviewers are on the same level as you. They have zero interviewing experience, unlike professional recruiters.
It's more like when two students are practicing for exams together; they can't know how the teacher will set their questions, they are only trying their best.
If you are using Pramp to practice for fun, then it's all good. But if you aim to use the knowledge and experience gathered to ace your technical interviews, it's unfortunate that you need more than Pramp.
Pramp interviews won't provide you with the actual technical interview experience. As a result, things will look utterly different during your coding interview. The truth is you need a proven and complete interview prep solution.
2. Not Enough to Land a Job
Not many engineers reach the technical interview stage, so if you are among the lucky ones, you don't want to blow the chance.
Pramp is just not enough to ace your technical interview. You need a program organized by an experienced engineer who will walk you through all the interview stages, from technical to behavioral to mock interviews.
This is why I recommend Tech Interview Pro, a proven solution that can help you land your dream tech job.
Pramp vs Tech Interview Pro
Pramp is undoubtedly helpful if you are only practicing coding interviews and don't have an actual interview coming up. However, if you want to nail a real technical interview, you need something more extensive.
Tech Interview Pro is an interview prep program created by an Ex-Google and Facebook software engineer, Patrick Shyu (often called Techlead), who has been directly involved in 100+ technical interviews with Google.
Techlead compressed everything you need to nail your coding interview into this course. He will walk you through everything you need to know to give you an edge over other interviewees.
Below are the benefits of Tech Interview Pro and how it can help you nail your technical interview like a pro.
1. A Comprehensive Approach
Tech Interview Pro is a comprehensive program that teaches both the technical and behavioral aspects of the interview process (not just the coding part). The training is taught in 20+ hours of video lessons.
Here is the full breakdown of TIP's outline. The bolded texts are the behavioral section you will learn in the course:
Understanding The Interview Process
Four Axes of the Interview

Coding
Data Structures & Algorithms
Systems Design
Communication

Interviewing Masterclass
Data Structures & Algorithms
100+ Coding Sessions
The Mock Interview
Systems Design
Transitioning Careers
Negotiating & Accepting Your Offer
Apart from the well-taught lessons on several topics, you also get to conduct a mock interview with a professional interviewer (Techlead).
Since techlead has been involved in 100+ interviews with Google and has been interviewed multiple times before getting jobs, he will show you tips and techniques that you can use to wow your interviewer.
2. TIP Facebook Group
The Tech Interview Pro private Facebook is a goldmine of opportunity.
Once you buy TIP, you will join a private Facebook group where you can find former and present TIP students. One common thing in the group is students posting their success stories and how TIP helped them nail their interviews.
The stories of other SWEs are enough to learn from. You can interact directly with students who have secured jobs and those preparing for their interviews.
3. Resume Reviews
This is one of the enormous benefits of Tech Interview Pro. The course creator, an Ex-Google and Facebook Tech Lead who has conducted more than 100 interviews, will go through your resume before applying for a job.
He knows what these tech companies are looking for, so he will make sure you submit an eye-catchy resume that screams, "I am the best candidate for the job."
4. Bi-Weekly Q&A Sessions
The bi-weekly Q&A session is another benefit of Tech Interview Pro that made it stand out. If you need more clarity about a topic or issue, you can ask Techlead himself during these live sessions.
Some sample questions you might want to ask in the Q&A sessions include:
I want to get hired at Amazon. How do I get started?
I didn't get the internship I wanted at Google. What should I work on over the next 6 months to ensure I get the next one?
I have an upcoming phone screening on Facebook. What should I be thinking about?
I have an upcoming interview at Microsoft. How should I prepare?
Every Q&A session is recorded. You'll gain access to all previous Q&A sessions once you join Tech Interview Pro.
Even if you aren't asking questions, you can learn from what other engineers discuss about their coming coding interviews.
5. Lifetime Access
Tech Interview Pro costs only a one-time fee, which gives you access to the course for life.
You will also get access to new updates without paying an extra dime. The course is a living course that keeps improving over time. Once you buy it, you will have access to all future updates.
This means you can keep using the course as much as you want.
Tech Interview Pro Reviews & Success Stories From Students
See the reviews of Tech Interview Pro from other students: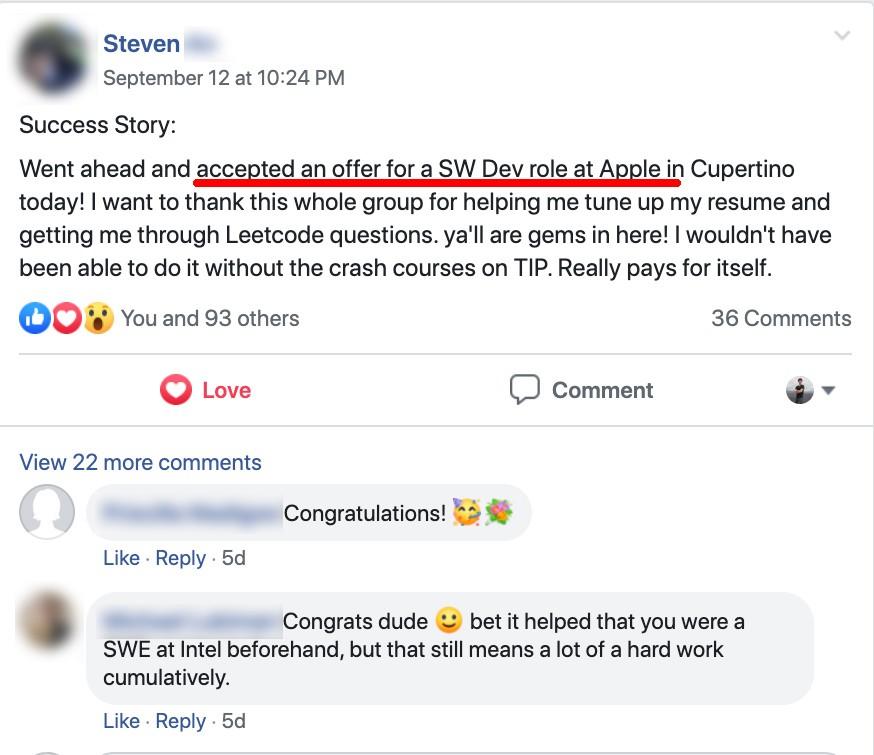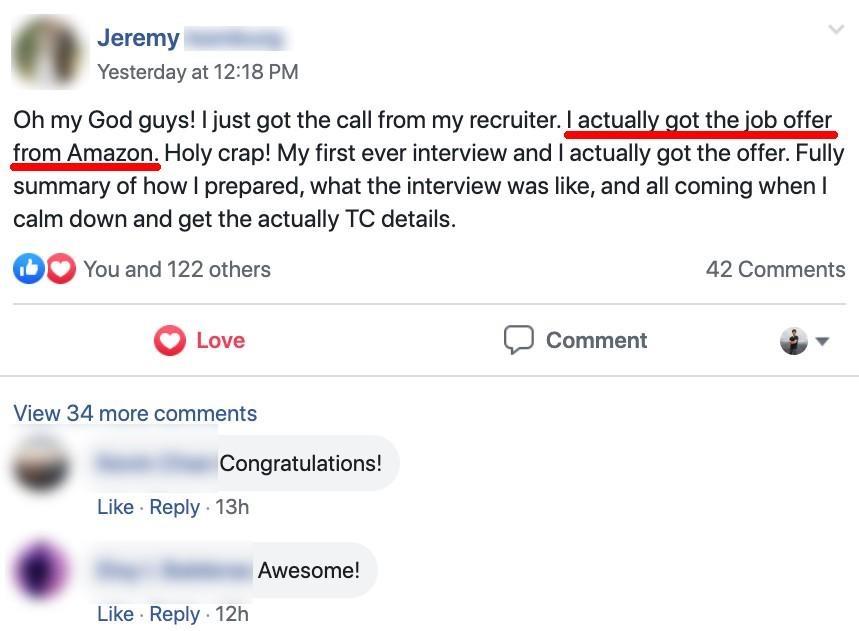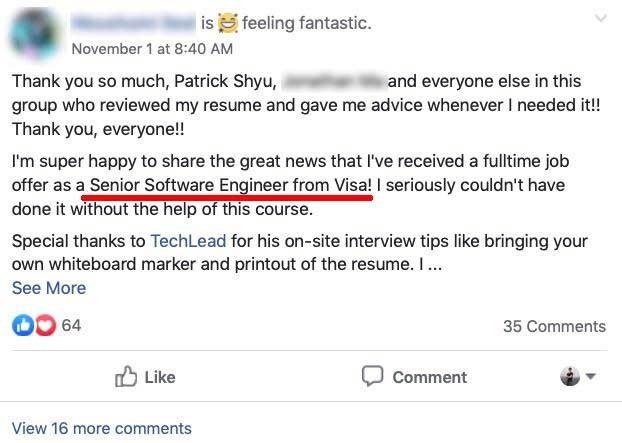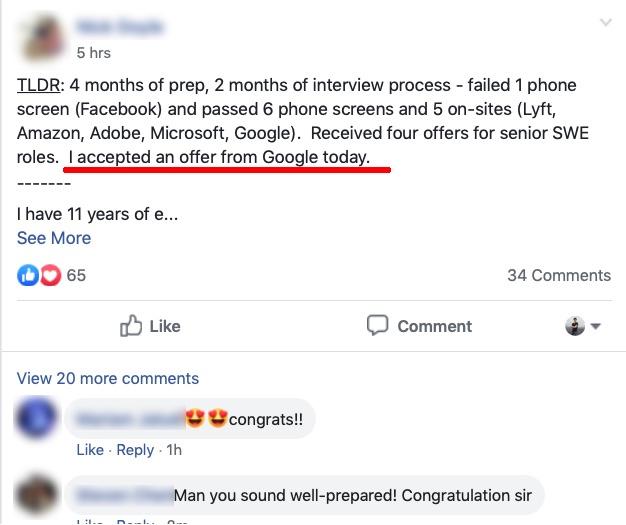 How Much Does Tech Interview Pro Cost?
The regular price for Tech Interview Pro is a one-time investment of $997.
However, I was able to cut down the price by 40% for my readers by negotiating a discount with Techlead himself.
If you use this discount link, you can pay $597 to access the entire course. The offer is ending soon. You can also breakdown your payment ($97 six times)
And if you go through the course and not impressed within 14days, you can ask for a refund.
Is Pramp Worth It for Mock Interviews?
I believe this Pramp review has answered everything you want to know about this interviewing platform. I definitely recommend Pramp if you just want to practice coding interviews and don't have any REAL interviewing forth-coming.
However, suppose you are interviewing for a job in a tech company. In that case, you need a fully-packaged solution that touches every aspect of the interview process, including a mock interview with an experienced engineer.
I have studied many interview prep courses, and I discovered that Tech Interview Pro is the best for nailing technical interviews. Use this link to get a 40% discount.
Related: