This is an in-depth Storrito review that covers everything you need to know about this tool, including its benefits, pros & cons, pricing, etc.
If you are looking for a social tool to help you become more productive and you are wondering whether Storrito is a great option, then you should read this review to the end.
Without further ado, let's dive in.
What is Storrito and How Does It Work?
Storrito is a web app that enables you to schedule, auto-post, edit and create Instagram Stories and also allows you to add stickers to them. With this tool, brands, agencies, and social media teams can create and automatically share stories on Instagram and Facebook. 
Well, that's not all. 
With Storrito, you can save time and effort while expanding your social media exposure and engagement. This could be possible by leveraging features like post analytics, post preview, post scheduling, post snippets, post tagging, and more.
Also, Storrito's user-friendly drag-and-drop editor will enable you to quickly and easily create social media posts and stories. Then, you can directly upload your stories and posts to your social media accounts after scheduling them. 
Additionally, Storrito offers you metrics so you can gauge how well your posts and stories are performing.
That's a whole lot for a teeny-weeny social media management web app, right?
Wait, I'm just getting started.
Storrito Review: All Its Features and Benefits
Storrito offers a wide range of features and benefits that you will find very handy. Of course, we have to start from somewhere; let's check out the features first.
Storrito offers 5 features, and they are:
Web Editor for Instagram Stories
Post Scheduling
Content Organizer
Animated Story Video
GIF Animation
1. Web Editor for Instagram Stories
The ideal tool for producing gorgeous images for Instagram stories is Storrito's web editor. With this editor, you can quickly and easily create stunning stories showcasing your brand and unique designs with only a few clicks. 
To make your stories even more entertaining, you may add text, stickers, and GIFs. You can upload photographs and videos straight from your computer or other device using Storrito's web editor, or you can select from a collection of cost-free stock photos and videos. 
Also, if you  BIG fan of Canva, Storrito's web editor allows you to access thousands of Canva's unique story templates and add interactive stickers to them with a few clicks. Did I also mention the custom font feature? This web editor has a ton of beautiful and unique fonts to choose from, making your texts appear stylish.
Finally, you may preview your stories before posting them, ensuring that they look flawless. 
So, what are you waiting for? Click here to try Storrito's web editor for free.
2. Post Scheduling
You can quickly compose and schedule posts in advance for your social media platforms using Storrito's post-scheduling tool. By doing so, you will prepare ahead of time and guarantee that your content is constantly relevant and interesting. 
To avoid having to manually post to each account, you can even plan posts for numerous accounts at once. Post Scheduling can be used to build plans and guarantee that your content is constantly relevant and consistent across multiple Instagram accounts too.
You can quickly create a content calendar and schedule posts in advance with this tool. In this manner, your content will continue to be shared while you concentrate on other activities.
Apart from the fact that you can add stickers to your scheduled posts, you can also easily share your post to Facebook by leveraging the swipe-up links. The best part is you don't need any confirmation or have a business account before you can enjoy this scheduling feature.
3. Content Organizer
With the content Organizer feature, you can have all your content packed nicely just the way you want it in your story media. This lets you choose what content to archive, folderize, or upload (including your scheduled contents).
Not only does this feature let you plan your social media contents, you would also be able to invite teammates to plan stories together even across multiple social media accounts. 
I see you, Storrito; one huge point for fostering team building.
In addition, the content organizer feature also lets you plan stories in bulk. This saves lots of time rather than planning your content individually.
4. Animated Story Video
An excellent method to involve and amuse your audience is using animated story videos. And Storrito happens to pitch its tent here. You can simply make captivating and polished story videos using Storrito. All you have to do is select a template from a range of options, then add your images and the images will turn into a unique animation video. 
The fun part is not only the images can be animated, but you can also animate the link stickers, header, and background with different styles. So all you need to use this feature is an image you want to convert into a video animation. That's all.
5. GIF Animation
Storrito makes it simple to quickly create GIF animations that look professional and add them to your stories. Apart from the fact that you will have access to all the GIFs from Giphy.com, this feature also allows you to add your own GIFs to your stories.
Additionally, you can add custom Instagram stickers that are not available on the app itself, making your stories unique and stand out.
Wait let me catch my breath. Okay, we are done talking about Storrito's features now. 
Storrito Pricing
Storrito has four pricing plan which is billed yearly or monthly and targeted at all budgets.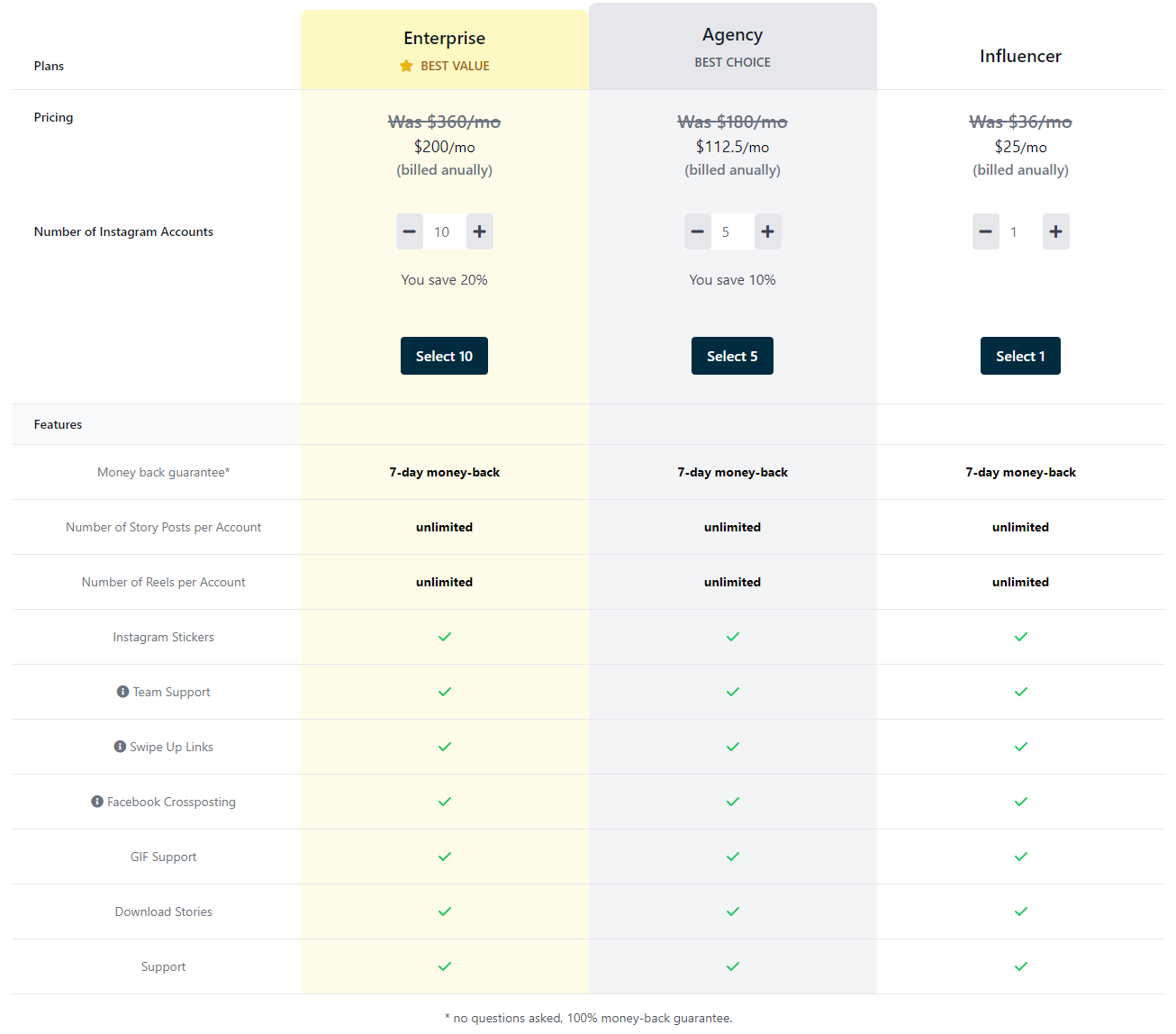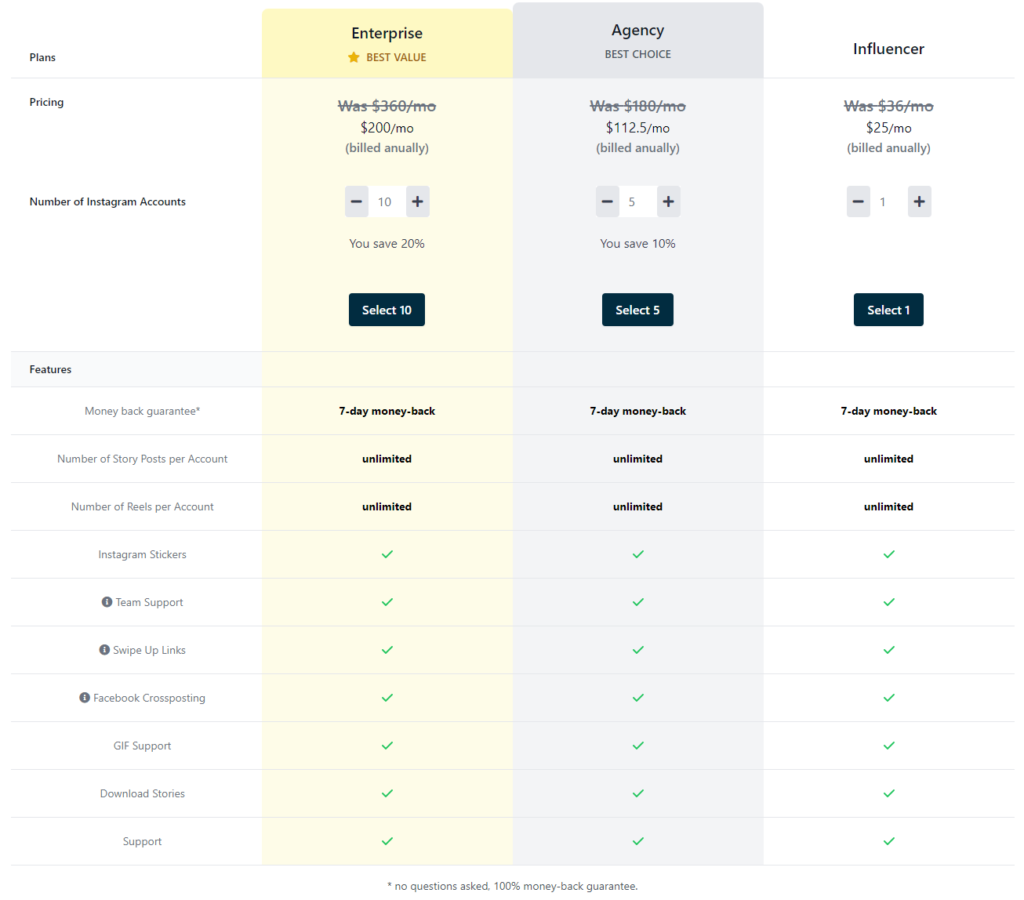 Let's start with the least plan: the Free plan. 
The Free plan is, of course, free. You pay 0$ to get Instagram stickers, team support, swipe-up links, Facebook crossposting, GIF support, download stories, support, and only 15 story posts available for just one Instagram account.
Oof! That can be limiting. But if you feel above those limitations, you can check out the next pricing plan — Influencer.
The Influencer plan goes for $25 per month. With this plan, you get all the basics enlisted in the Free plan but what makes this plan better is its infinite number of story posts you can make per Instagram account.
You should also know that the Influencer plan let you use Storrito's features for only 1 Instagram account. However, you can increase the number of Instagram accounts to 4 but it cost $25 per additional account added.
The next pricing plan is the Agency plan which goes for $112.5 per month. This plan has everything in the Influencer plan and unbox with 5 Instagram accounts and stretches up to 9 Instagram accounts. 
And the highest and last, the Enterprise plan. This plan also has all the enlist features in all other plans. But what sets it apart is its support for 10 – 50 Instagram accounts. The Enterprise Plan costs $200 per month.
If you don't know what plan to choose, you should think of the number of Instagram accounts you want to use Storrito on. This will help you know the perfect plan for you. However, I recommend that you start by creating a free Storrito account here.
Storrito Pros and Cons
Pros
Storrito offers a variety of tools for designing and creating captivating stories, and it is simple to use.
To increase your impact, you can preview their stories before posting them.
Storrito provides an analytics feature that enables users to monitor the success of their stories.
It has a collection of templates that can be used to create stories quickly.
It has collaboration tools that make it simple for teams to cooperate.
Because Storrito integrates with other social media sites, it is simpler to post stories on various websites.
It is simple to learn how to use and has an intuitive user interface.
Storrito is cost-effective and provides a free trial period.
A customer service team is available around-the-clock.
Cons
You will need to use a desktop computer to post stories because the platform doesn't work on mobile.
Conclusion
Storrito is, all in all, a fantastic tool that assists you in producing, planning, and publishing content for your social media accounts (Instagram and Facebook at the moment). It offers a user-friendly interface, a variety of features, and excellent customer service. 
Storrito can help you save time and effort while making the most of your social media accounts by enabling you to generate and plan content in bulk and automate postings. 
To anyone searching for a powerful social media content management solution, I heartily recommend Storrito. If you are not unsure whether it's worth it or not, then I recommend you create your free Storrito account here. This allows you to try the tool for free.
Do you have any questions after reading this Storrito review? Let me know in the comment section.