This is an in-depth Coursology review that tells you everything you need to about this AI browser extension, including how it can help you as a student.
If you've been hearing about Coursology, especially on TikTok but don't know if it's worth it or not and how it works, then read this post to the end.
Let's dive in. 
What is Coursology?
Simply put, Coursology is a powerful browser extension that helps students finish their assignments 3X faster leveraging the power of AI. To get started, you will first need to go to Coursology's official website here, where you will need to sign up for your account.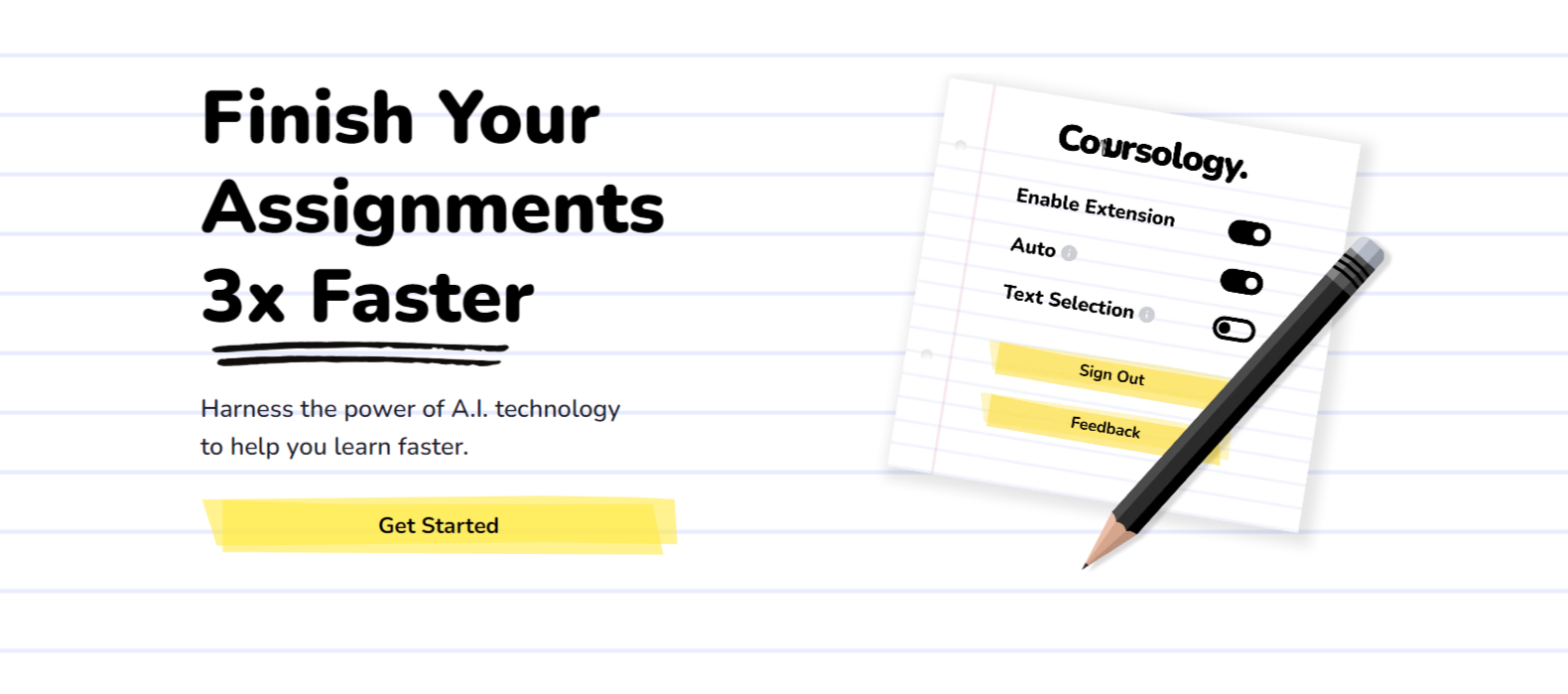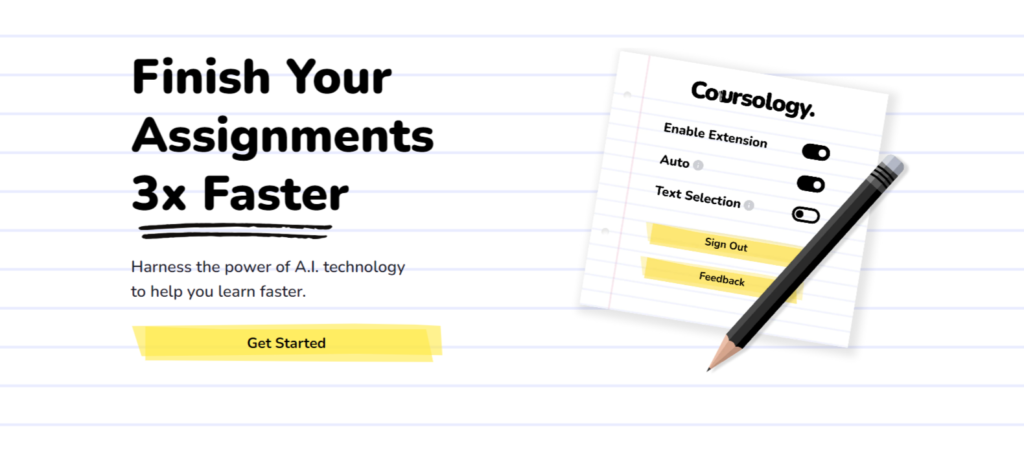 Once everything is set up and you have the AI downloaded to your computer, you can start using it with a click of a button to get all your homework done as quickly as possible. 
The best part with Coursology is that it works with the majority of the learning platform including Canvas 2.0, McGraw Hill Connect, Blackboard, D2L Brightspace, Moodle, and Cengage MindTap.
And if your learning platform isn't supported by Coursology, you can still take advantage of this AI tool. All you have to do is highlight the question, right-click on it, and click on "Coursology->find answer", and the tool will find the answer to your question.
I should also mention that the tool supports many languages, including English, Spanish, French, German, Italian, Dutch, Russian, Chinese, and Portuguese. Also, you have nothing to worry about if you are using lockdown browsers, coursology works perfectly on them, it functions seamlessly on top of any Learning Management System (LMS).
And the overall best thing I love about Coursology is the fact that it's undetectable and foolproof. Regardless of the special software your teachers might be using, they can never catch your little secret. So NO! Coursology can not be detected.
And the main reason Coursology is not detectable is because it won't be connecting with your learning platform through some APIs, instead, it will be working on top of it. Your teachers only have access to the learning platform's backend, and they can't detect Coursology through it.
Over 100,000 students currently leverage Coursology to ease their work. It's simply a game-changer.
For the remaining part of this Coursology review, I will help you understand how this tool works and how to get started with it.
Cousology for Mobile
Coursology has added a new feature that allows you to use their AI from your mobile phone.
Once you create your free Coursology account, you will be given access to download the mobile app and sign in.
After that, you can open the app and snap your question. Coursology is going to give you the best answer, instantly. This is a big upgrade since most people prefer to use their phones rather than systems.
You will also get a detailed explanation with every answer allowing you to understand it for future purposes.
The most impressive part is that you will also be given credible sources to learn more or to verify the answer if you need to.
To get started with Coursology on mobile, create your free account here.
How to Use Coursology AI (Step-By-Step Tutorial)
Ready to dive into the world of Coursology? Fantastic! Let me guide you through the step-by-step process so you can make the most of this amazing tool. 
1. Create a Coursology Account
The first thing you need to do before you can start using Coursolgy is to create an account with them so you have a login detail to access the platform.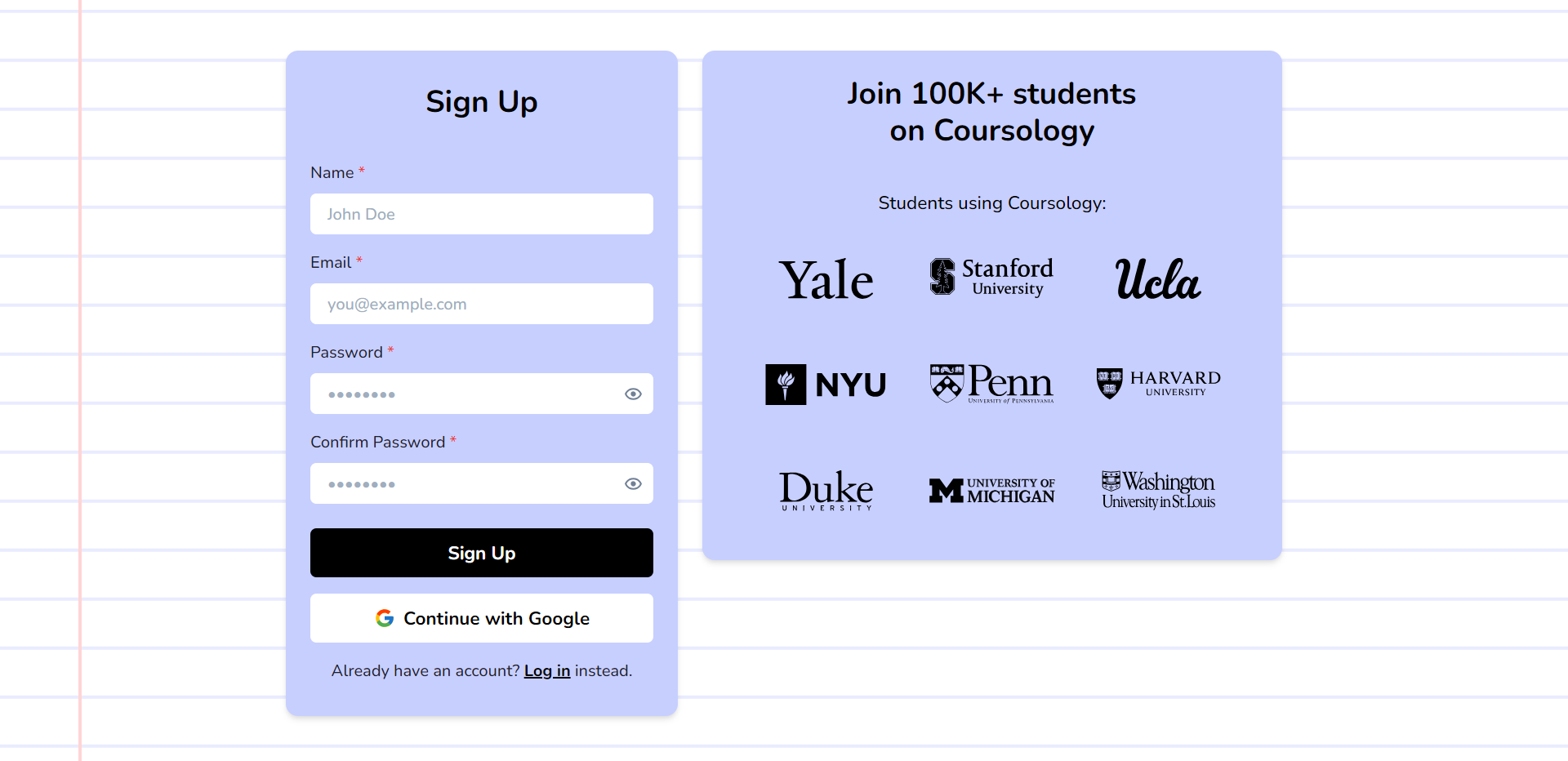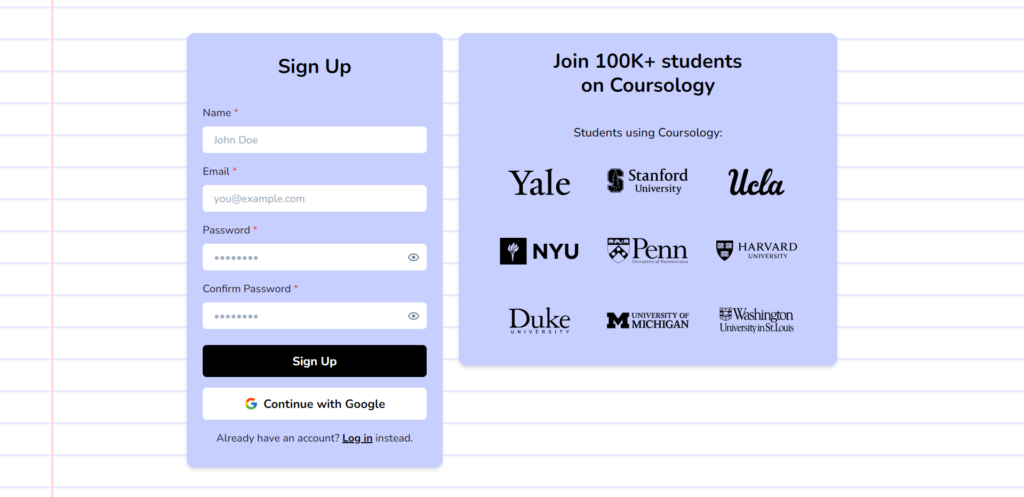 Head over to their official website here and create your account with an email and password. Once that's done, you can now move to the next stage. Once you create this account, you will have the opportunity to use Coursology for your first 3 questions for free.
2. Install Coursology from the Google Chrome Store
Once you have created your account, it's time to see this tool start performing its magic.
To begin your journey with Coursology, you need to install the extension from the Google Chrome Store. Don't worry; it's a piece of cake! 
You will be provided a link to download the Chrome extension once you finish creating your free account.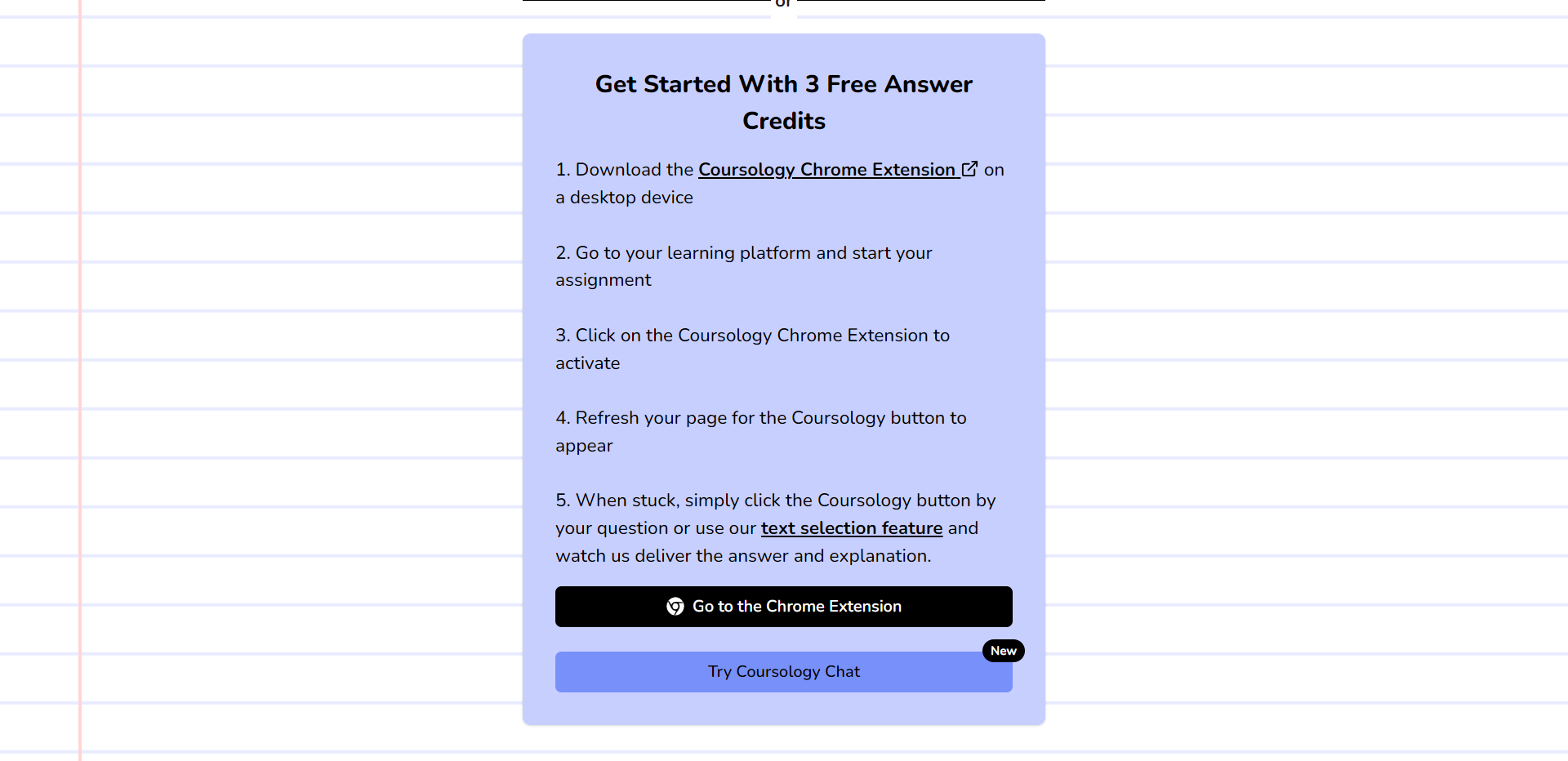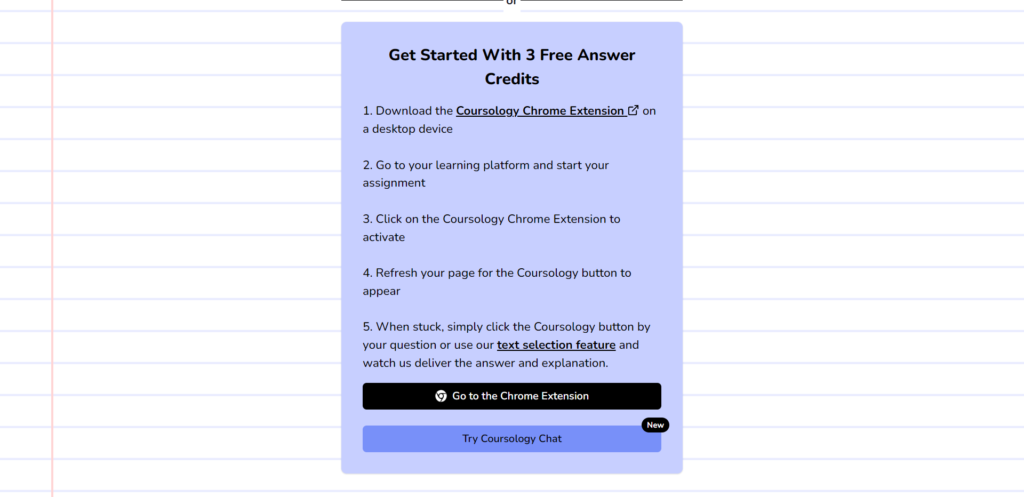 Voila! You're one step closer to accessing a wealth of knowledge.
3. Activate the extension in your dashboard
Once you've successfully installed Coursology, it's time to activate it. Head over to your browser's dashboard and locate the Coursology extension.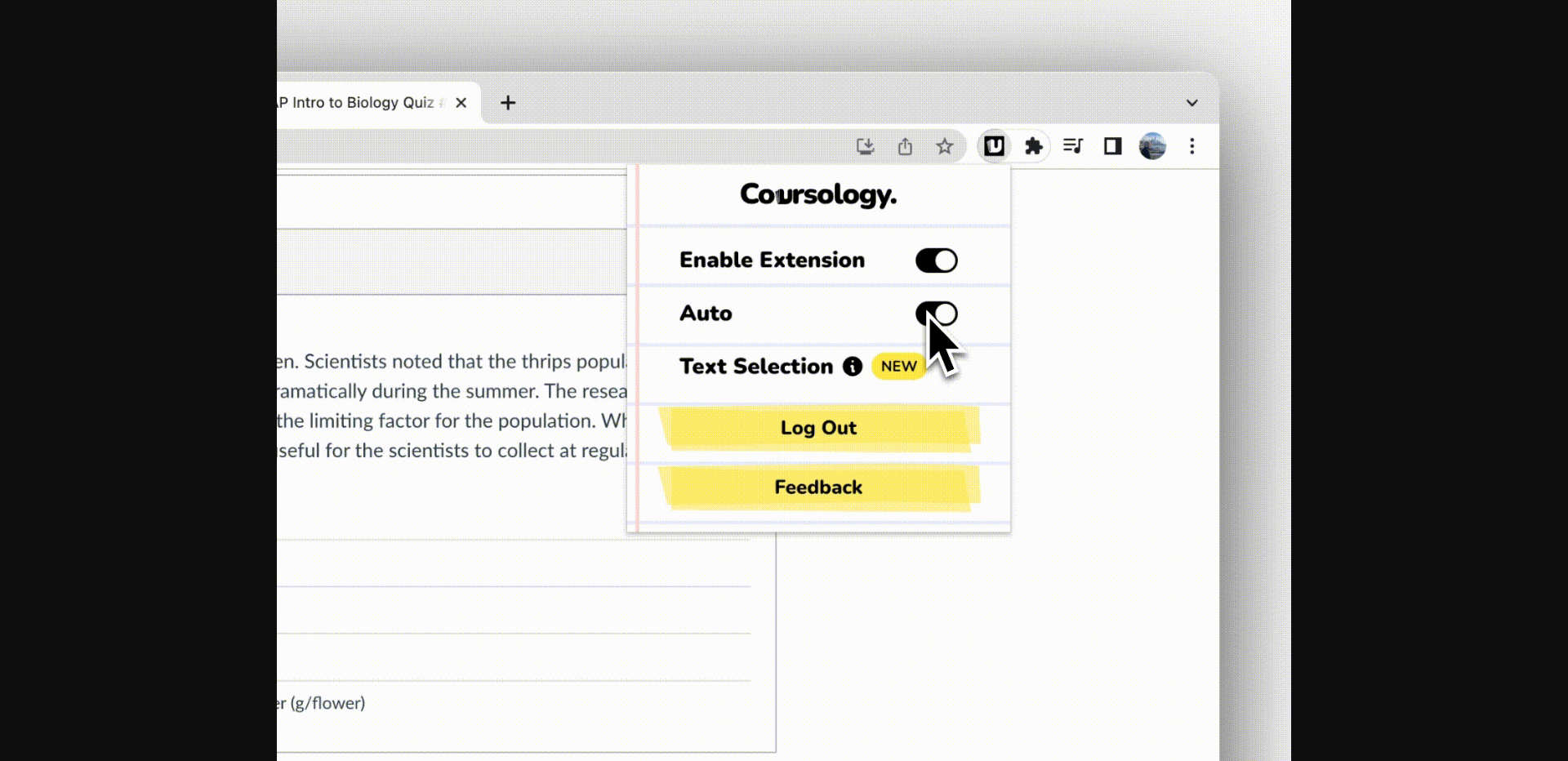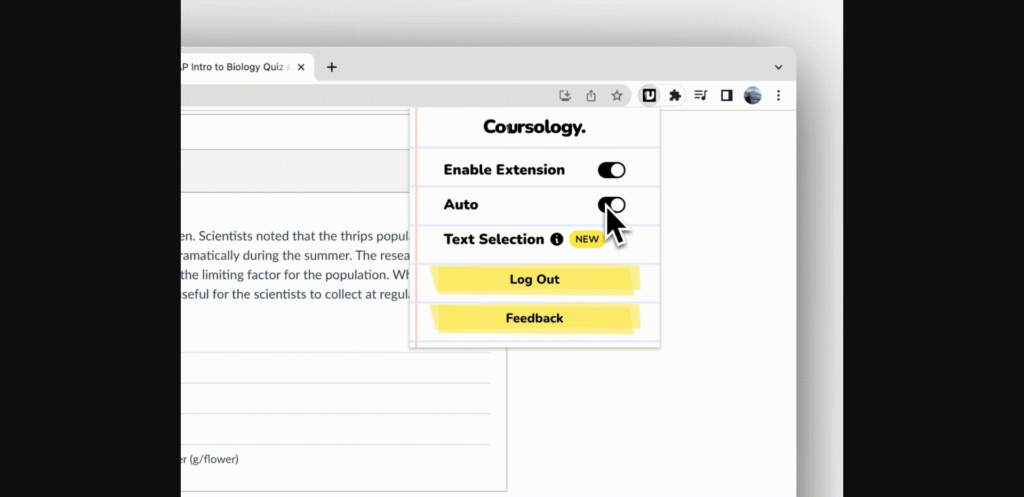 You'll likely find it in the top right corner, next to the search bar. Look for the Coursology icon, which usually resembles a puzzle piece or a small book. Click on it to activate the extension.
4. Perform Wonder with Coursology in One Single Click
Now, the fun part begins! Whenever you come across a question or topic you want to explore further, keep an eye out for a small button accompanying it. 
It might appear as a Coursology logo or another recognizable symbol. Once you spot it, give it a satisfying click, and let the magic unfold before your eyes.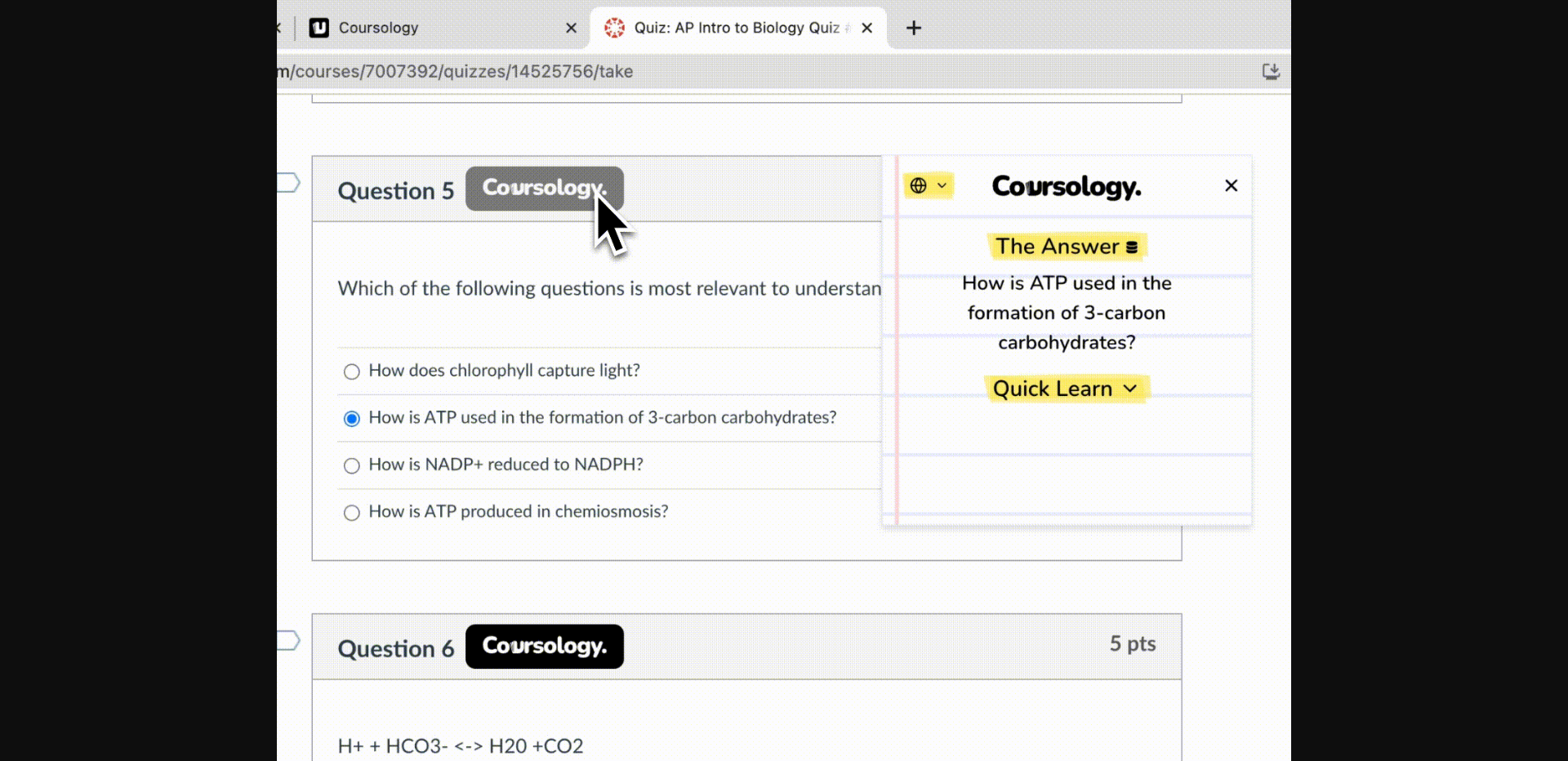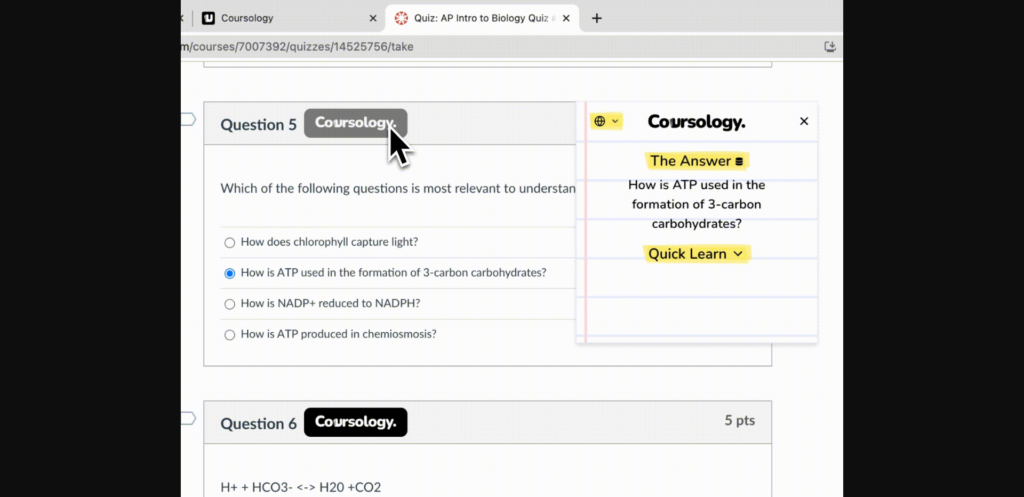 Sit back and relax as Coursology delivers an answer and an explanation tailored to your query. It's like having your very own virtual tutor!
5. Learning Platform not Directly Supported? No Problem!
Coursology aims to assist you in your quest for knowledge, even when faced with learning platforms that aren't directly supported. 
If you stumble upon a question on a website or platform that Coursology doesn't recognize, fear not! Simply highlight the question or keyword, right-click, and select the search option.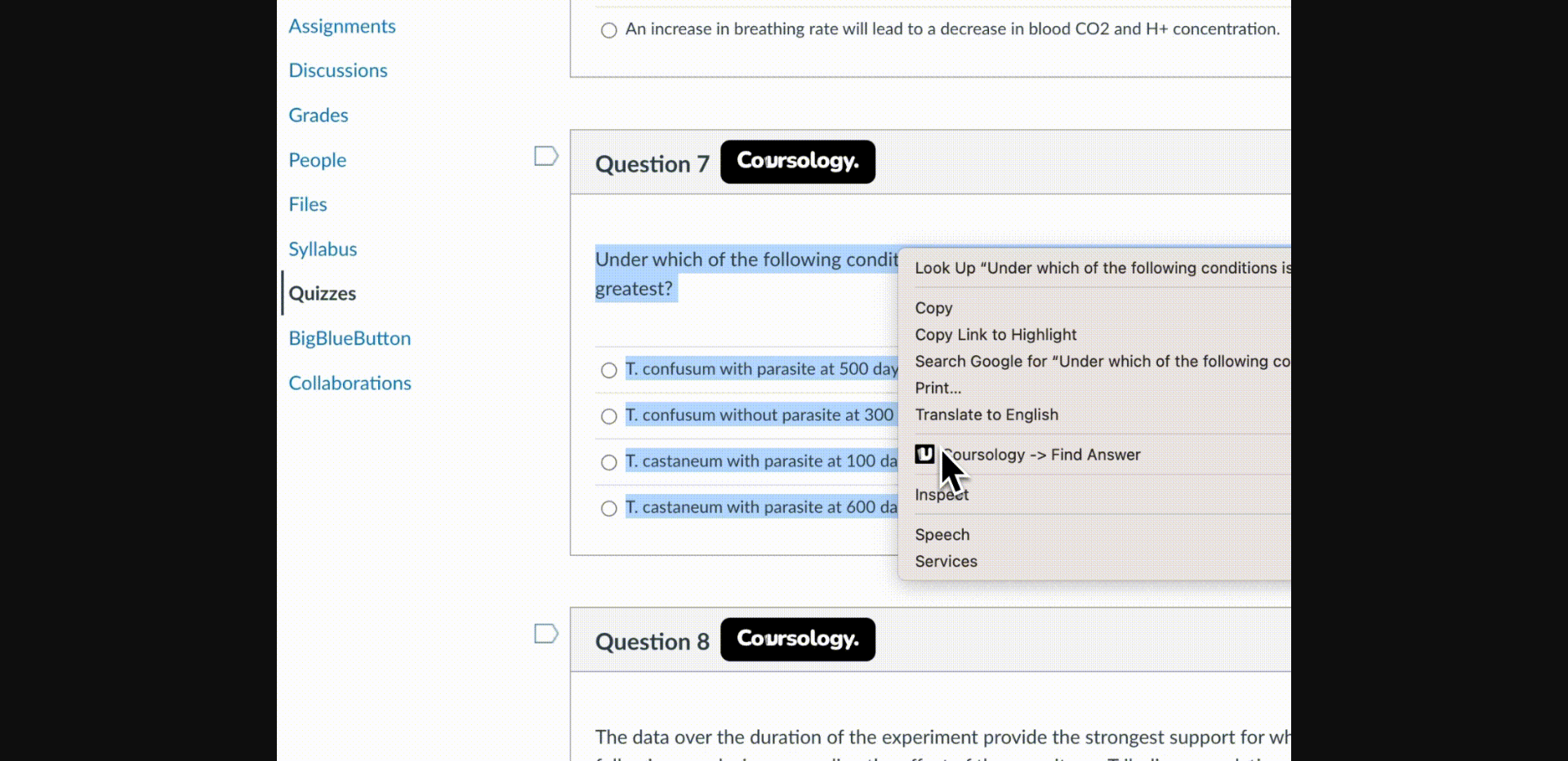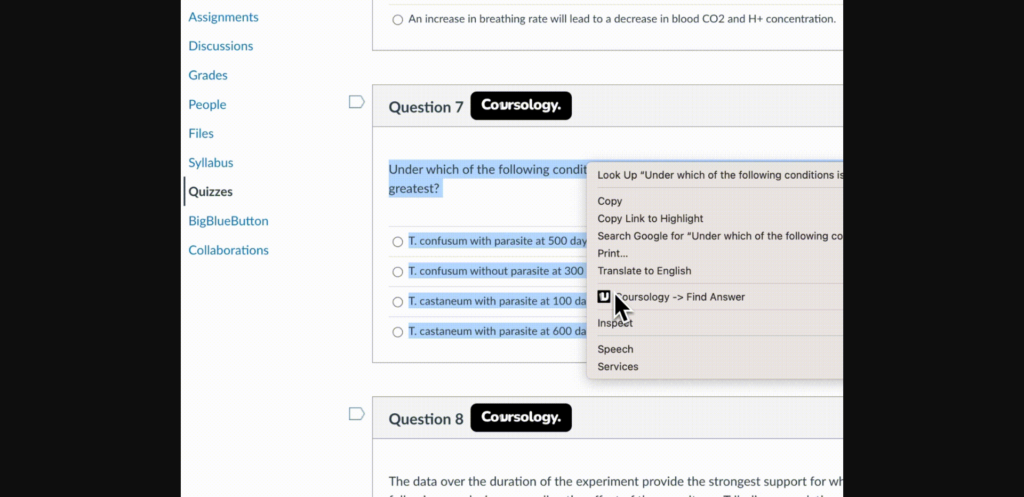 Coursology will jump into action, scouring the web to find relevant information and deliver it right to you. It's like having a super-powered search engine at your fingertips.
And there you have it, my friend! With these easy-to-follow steps, you'll be harnessing the full potential of Coursology in no time. 
So go ahead, explore new topics, quench your thirst for knowledge, and let Coursology be your trusty companion on your educational journey. Click here to get started with Coursology.
 What I Love About Coursology Browser Extension
Let me tell you why Coursology is truly a game-changer. This tool has some incredible features that make it stand out from the rest. So, without further ado, here's what I absolutely love about Coursology:
A.I.-Powered Problem Solving 
Coursology harnesses the power of cutting-edge AI technology to provide you with highly accurate answers to all your homework, quiz, and exam problems or questions. 
Say goodbye to the frustration of not knowing if your answers are correct. With Coursology, you can rely on its intelligent algorithms to guide you toward the right solutions. 
It's like having your very own genius study buddy by your side!
Multi-Platform Compatibility
The beauty of Coursology lies in its ability to seamlessly integrate with leading Learning Management System (LMS) platforms. 
Whether you're using Canvas, McGraw Hill Connect & Smartbook, Blackboard, Cengage, or other popular LMS platforms, Coursology has got your back. 
This means you can access its amazing features across multiple platforms, ensuring a smooth and consistent learning experience. No more hopping between different tools or platforms—Coursology is your one-stop solution!
Knowledge Reinforcement
Coursology goes above and beyond simply providing answers. Each question you encounter comes with a comprehensive explanation. This valuable feature allows you to reinforce your understanding of the topic at hand and dive deeper into the concepts. 
With Coursology, you're not just getting answers; you're gaining a deeper grasp of the material, enhancing your overall learning experience. It's like having a personal tutor walking you through every step!
Stealth Assistance
One of the things that set Coursology apart is its stealth mode of operation. Unlike other tools that connect directly to an LMS platform's API, Coursology operates on top of the platform, ensuring your usage remains discreet. 
This means you can confidently utilize Coursology without the fear of detection. It's like having a secret weapon that empowers you to seek assistance while maintaining your academic integrity. 
Feel free to ask questions, seek explanations, and conquer your coursework with peace of mind.
And that's why I absolutely love Coursology! It AI-powered problem-solving, multi-platform compatibility, knowledge reinforcement, and stealth assistance features make it a top-notch tool for students like you. 
So go ahead, unleash the power of Coursology, and take your learning journey to new heights. Click here to get started with Coursology.
Is Coursology Legit
In conclusion, Coursology is a legitimate tool that has garnered the trust of students and offers valuable assistance in their learning journey. 
Its cutting-edge technology, commitment to academic integrity, stealth mode of operation, and positive impact on learning make it a reliable companion for students like you. So go ahead, give Coursology a try, and experience the benefits firsthand. 
This Ai browser extension is currently been used by over 100k students, so you have no reason not to jump on it now.
This marks the end of this Coursology review! Click here to get started with Coursology.