In this Filthy Rich Writer vs Write Your Way to Freedom comparison article, we will help you decide the best option between these two copywriting courses.
Let's get started.
About Filthy Rich Writer
Filthy Rich Writer have this amazing training called the Comprehensive Copywriting Academy (CCA). It's like the ultimate guide to becoming a copywriting master, boosting your confidence, and launching an awesome career in the field.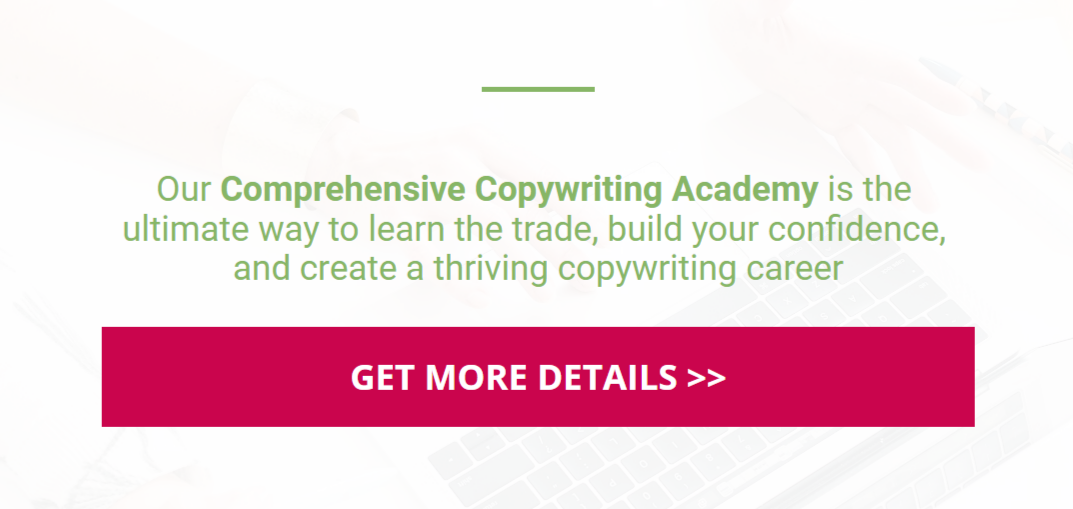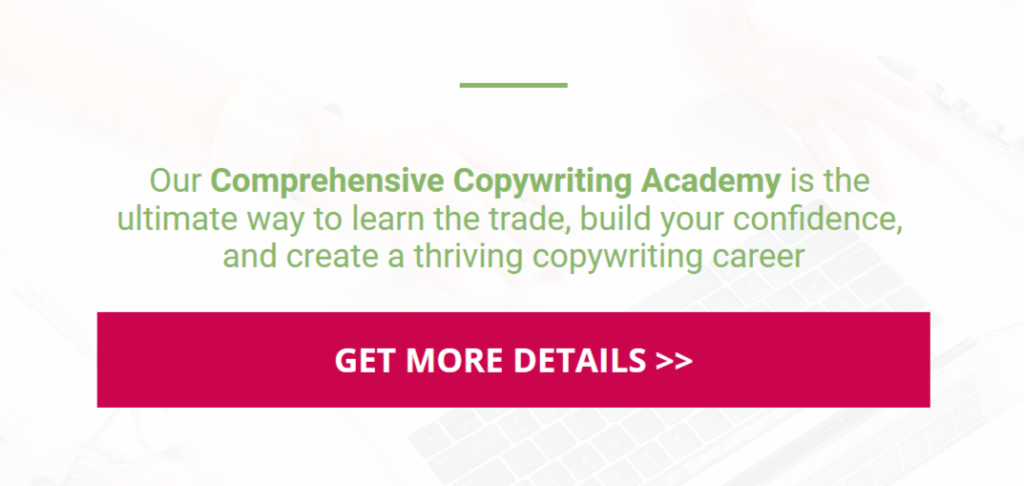 And guess who's behind it? None other than Nicki Krawczyk, a total rockstar copywriter with two solid years of experience under her belt. She's worked with big names like Tripadvisor, Marshalls, Hasbro, and Adidas. 
Nicki has taken all her wisdom and crammed it into this fantastic copywriting course. Oh, and did I mention she's the boss lady of Nicki K Media too? Her brand is focused on offering courses, training, and resources to help you take your copywriting career to the next level. 
Her business is booming because she shares tried-and-true methods and systems that can help you make more money, have a bigger impact, and gain serious insights into the world of copywriting.
But here's the best part: the CCA is brought to you by a team of copywriting gurus with a whopping 30 years of combined experience. These folks are the real deal. They're still working with clients and delivering top-notch copywriting services. So you know they've got the inside scoop on how to be a successful and thriving copywriter. 
And here's a fun fact: this course is definitely not some "get-rich-quick" scheme. The long-term success of Filthy Rich Writer's Comprehensive Copywriting Academy speaks volumes. Over 10,000 students have already taken the course and transformed themselves into successful copywriters!
About Write Your Way to Freedom
The incredible masterclass called "Write Your Way to Freedom" by the one and only Sarah Turner got an inspiring story to share. Sarah went from having zero income to consistently pulling in five-figure months as a copywriter, and get this; she did it all without any prior experience or portfolio.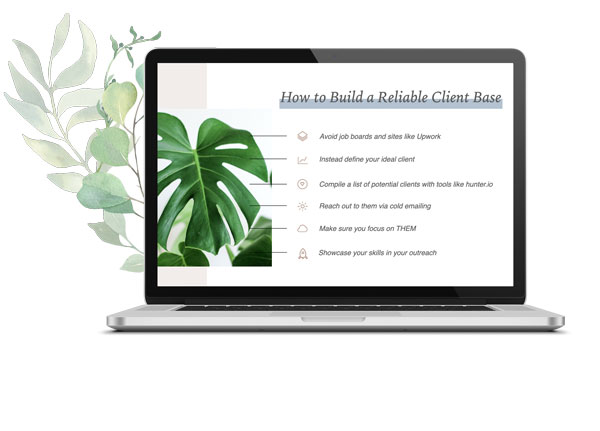 Not only is Sarah an entrepreneur, but she's also an amazing copywriter and a mentor in the field. Her mission is to help people like you discover their inner entrepreneurial ability and unleash their full potential. 
But here's the best part: Sarah's masterclass promises to equip you with everything you need to create a career you absolutely love. From direction and support to the right mindset and profitable skills, she's got your back every step of the way. You'll be armed with all the tools necessary to make your writing dreams a reality.
Did I mention that Sarah's not just any ordinary copywriter? She's been featured in prestigious publications like Business Insider, VoyageLA, and Shoutout LA. 
Sarah will show you the exact steps to becoming a full-time writer, no more guesswork or confusion. Plus, she'll dive deep into the key components of building a reliable client base. After all, clients are the lifeblood of your writing career, and Sarah knows exactly how to attract and keep them coming back for more.
Everything you need to know about copywriting is covered in this course, from the principles of copywriting to some very creative tactics for creating a profitable business. You'll master several skills, including establishing a solid portfolio and persuading clients to hire you. For all your copywriting requirements, it effectively acts as a one-stop shop.
Hmmmm…..so since both Filthy Rich Writer and Write Your Way to Freedom are great courses, which one should you choose? Well, you will soon find out.
For the remaining part of this Filthy Rich Writer vs Write Your Way to Freedom post, we will see what both courses offer. 
What Do You Get with the Filthy Rich Writer Course?
This course has everything from the basics of copywriting to advanced projects that will set you up for a successful career. It's divided into 6 modules packed with powerful training materials and guides. 
There are 31 videos that you can watch whenever you want, at your own pace. Plus, they even provide Action Sheets to help you master the art of copywriting.
With Filthy Rich Writer, you'll learn the essential foundations of copywriting and discover how to turn it into a booming business. The course delves into fascinating psychological principles that will motivate you to build your empire.
Here's what you'll find in the Filthy Rich Writer Comprehensive Copywriting Academy Course:
Join live, interactive calls twice a month to ask questions and get feedback (plus, they're recorded for later viewing).
Keep track of your copywriting milestones with the fun gameboard feature.
Exclusive student-only events are held throughout the year, and they're totally free!
Connect with fellow students, find job opportunities, and expand your network in the private Facebook group.
Consider one-to-one coaching with the copywriting coaches for personalized guidance.
Score free bonus recordings, like a chat with successful entrepreneurs who spill the beans on what they look for when hiring a copywriter.
Get full access to info-packed copywriting training that shows you the ropes and helps you turn it into a thriving business.
Enjoy 6 modules covering everything you need to know, from Copywriting Fundamentals to Building Your Business.
Tune in to The Build Your Copywriting Business podcast for even more insights and tips.
Dive deep into 22 bonus courses that accelerate your success.
Not satisfied? No worries! They offer a 30-day money-back guarantee
What Do You Get with the Write Your Way to Freedom?
The Write Your Way to Freedom course is all about equipping you with the ideal mix of entrepreneurial know-how and attitude work to reach those life-changing levels of success.
This course is ideal for anyone aspiring to become a copywriter or an entrepreneur seeking to advance their business. Sarah, the brains behind it all, has already assisted countless students in developing fulfilling, adaptable, and tremendously successful professions. 
You don't need a Ph.D., a lot of time, endless energy, or a reservoir of creativity to succeed in this course. Sarah has your back and will help you at every turn. She is here to make sure you are fully equipped and knowledgeable.
Here's a breakdown of what you will get from Sarah Turner's Write Your Way to Freedom course:
Learn to start your own business from scratch and watch it thrive.
Learn how to crush your goals like a pro and accomplish them with ease. 
Whip up a stunning website that'll leave your industry folks in awe. Get ready for some serious "wow" factor!
Learn the art of writing killer blog posts that grab attention and keep readers hooked. 
Master the art of pitching potential clients with confidence. 
Boost your confidence and know when it's time to raise those rates. 
Learn how to establish yourself as the go-to personal finance copywriter in town. 
Filthy Rich Writer vs Write Your Way to Freedom: Price Comparison
Filthy Rich Writer and Write Your Way to Freedom course prices are not listed on their websites. You will have to register, and a quote will be given to you. But don't worry; we've got the inside scoop for you!
We've gathered that both courses are quite affordable, coming in at around $397 or even below the $700 mark. So, you won't have to break the bank to invest in your copywriting dreams.
So, when it comes to prices, both courses are within the affordable range, ensuring that you get incredible value for your investment. It's all about finding the right fit for your goals and aspirations.
Filthy Rich Writer vs Write Your Way to Freedom: Which One Should You Choose?
While both Filthy Rich Writer and Write Your Way to Freedom are well-regarded copywriting courses, there are several reasons why I might consider Filthy Rich Writer to be a superior option for their copywriting journey. 
Here are a few key factors to consider:
1. Course Structure and Content
Filthy Rich Writer presents a comprehensive curriculum that covers a diverse range of copywriting skills, including sales copy, web copy, email marketing, and more. 
This course is designed to guide students from the basics to advanced techniques, ensuring a thorough grasp of the craft. The modules are well-structured and offer step-by-step guidance, facilitating easy progression and skill development.
On the other hand, Write Your Way to Freedom primarily concentrates on content writing and copywriting for businesses. Although this focus is valuable, Filthy Rich Writer surpasses it by providing a broader scope of topics and techniques. 
This expansive approach allows students to diversify their skill set and explore various copywriting niches, ultimately delivering a more comprehensive and well-rounded education.
2. Access to Expert Guidance
Filthy Rich Writer offers students the opportunity to benefit from the expertise of two experienced copywriters, Nicki Krawczyk and Rachel Mazza. With their extensive knowledge and practical experience in the field, these instructors share valuable insights throughout the course. 
The inclusion of multiple expert perspectives in Filthy Rich Writer allows for a more comprehensive understanding of copywriting techniques and industry insights, enhancing the learning experience.
In comparison, Write Your Way to Freedom is primarily led by Sarah Turner, a successful copywriter, and entrepreneur. 
While Sarah undoubtedly provides valuable insights, the presence of multiple instructors in Filthy Rich Writer offers a more diverse range of expertise, contributing to a richer learning journey.
3. Support and Community
Filthy Rich Writer places significant emphasis on cultivating a supportive community among its students. The course provides access to a private Facebook group where students can engage with one another, ask questions, and receive feedback on their work. 
This community aspect is beneficial for networking, collaboration, and finding support throughout the copywriting journey.
Write Your Way to Freedom also offers a Facebook group for student interaction, but the community aspect is not as central to the course experience as it is in Filthy Rich Writer. 
The sense of belonging and support fostered by Filthy Rich Writer's community can be particularly valuable for students who appreciate a collaborative and interactive learning environment.
4. Pricing and Value
Both courses require an investment, and while pricing may fluctuate over time, it's crucial to consider the value offered. Filthy Rich Writer is renowned for providing a wealth of content and resources, making it a worthwhile investment for individuals seeking a comprehensive copywriting education. The course covers a wide array of topics, provides access to expert guidance, and offers ongoing support through its community.
Conversely, Write Your Way to Freedom primarily focuses on content writing and business copywriting. Although it provides valuable insights, its narrower scope may not offer the same level of depth and variety as Filthy Rich Writer. 
This aspect becomes particularly relevant for students interested in exploring different copywriting niches, as Filthy Rich Writer's broader range of topics caters to their needs more effectively.
5. You Will Learn How to Build your Personal Brand
In addition to teaching copywriting skills, Filthy Rich Writer also emphasizes the importance of building a personal brand. This is crucial for copywriters who want to stand out in a crowded marketplace. 
For example, the course teaches how to develop a unique voice and brand identity that reflects your values and expertise. It also covers how to create a personal website that showcases your work and helps you attract new clients. 
By building a strong personal brand, copywriters can differentiate themselves from the competition and attract higher-paying clients. On the other hand, Write Your Way to Freedom does not provide the same level of emphasis on personal branding, which means you will be left to figure things out on your own.
6. Free Copywriting Videos
Filthy Rich Writer offers a range of free copywriting training videos that can be accessed without purchasing their paid course. These videos are designed to help aspiring copywriters build a strong foundation in the basics of copywriting. 
By offering this free content, Filthy Rich Writer makes it easier for beginners to get started on their copywriting journey without any upfront financial investment. 
Moreover, the free copywriting training videos are designed to be accessible and easy to follow, making them ideal for beginners. The videos are short and concise, with practical tips and techniques that can be applied immediately. 
By offering these resources for free, Filthy Rich Writer demonstrates a commitment to supporting the growth and development of new writers and making copywriting education more accessible to everyone. 
In comparison, Write Your Way to Freedom does not offer as much free content and their training videos are not as focused on digital copywriting.
Below are some of their free copywriting videos you can start with:
Overall, Filthy Rich Writer stands out by virtue of its comprehensive curriculum, access to multiple experienced instructors, supportive community, and diverse array of copywriting topics. 
These factors, coupled with the value it provides, make it an appealing choice for individuals seeking a thorough copywriting education.
Conclusion
If you have read this Filthy Rich Writer vs Write Your Way to Freedom Comparison article to the end, you will have seen why the former is better than the latter. 
So if you are ready to start your copywriting journey, click the button below to watch one of Filthy Rich Writer's free training. 
More: