Let's be honest, Picking the right web hosting platform is a tough task.
In many cases, you might fall victim to mediocre web hosting platforms promising you tons of impossible features like 101% uptime.
But there's one thing. Just one thing to help you evaluate if a host is worth it: a free web hosting trial.
A hosting provider that allows you to explore their services free for some days is worth trusting. Because during the trial period, you can evaluate all their features before making a final decision.
In this post, you learn about the best free 60-day web hosting trial alongside their features.
What is a free 60-day trial web hosting?
With a free 60-day web hosting trial, you can enjoy all the services of a hosting provider for 60 days – FREE. In some cases, hosting providers will require you to pay a cent for verification purposes. But most of the time, web hosting trial is free (no credit card required) until the trial period elapses.
Read Also: Shopify Enterprise Plan Pricing
9 Best Free 60 Day Trial Web Hosting 
Now let's take a closer look at 9 free web hosting trials you can enjoy for 60 days.
1. HostBuddy Free Trial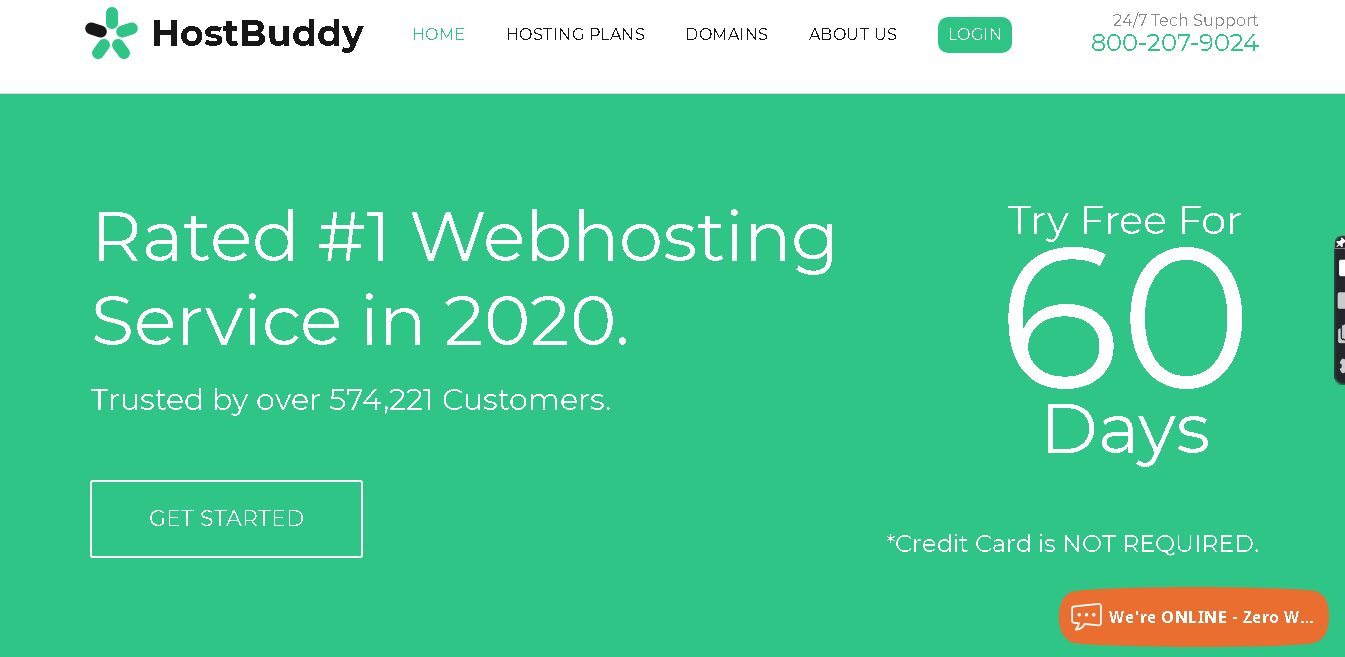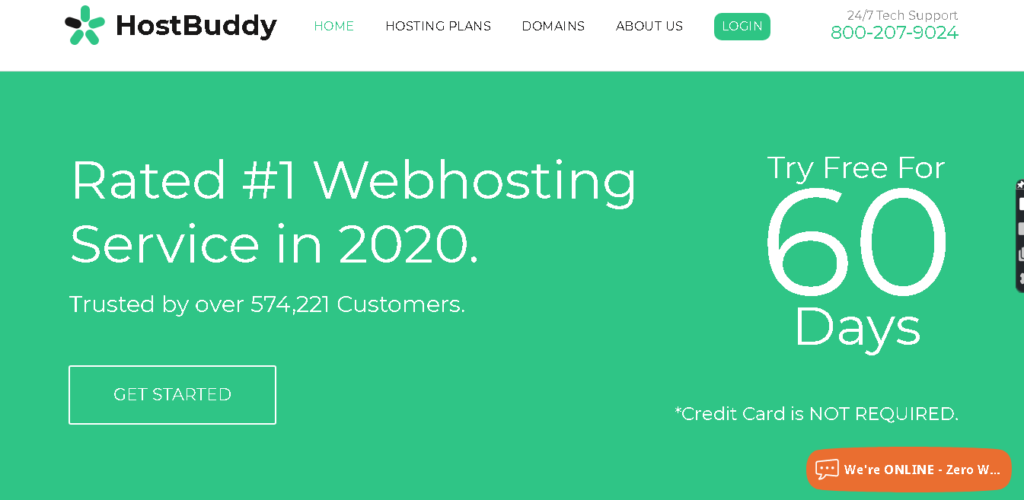 HostBuddy, founded in 1999, started to exist even before WordPress and Cpanel. The host is a subsidiary of BusinessICS International Ltd, the operator of World-Class Data Centers in America, Europe, and Asia.
HostBuddy also boasts 20+ years of hosting experience. Their Cloud hosting services offer tons of mouth-watering features like server rewind backups, redundant power, SSD application server cloud, quadruple redundant network, SSD database server, green energy support, SSD file storage cloud, and many more.
HostBuddy is confident of its services that it offers a free 60-day web hosting trial with no credit card or verification needed. Once you verify your email address, you can start hosting tons of websites free for 60 days.
Key Features:
Free Temporary Domain
1-Click Install for Apps & Softwares
60 Day Trial Hosting
Free Site Migration
99.9% Uptime Commitment
Turbo Server (20X faster page loads)
Unlimited SSD Bandwidth
2. DigitalOcean Free Trial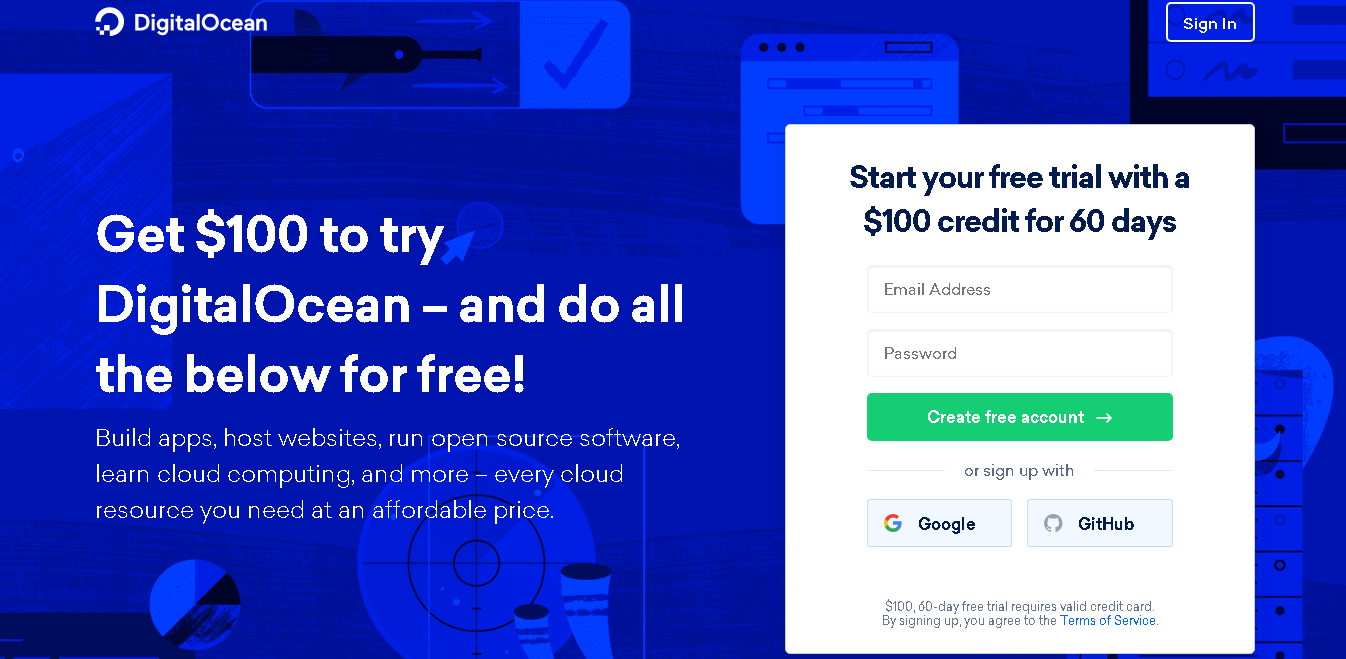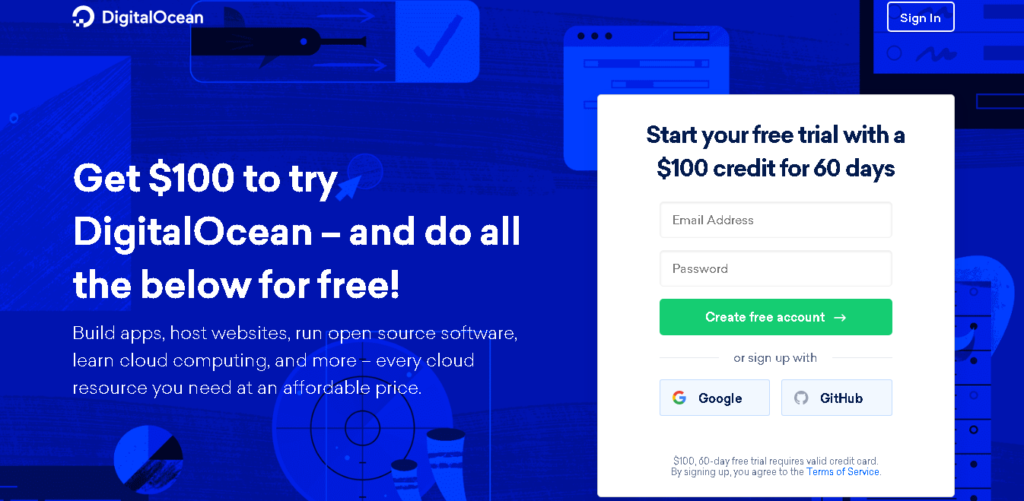 Looking for the best free cloud hosting trial? DigitalOcean is the answer. 
The host offers you a free $100 credit to deploy your own server for 60 days. This means you can enjoy 60 days of hosting services and host up to 10 sites with unlimited traffic and unlimited databases.
What even interests me more is the choice of several server software (Apache, Nginx & LiteSpeed) you can pick from.
DigitalOcean is also beginner's friendly, it allows a 1-click install for several apps and software so you can get your site running in less than a minute.
In my opinion, DigitalOcean is an all-in-one hosting solution that offers tons of services including web hosting, cloud VPN, video streaming hosting, startups, gaming development, all with a free hosting trial (no credit card required) for 60 days.
Key Features:
Check CPU on a performance basis
Over 13 Data Centres
Select RAM Size (up to 256 GB) according to need
Dedicated IP
24/7 Powerful Support
Pay as you use
Determine SSD Disk Space
3. HostGator Free Trial


Hostgator needs no introduction as it's one of the leaders in the hosting industry. The host is currently powering over 8 million domains across the globe with 850+ hosting experts.
The host is effortlessly the best choice for site owners due to its ease of use and friendly plan prices.
Founded in 2002, Hostgator offers varieties of hosting services including WordPress hosting, shared hosting (super-fast), dedicated hosting, VPS hosting, all packed with mind-blowing features.
They also offer a free 30-day web hosting trial that allows you to explore their features and host your site free for 30 days. Hostgator hosting trial is free but requires you pay 1 cent. This is to verify you are a human and not a robot sent by spammers. 
Hostgator makes creating your site super-easy. They offer a free website builder with over 4500 in-built templates. So even if you have no prior experience building a site, you can use one of those templates as a starting point. 
Hostgator offers a lot more, and you can enjoy every bit of their services for 30 days free with their 1 cent hosting trial.
Key Features:
Free Site & Domain Transfer
Unmetered Bandwidth
Free website builder with over 4500 Templates
Free 30-day hosting trial
$150 Google Ads Credit
99.9% Uptime
24/7/365 Support
Read Also: 12 Emotional Marketing Statistics and Trends
4. Linode Free Trial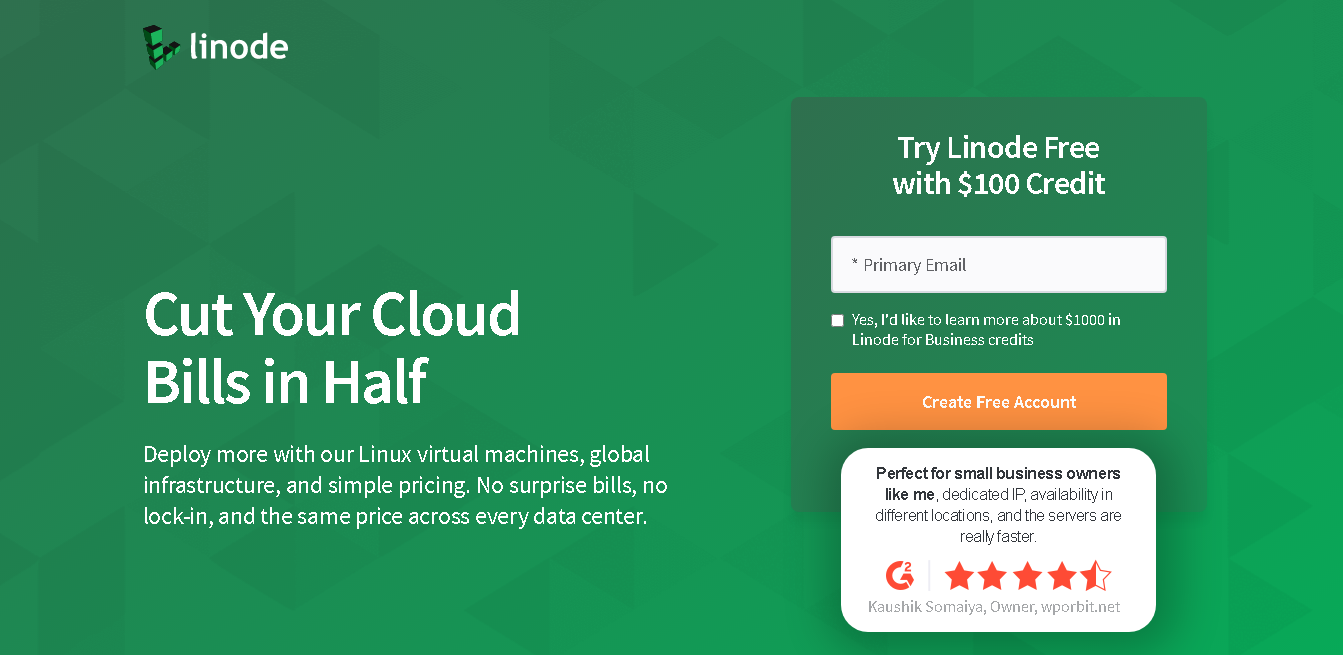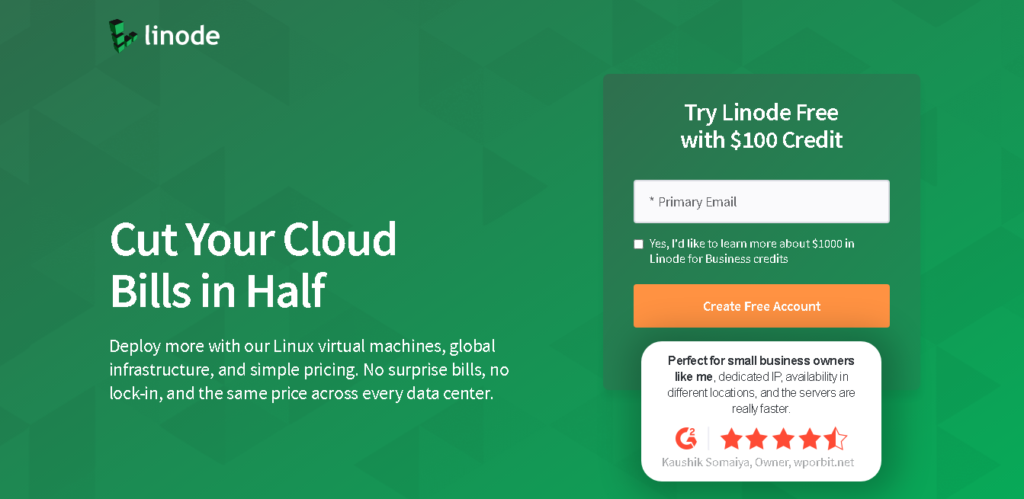 Linode is another cloud computing and hosting provider that offers several services which makes creating a site a walk in the park. The host powers their servers with AMD EPYC 7000 series CPUs which leads to a smooth workflow.
Linode which was founded in 2003 is currently serving 800k+ customers in over 11 global markets.
Just like DigitalOcean, Linode offers you a $100 credit which allows you to enjoy a free 60-day trial web hosting. To use this free trial, you must link an active credit card to your hosting account, this will verify that you are a human and not a bot. 
Also, your credit card won't get charged unless you activate a plan after the free web hosting trial elapses. The trial is not a free demo web hosting, but an actual hosting plan where you can create your site and run it for 60 days free.
Linode also offers Free DDoS protection, NVIDIA Quadro RTX 6000 (for video rendering, streaming websites, AI & complex process, and gaming), a cloud firewall, and unlimited backups to revive your site in the case of a crash.
The thing I love most about Linode is you can allow them to take control of your site and handle every function without a single effort from you. 
They can handle free site migrations from a different host, installing Cpanel, troubleshoot for downtimes, activate cloud firewalls, initiate backups, and many more.
Key Features:
Free $100 Credits to enjoy a free 60-day hosting trial
1 Data Centers over the Globe
1-clicks install for apps like WP, Drupal, Plesk, OpenLiteSpeed WordPress
Free DNS Manager
24/7 customer support
Unlimited Backups
Free DDoS & Cloud Firewall
5. AccuWeb Hosting Free Trial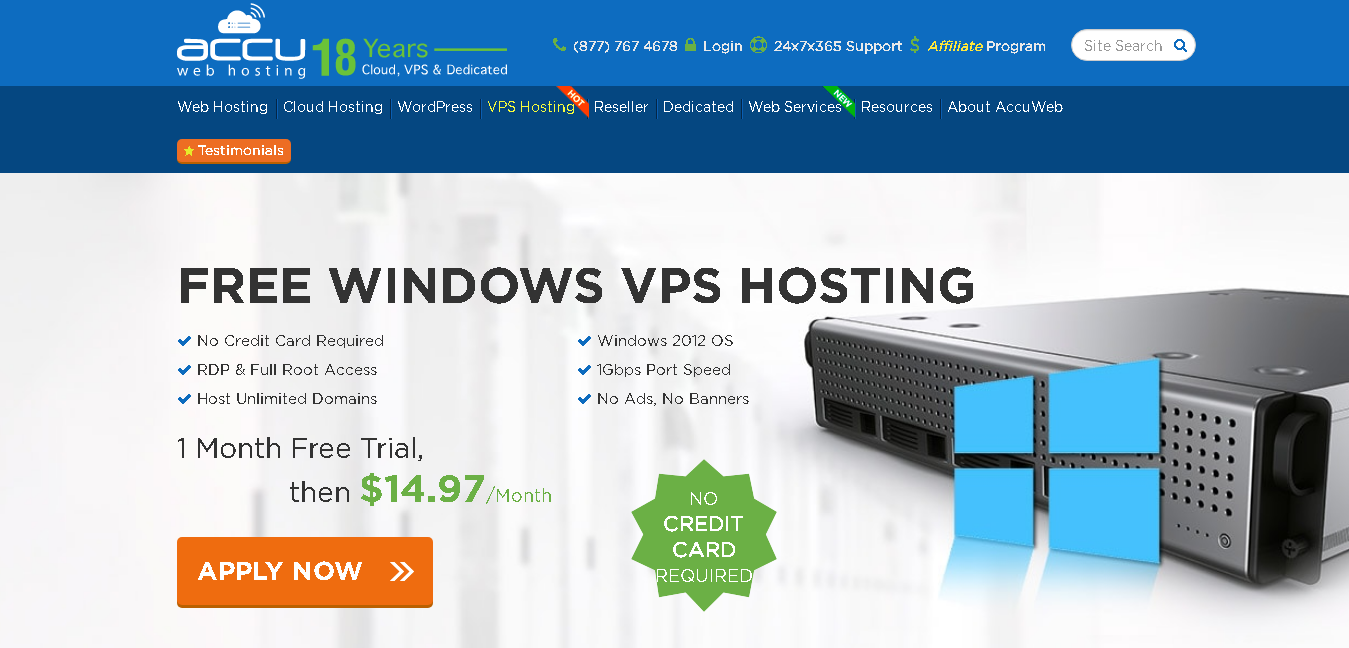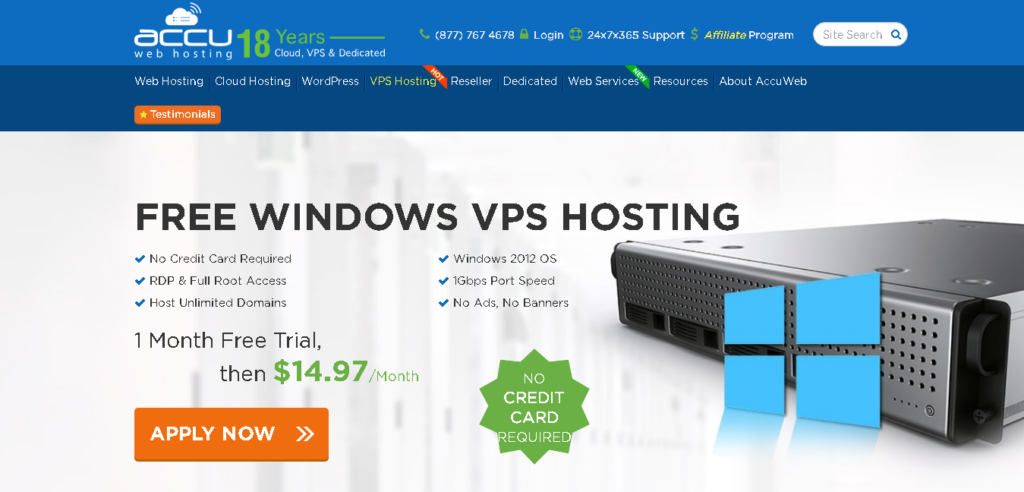 AccuWeb Hosting is a one-stop hosting solution using its 14 years of experience to serve over 55,000 customers.
AccuWeb Hosting offers varieties of hosting services including shared hosting, cloud hosting, VPS hosting, dedicated servers (on both Windows and Linux platforms).
It's even more interesting to know their hosting services come with domain registration, free site migration, SSL certificates, email delivery services, backup services, and a lot more.
Related: Importify vs Oberlo
In case you are skeptical about this host, they allow a free 30-day web hosting trial to test run their services without paying a dime.  At the end of the trial period, you must activate a plan to continue using their services.
AccuWeb Hosting offers varieties of plans. Their cheapest plan starts at $7.99 per month with mind-blowing features like 40 GB SAN storage, 1 Dedicated IP, 500 GB monthly bandwidth, etc.
Key Features:
Web-based VPS Management Panel
More choice of admin panel (cPanel, Direct Admin, & Plesk)
Free Website Transfer
Custom Built CDN with 107 pops and presents in 31 countries
Free SSL Certificate
Minecraft Hosting via a dedicated server
Hosting in USA data Center
Daily Backup
6. FastComet Free Trial


FastComet is a hosting provider that suits different ideas from small sites, companies' sites, e-commerce stores, and so on. The host tends to deliver fast services and also regularly updates their system with the latest technology.
Instead of a shared hosting plan, FastComet offers a shared cloud SSD hosting that offers advanced features like auto minify, BitNinja Server Security, 7.4 PHP, browser optimization, account isolation, lossless data compression, JavaScript bundling, Web Application Firewall, JavaScript bundling, among many others.
This shared cloud SSD plan also comes with Cloudflare CDN with over 70 endpoints, 2 GB RAM, 11 enterprise-level data centres that all lead to a faster load time and high-level performance.
Since the internet is fragile and data can be lost easily, fastComet offers a reliable backup that stores data from the last 28-day to initiate fast revival.
Also, they have a strong team that specializes in protecting your site from hackers (they also recover hacked websites) and ensure maximum security. You can also leverage their 45-day money-back guarantee if you are not satisfied with their services. This also serves as a free 45-day web hosting trial.
Key Features:
Hacked Website Recovery
Free Domain Transfer & Free Renewal
SSH, Google Apps, Git, Staging
Fast Support over chat, email, and phone
Free & Easy Site Transfer
Latest cPanel Version
Browser, Server and Website-based Optimization for speed and SEO
7. InMotion Hosting Free Trial


Founded in 2001, InMotion Hosting platform is a great competitor to DreamHost. It is currently operating in over 175 countries across the globe with 25000+ satisfied customers.
Also, their services are fast, reliable, and at reasonable prices. Just to impress you, InMotion also offers a whopping 90-day money-back guarantee if it turns out you are not satisfied with their services.
When it comes to picking a fast web hosting platform, Inmotion offers a great deal with their custom-built UltraStack (designed to boost speed & performance of website at limited resource), Max Speed Zone, and reliable Samsung SSD.
They also offer several kinds of hosting services including shared hosting, WordPress hosting, VPS, e-commerce hosting, and server solutions, all at reasonable prices and a free 90-day web hosting trial.
When your 90-day hosting trial elapses, you can jump on any of their plans depending on your need. For instance, if you are creating a small site (blog), you can activate their basic plans starting from $6.99 per month.
Key Features:
Free No-time Website Transfers
Free Drag and Drop Builder
Free Domain Registration
Unlimited bandwidth
24/7/365 Reliable Customer Support
Free no-downtime website transfer
UltraStack optimization
8. DreamHost Free Trial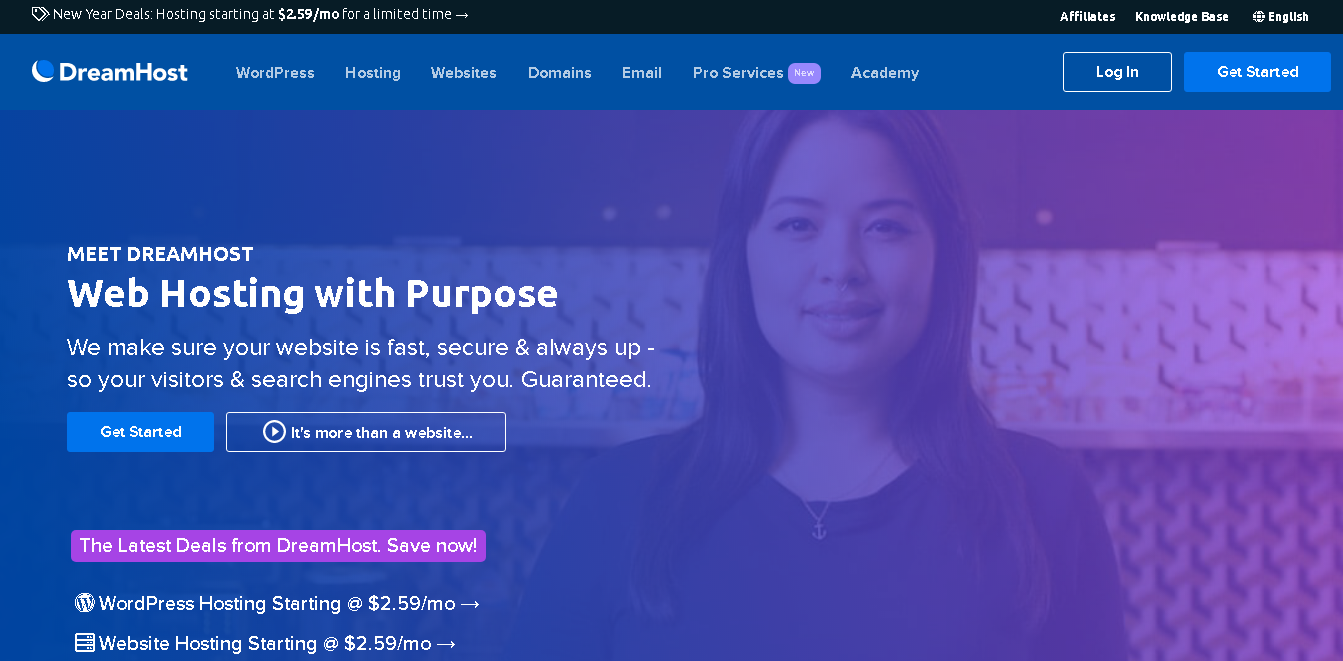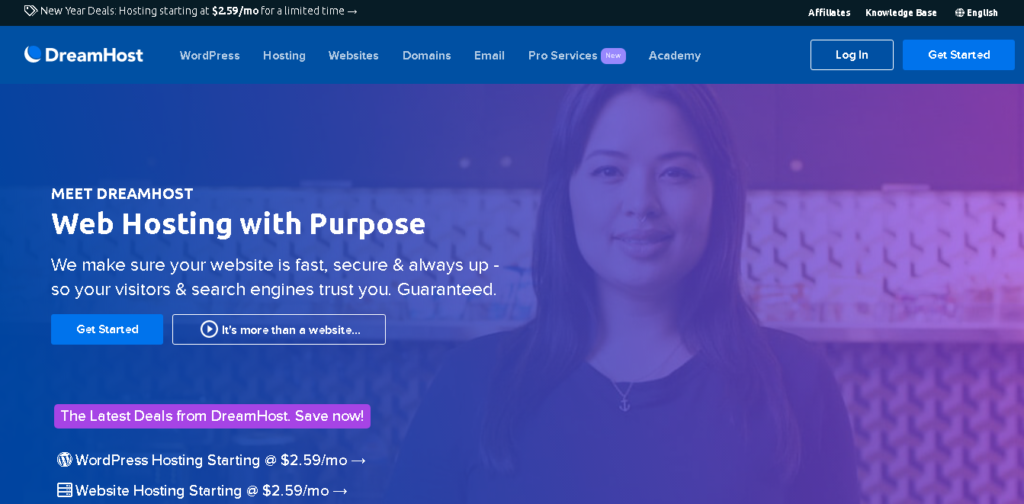 DreamHost being an old-timer in the hosting industry has been in existence since 1997. The host is currently powering over 1.5 Million websites with their affordable hosting plans, and also serving humanity with their renewable energy.
They also offer the longest trial period, they allow a 97-day money-back guarantee which serves as a 97-day free web hosting trial. Once you finish the trial period, you need to activate a plan to continue using their services.
One thing that distinguishes this host from others is that it doesn't use the normal Cpanel, it has its own custom Cpanel with tons of mouth-watering features.
DreamHost also offers varieties of hosting services promising features like unmetered bandwidth, 24/7 customer support, and automatic daily backups. Their VPS and shared hosting use SSDs (solid-state drives) to enhance your site speed.
The interesting part is that you can enjoy all these features with their 97-day hosting trial before you decide to pay for a plan.
Key Features:
Offers Month-to-Month Pricing
Free Site Migrations
Free Cloudflare CDN
Affordable plans
Automatic Daily Backups
Custom-built Control Panel
24/7 Customer Support
9. Exclusive Hosting Free Trial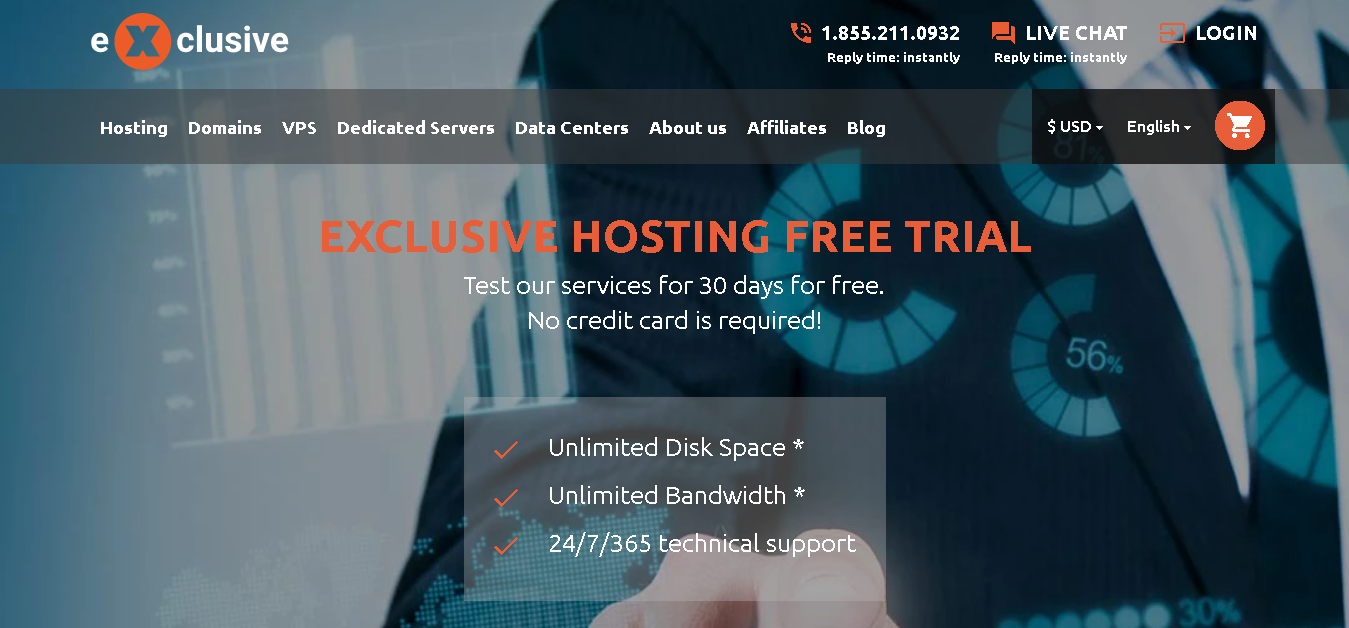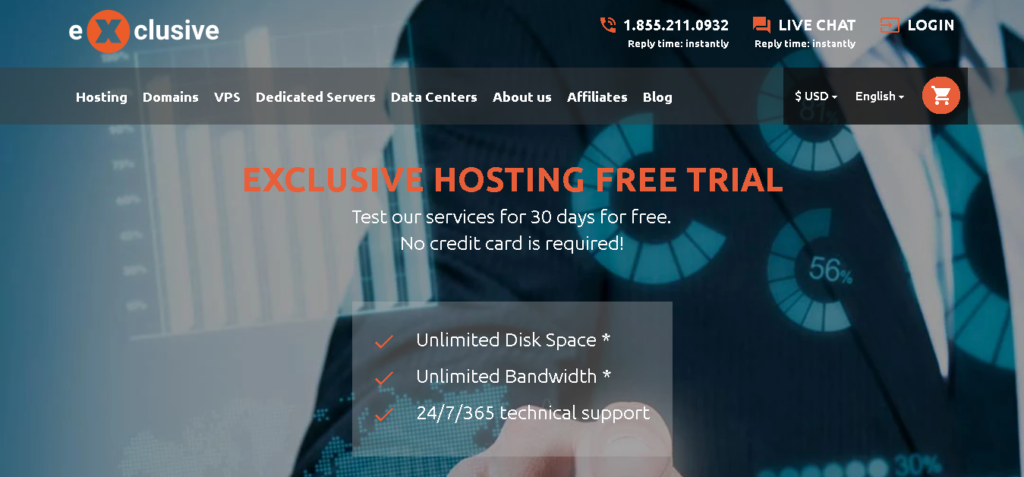 Exclusive Hosting is another cloud hosting provider that offers a plethora of hosting features including free domain name, unmetered monthly traffic, daily backup, and a lot more.
They are also one of the cheapest hosts on this list of free web hosting trials. Their basic plan starts at $2.95 per month with features like unlimited disk space, 500 email accounts, unlimited monthly traffic, 1 free domain name, and many more.
To enjoy their free 30-day web hosting trial, click this link to get to their site. You should then click on "Start Free Trial" to start using their services for 30 days without paying.
Exclusive Hosting offers lots of impressive features. For instance, their free site migration features allow you to completely move your site from a different host to them for free, while most hosts will charge you for site migration
Key Features:
Unlimited disk space
Free Web statistic reports
Daily Backup
1-Click Install function
Free Domain Name
247 Customer Support
Free Site Migration
Which is the best free web hosting trial?
It's hard to pick a single host as an answer since all the hosts in this list offer free web hosting trials. So if what you need is a free 60-day web hosting trial, choose between HostBuddy or DigitalOcean. If you want a free 45-day web hosting trial, go for FastComet. Finally, if you crave a free 30-day hosting trial, Hostgator, AccuWeb hosting, and Exclusive Hosting are all good options.
Recommended: Essence Pro Theme Review
Wrapping Up
I hope you had fun with this list of free 60-day web hosting trial? 
Even though some of the hosts on this list don't offer up to 60 days trial, while some offer up to 90 days trial, the goal is to help you pick a hosting platform that allows you to test their services before you pay.
With the vast amount of hosting companies available these days, one can easily fall prey to a mediocre host. Most hosting providers hire good copywriters, you can hardly tell if they are luring you, and this is why a free web hosting trial is vital.
If I will recommend a host for you on this list, it should be between Hostgator, Accuweb Hosting, DreamHost, or inMotion Hosting. I had a lot of experience with them.
Which of these web hosting trials will you consider? What's your experience with it?
More Posts: