In this Gemify Academy review, we will explore all of Joovier Gems' trading courses to help you decide whether they are worth the investment.
Without further ado, let's dive in.
Gemify Academy is a platform created by a Youtuber called Joovier Gems, with the intention of offering his viewers trading courses. There are currently 3 courses on the platform, which are Forex 101 (for beginners), Profitable Strategies (for struggling traders) and Crypto and DeFi 101.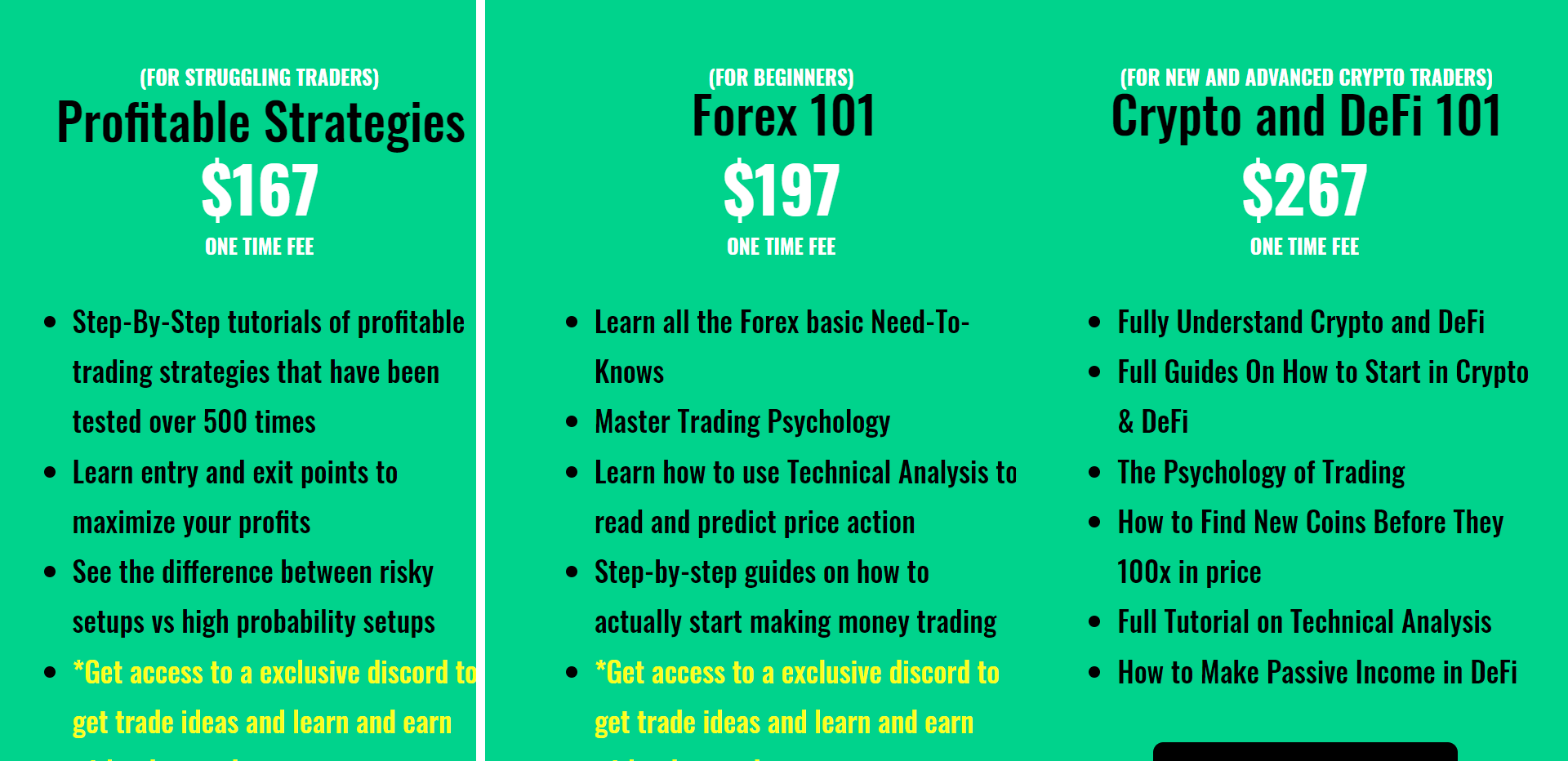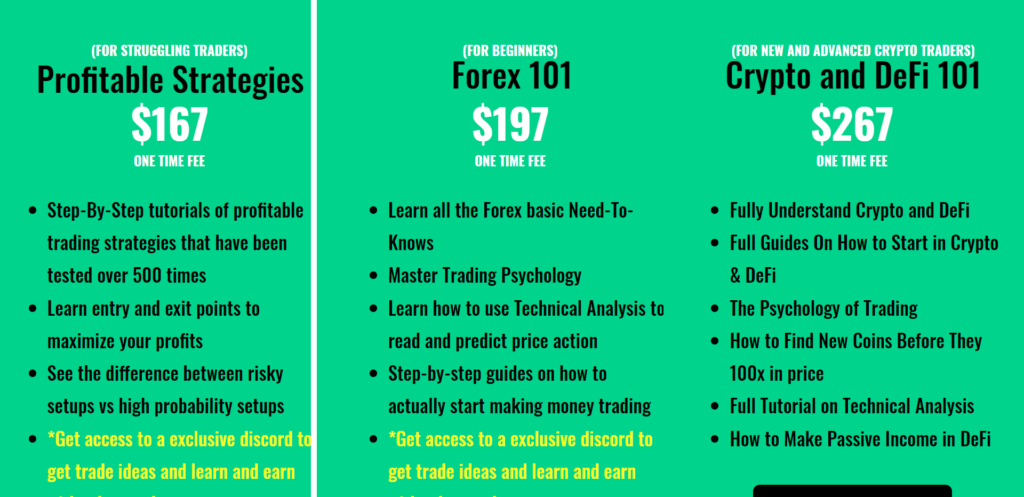 However, this Gemify Academy review will be focusing on only the first two courses. If you are looking for the best Crypto Defi course, then click here.
Without further ado, let's dive in.
Is the "Forex 101" Course Really Enough for Beginners?
Gemify Academy has a course called Forex 101, which is a program intended for novice traders trying to break through the forex trading market. Here's what you should know about the course.
Imagine this: you're an inexperienced trader, eager to immerse yourself in the realm of foreign exchange, searching for a thorough course that will navigate you through the complexities of Forex trading. 
Then you come across "Forex 101," a seemingly promising course designed specifically for beginners like yourself. But wait a moment! Can this course truly suffice for someone starting from scratch? 
Before I answer the question, here's all the information Joovier provides about the course on his website:
Learn all the Forex basic Need-To-Knows
Master Trading Psychology
Learn how to use Technical Analysis to read and predict price action
Step-by-step guides on how to actually start making money trading
*Get access to an exclusive discord to get trade ideas and learn and earn with other traders
 If you've ever bought any forex trading course before, you will quickly understand this course is not in-depth enough to help you start your journey as a trader. In fact, it barely scratched the surface.
So instead of paying $197 to get the bare minimum, I highly recommend you check out the Day Trading Addict course, which will take you from a zero-experienced trader to a pro in a short time as it did to me.
Having said that, let's now explore the reasons why "Forex 101" may not adequately meet the requirements of new traders.
Insufficient Foundational Knowledge: Missing Building Blocks! 
As a novice, establishing a strong knowledge base is crucial before delving into the Forex market. Unfortunately, "Forex 101" fails to address this essential aspect adequately. 
It overlooks the fundamental concepts and principles that form the bedrock of the Forex market, leaving you bewildered and ill-prepared to make informed trading decisions. 
Without a firm grasp of key terminology, market dynamics, and risk management, your journey into Forex trading may resemble navigating a dense forest without a compass.
In one simple sentence, the Forex 101 course didn't do a good job of establishing a solid foundation for novice traders.
Superficial Approach: Shallow Waters Don't Make Expert Swimmers! 
Mastering the intricacies of Forex trading demands a deep exploration of various strategies, analysis techniques, and risk mitigation tactics. Regrettably, "Forex 101" barely scratches the surface in this regard. 
It merely provides a high-level overview of the market, offering shallow insights that fail to equip beginners with the necessary tools to navigate the ever-changing currents of Forex trading. 
Without thorough examination and analysis of real-world scenarios, you'll find yourself gasping for breath when confronted with the challenges of the Forex market.
Honestly, when compared to other impressive trading courses, Forex 101 isn't even a match.
Limited Practical Application: Theory Without Practice is a Sinking Ship! 
For beginners, hands-on experience and practical application are paramount for growth as a trader. Sadly, "Forex 101" neglects to provide ample opportunities to apply your newfound knowledge. 
It lacks real-time simulations, case studies, or interactive exercises, leaving you grappling with abstract theories and concepts that fail to bridge the gap between theory and practice. 
Remember, it is the experience gained from executing actual trades that sharpens your instincts and enhances your decision-making abilities.
Absence of Expert Guidance: Navigating Uncharted Waters Alone! 
Navigating the Forex market is similar to steering a ship through treacherous waters. Having an experienced captain by your side can make all the difference. However, "Forex 101" falls short in offering the necessary guidance from seasoned experts. 
Without the mentorship of knowledgeable instructors who have weathered the storms of Forex trading, you may find yourself lost amidst the overwhelming sea of information and potential pitfalls. 
The absence of expert guidance can impede your progress and increase the likelihood of costly mistakes.
While the course gives you access to a discord group, the group is still young so it isn't filled with many expert traders that can guide you right when you are moving wrong.
In conclusion, while "Forex 101" may initially seem enticing, it ultimately fails to meet the needs of beginners. Its deficiencies in providing a strong foundation, comprehensive insights, practical application, and expert guidance make it an inadequate resource for those embarking on their Forex trading journey. 
Remember, achieving success in Forex trading necessitates a course that equips you with the essential tools and knowledge to navigate the market with confidence and resilience.
If you are looking for a better alternative to Gemify Academy's Forex 101 course, a program that's more in-depth and takes you from nothing to something in the forex trading industry, then you should check out this course.
 Is the "Profitable Strategies" Course the Missing Piece for Struggling Traders?
Gemify Academy has another course called Profitable Strategies (for struggling traders). Let's see what the course has to offer.
Imagine this: you're a trader who has been caught in a whirlwind of losses and setbacks in the unforgiving world of trading. Your dreams of financial success seem to be slipping through your fingers, and you're desperately searching for a beacon of hope. 
That's when you come across "Profitable Strategies," a course promising to be the answer to your trading woes. 
But hold on for a moment! Is this course truly the game-changer you've been yearning for? Let's explore the reasons why "Profitable Strategies" may not be the silver bullet you've been seeking.
A Superficial Approach 
As a struggling trader, you need a course that delves deep into the intricacies of the market, unveiling its mysteries and offering profound nuggets of wisdom. Unfortunately, "Profitable Strategies" fails to deliver in this aspect. 
It presents a surface-level approach, skimming over trading strategies without providing the thorough analysis and insights that struggling traders genuinely require. 
Mere shallow overviews are not enough, you need more than that to go from a struggling trader to a successful trader.
Lack of Personalized Guidance
Every struggling trader faces unique challenges and circumstances that demand personalized attention. However, "Profitable Strategies" neglects to acknowledge this vital element. 
It adopts a one-size-fits-all approach, presuming that a single strategy can miraculously transform the fortunes of every struggling trader. Yet, trading is far from a one-dimensional puzzle with a universal solution. 
Without tailored guidance and support that consider your specific circumstances, you may find yourself trapped in a cycle of frustration and disappointment.
This is why I love the Day Trading Addict Course. The creator of the course and his admin are actively interacting with students in the group to help them solve their personal problems.
Also, unlike Gemify Academy's discord room which doesn't have enough expert traders, the Day Trading Addict discord room is filled with professional traders that are ready to help you navigate your problems.
You will also get access to a custom-made supply and demand indicator when you buy the course.
Soft Risk Management Lesson
Successful trading relies on a comprehensive understanding of risk and the implementation of effective mitigation strategies. 
Even the most promising trading techniques can lead to devastating losses without a solid grasp of risk management. Sadly, "Profitable Strategies" falls short in addressing this fundamental pillar of trading. 
It overlooks the significance of risk management techniques, leaving struggling traders exposed to potential financial disasters. Conquering the beast of risk necessitates a thorough approach, which appears to be lacking in this course.
Limited Real-World Application
Theory alone cannot navigate the treacherous waters of trading. Practical application and real-world experience are paramount for struggling traders to overcome their obstacles. 
However, "Profitable Strategies" fails to offer abundant opportunities to apply the acquired knowledge. 
The absence of real-time simulations, case studies, and interactive exercises leaves you struggling with theoretical concepts that may remain disconnected from the practical realities of trading. 
To truly transform your trading journey, it is imperative to bridge the gap between theory and practice.
In conclusion, while "Profitable Strategies" may initially seem like the answer to a struggling trader's prayers, it ultimately falls short of meeting the unique needs of traders striving for financial success. 
Its superficial approach, lack of personalized guidance, inadequate focus on risk management, and limited real-world application impede its ability to genuinely empower struggling traders. 
In this Gemify Academy review so far, you've seen that the two Joovier trading courses are not worth it. If you are serious about becoming a professional trader, I highly recommend you check out the Day Trading Addict program.
Recommended: TRND Bot Review
Why Day Trading Addict is Better than Gemify Academy Trading Courses
I know I have mentioned the Day Trading Addict course a lot in this Gemify Academy review. Well, the reason is that I have taken the course and it's one of the best decisions I made.
Day Trading Addict training is a course that provides powerful Price Action course, created by BEN, the expert trader behind the Day Trading Addict YouTube channel. The course is also called 
Ben, also known as the Day Trading Addict, has been a day trader for 14 years. He has a strong desire to impart his skills and aid traders in becoming excellent at trading. He created his most recent Price Action Course, which is helping thousands of traders become financially free.
The best part of the program is that it's suitable for anyone regardless of the stage you are in as a trader. It will take you from zero to hero in a couple of weeks as long as you put in the work.
The course was designed by Ben to help you stop losing money and teach you how to make profits in your trades. 
The Day Trading Addict Course will teach you how to take advantage of the fluctuations in the FOREX market. This includes all the ups, downs, and sideways movement of the candlesticks (or whatever chart line type you use) — you can make money from every turn the market takes.
With Ben's powerful formula shared in this course, you will be able to raise your day trading or swing trading income each month. And also stop guessing when to enter a trade or pull off from a trade.
With all the methodologies, tools, and training offered in this course, there's no way you won't end up with more money, more happiness, and no obstacles.  
In simple words, if you want to become a full-time trader that makes a decent amount of money each month, you should check out this Price Action Course.
To check out the full content details of the course, click here. However, if you want to see how this course benefited me and want to read my full review, check it out here.
If you are looking for the best Crypto Defi course, then click here.
More: