Review of Trade Win Profit Academy
This is an in-depth Trade Win Profit Academy review (or review of TWP Price Action Course) that touches every aspect of this trading course, including its content, pricing, pros & cons, and whether the training is good for you or not.
If you are interested in becoming either a full-time or part-time trader, there's a high chance that you have heard of Ben's Price action course. But the question you might want to know is whether the course is worth it or not.
Well, you will find out in this Day Trading Addict Course Review.
What is Trade Win Profit Academy About?
Trade Win Profit Academy is a platform that provides a powerful Price Action course, created by BEN, the expert trader behind the Day Trading Addict YouTube channel.
Ben, also known as the Day Trading Addict, has been a day trader for 14 years. He has a strong desire to impart his skills and aid traders in becoming excellent at trading. He created his most recent Price Action Course, which is helping thousands of traders become financially free.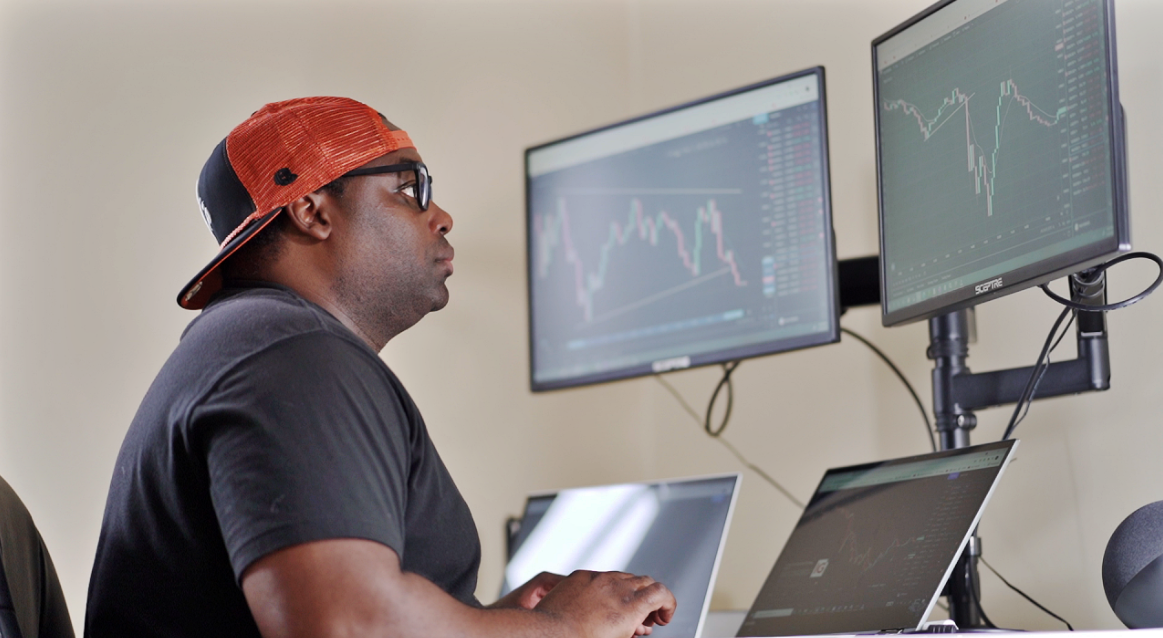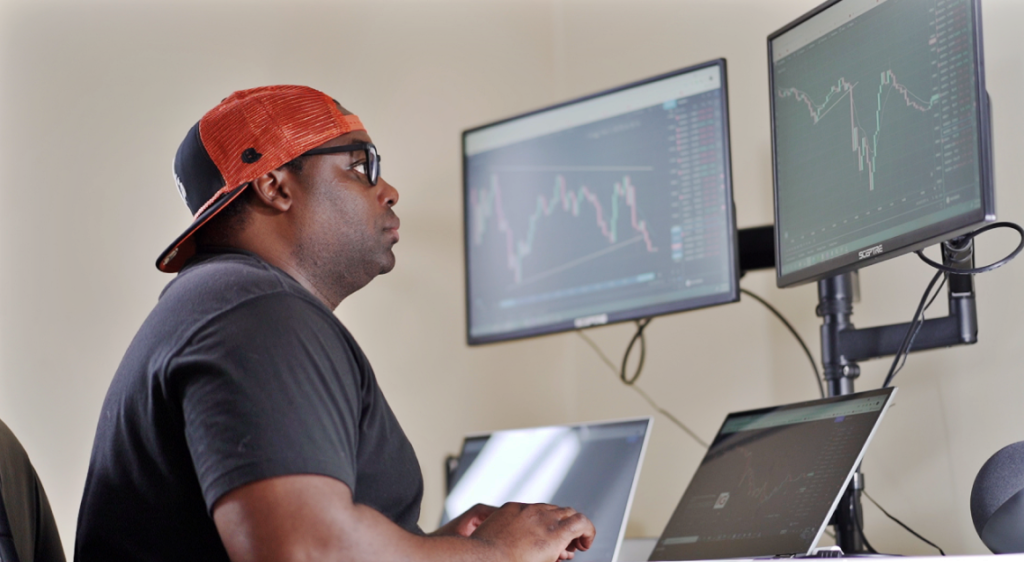 Trade Win Profit Price Action course was designed by Ben to help you stop losing money and teach you how to make profits in your trades. 
The Day Trading Addict Course will teach you how to take advantage of the fluctuations in the FOREX market. This includes all the ups, downs, and sideways movement of the candlesticks (or whatever chart line type you use) — you can make money from every turn the market takes.
With Ben's powerful formula shared in this course, you will be able to raise your day trading or swing trading income each month. And also stop guessing when to enter a trade or pull off from a trade.
With all the methodologies, tools, and training offered in this course, there's no way you won't end up with more money, more happiness, and no obstacles.  
In simple words, if you want to become a full-time trader that makes a decent amount of money each month, you should check out this Price Action Course.
I Tried Day Trading Addict Course for 10 Weeks (Here's What Happened)
After buying the Day Trading Addict Price Action Course, I decided to dedicate 10 weeks to learning and practicing the content of the course. Here is the documentation of my experience.
Week 1: Exploring the Forex Market
As an inquisitive student seeking new opportunities, I stumbled upon the Day Trading Addict Course also called TWP Price Action Course. Intrigued by its potential for financial independence, I decided to invest in my education by enrolling in this Forex trading course. Little did I know that this choice would have a profound impact on my life.
Week 2: Establishing a Strong Foundation
During the initial weeks of the course, I immersed myself in learning the fundamental concepts of Forex trading. I diligently studied currency pairs, market analysis, risk management, and various trading strategies. The course provided me with a structured approach to comprehending the Forex market, empowering me to make well-informed decisions.
Week 3: Mastery of Technical Analysis
With a solid foundation in place, I delved deeper into the realm of technical analysis. The course equipped me with the skills to interpret charts, identify trends, and analyze indicators. I acquired the ability to discern entry and exit points, enabling me to make calculated trading decisions.
Week 4: Developing a Comprehensive Trading Plan
Recognizing the significance of discipline and consistency, I dedicated the fourth week to crafting a meticulous trading plan. I learned (from the course) to set realistic goals, manage risk effectively, and devise a systematic approach to trading. This plan would serve as my roadmap to success in the Forex market.
Week 5: Implementing Strategies Confidently
Armed with a comprehensive trading plan, I felt prepared to put my knowledge into action. The course provided simulated trading platforms where I could practice without risking real money. I executed my initial trades while maintaining a journal to document my progress and evaluate my decision-making.
Week 6: Navigating Market Volatility
During this week, I acquired the skills to adapt to dynamic market conditions. The course emphasized the importance of risk management and taught me techniques to mitigate potential losses. Through hands-on experience, I gained valuable insights into managing market volatility and adjusting my strategies accordingly.
Week 7 & 8: Consistent Profit Generation
As I progressed through the course, my skills and confidence grew exponentially. By implementing the strategies I had learned, I began generating consistent profits. I closely monitored my trades, learning valuable lessons from both successful and unsuccessful endeavors. The Forex market evolved into a lucrative income stream that exceeded my initial expectations.
Week 9: Scaling Up and Expanding Horizons
Equipped with a robust foundation and proven strategies, I felt ready to elevate my trading endeavors. I delved into advanced concepts such as leverage, position sizing, and multiple time frame analysis. The course guided me through the intricacies of advanced trading techniques, enabling me to diversify my portfolio and explore new currency pairs.
Week 10: Attaining Financial Independence
Through perseverance, dedication, and the knowledge acquired from the course, I gradually achieved financial independence as a Forex trader. I expanded my trading activities, reinvesting my profits to grow my portfolio. The Forex market became one of my important sources of income, granting me the freedom to pursue my passions and live life on my own terms.
Reflecting upon my journey, investing in a Forex trading course proved to be a transformative decision. It furnished me with the necessary knowledge, skills, and confidence to navigate the complexities of the Forex market.
With unwavering commitment and a thirst for continuous learning, I evolved from an inexperienced student to a thriving trader, reaping the rewards of my dedication and perseverance.
Today, my success serves as a testament to the fact that, with the right education and mindset, anyone can achieve financial prosperity through Forex trading.
It doesn't have to be this course, if you find a better course that you believe in, you can enroll in it. The goal is just to make sure you invest in your education if you want to become a Forex trader.
But since you are reading this Day Trading Addict Course review, I recommend that you join this training. Click here to get a $50 discount off the price.
Is Day Trading Addict Course Worth It?
It's a big YES for me — the Day Trading Addict Course, by Ben,  is worth every penny! It covers everything that should take you from a panicking newbie trader to a cash cow.
Below is the certificate I got after completing the course: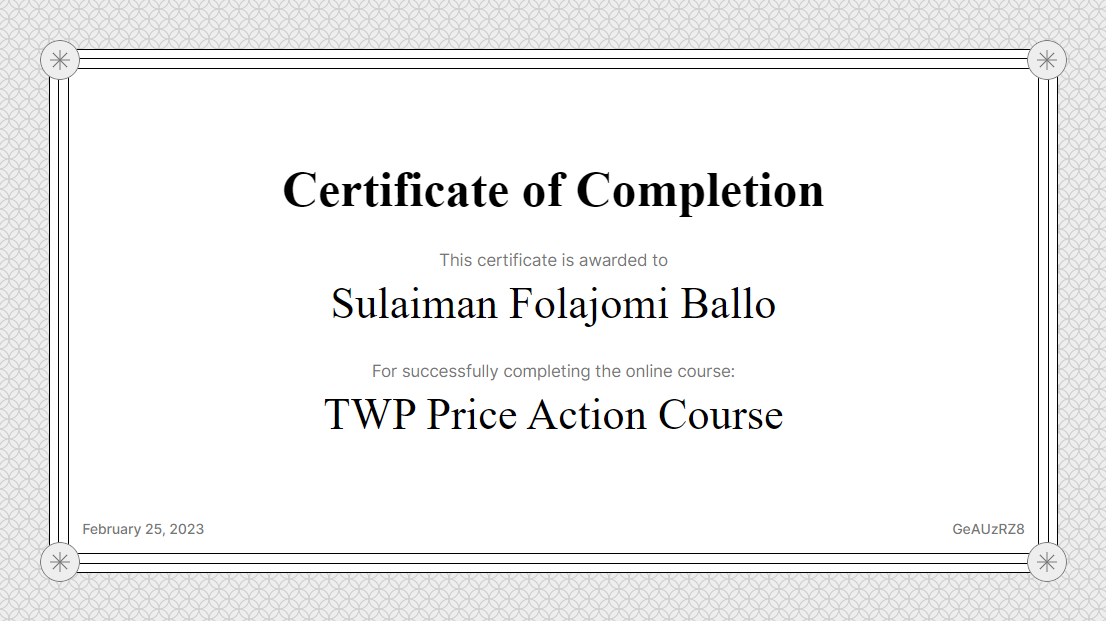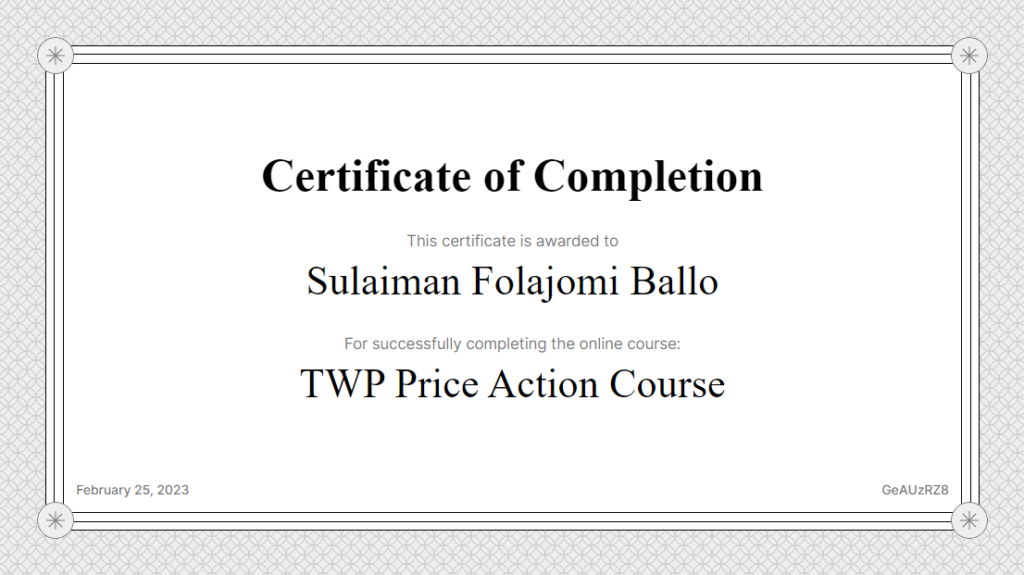 When you register for the course, you will have exclusive membership that will help you achieve the goal of becoming a successful trader.


The membership includes:
Exclusive Price Action Course
Premium Private Member-Only Trading Chat Room
Exclusive Custom-Made Supply & Demand Indicator
1. Exclusive Price Action Course
Purchasing Ben's training will, of course, give you access to the Exclusive Price Action Course. In this Price Action course, Ben offers his expert strategy to help you make profits trading consistently.
This Exclusive Price Action Course is designed to help you trade like a professional. You will also learn when to enter and leave a trade like an expert.
This is what it looks like when you first login into your TWP Price Action Course account: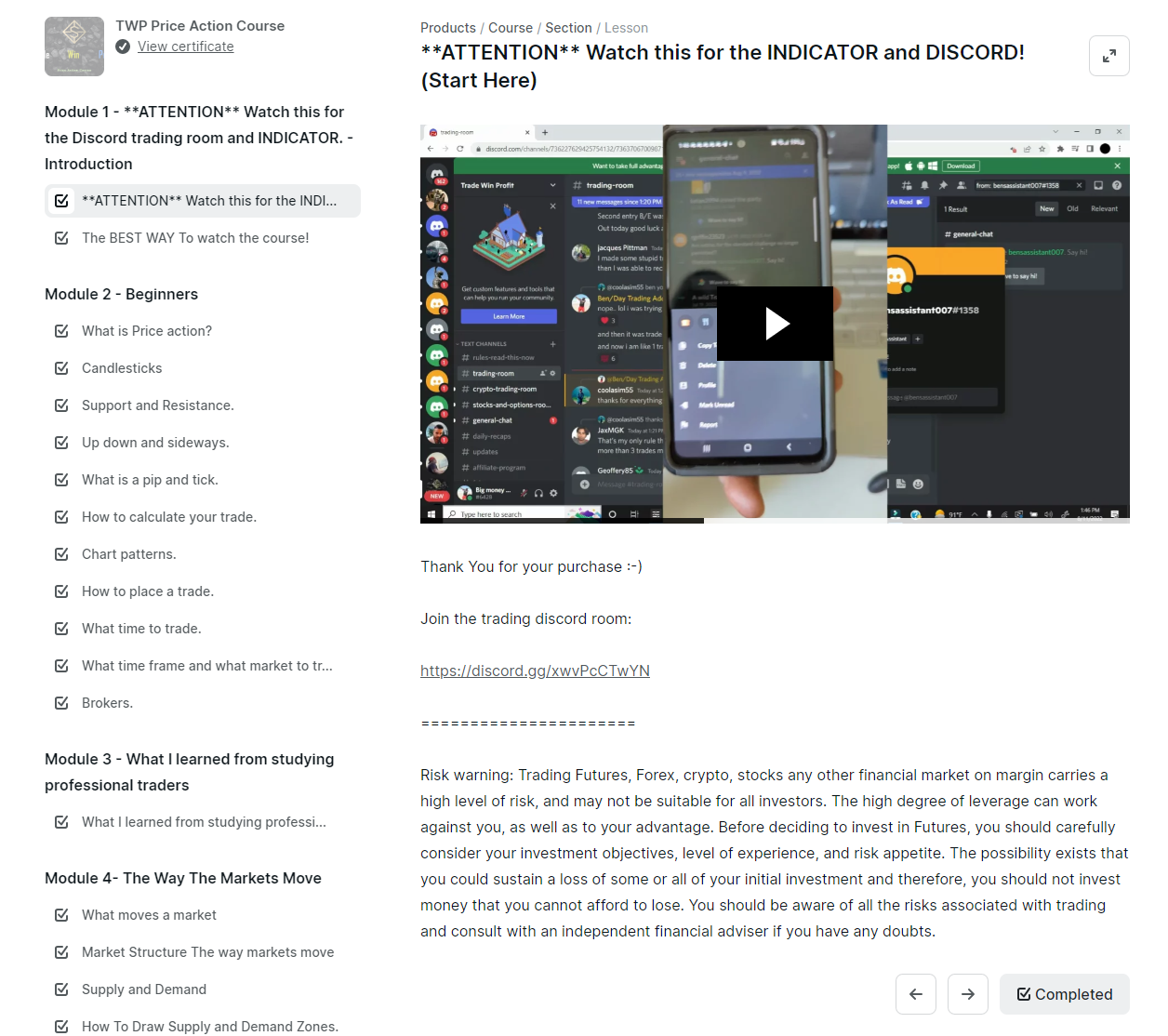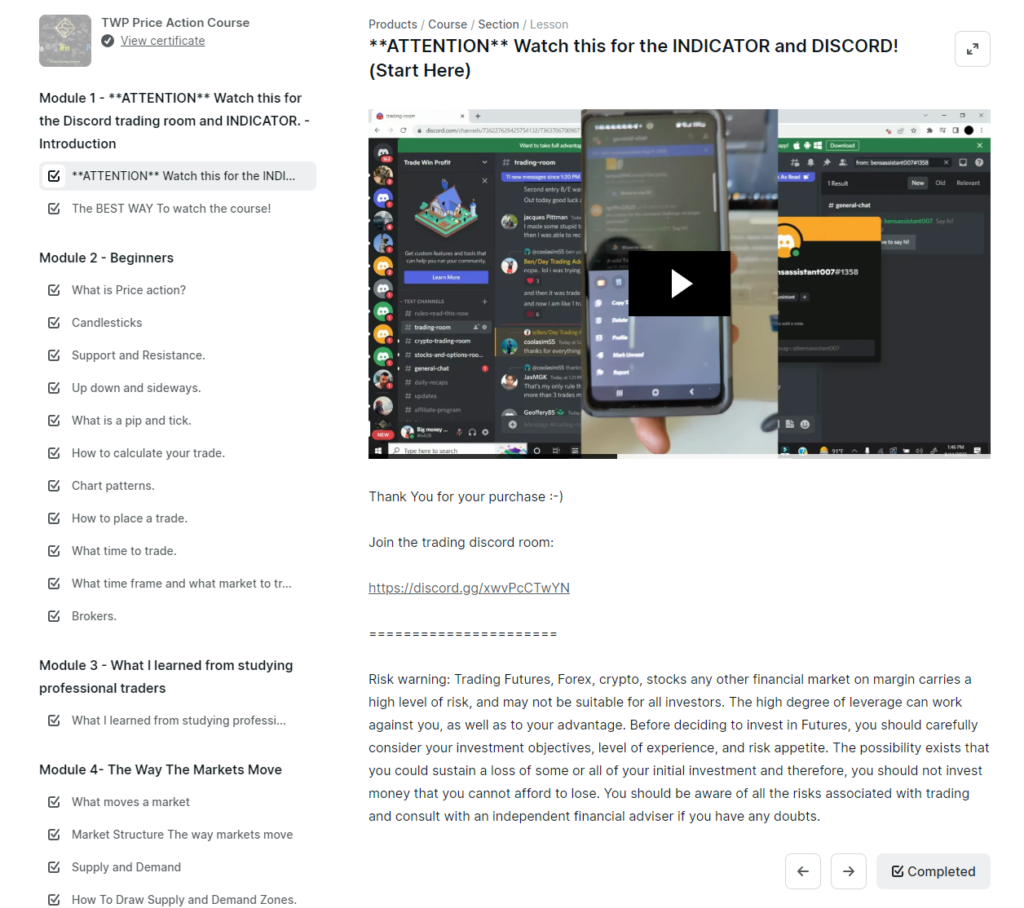 In this course, you'll also learn smart money tricks and master the power of using demand and supply to make more from your trades. I will dive deeper into the course content later.
2. Premium Private Member-Only Trading Chat Room
This membership also has a premium private member-only trading chat room where you can talk to like-minded traders like yourself and those more advanced than you are.
In the chat room, you will find students like yourself posting charts and sharing ideas. This promotes healthy growth amongst all premium students.
In fact, there's a higher chance that you will learn at least one important trick (every day) that will hone your trading skill, from this private chat room. So make sure to check out this group once you buy this course.
The first video in this course will show how to have access to this Private Discord Room.
3. Exclusive Custom-Made Supply & Demand Indicator
This membership also provides you with a custom-made supply and demand indicator to help you locate demand and supply zones. 
This indicator will help you quickly identify the zones on the chart where the demand is higher than the supply (where the price goes up) and also where the supply is higher than the demand (where the price goes down). 
Also, the exclusive custom-made supply and demand indicator includes buy and sell confirmation so you can know where and when exactly to buy or sell (and also leave the trade). This will make your trading easy especially if you are a beginner.
Day Trading Addict Course Review: What's Inside the TWP Price Action Course?
The TWP Price Action course is split into modules with groups of video lessons that will guide you throughout the course. These modules range from 1 – 15 and cover everything from introductory lessons to mastery over trading with Price Actions.
For this section of this Day Trading Addict course review, we will look into all the modules.
Module 1: Introduction
Being the first module, the lessons you will find in this module introduce you to important aspects of the course that will be handy as you advance with the training.
The lessons in this module introduce you to the goodies you will be getting as you advance. You will get to learn about the discord trading room to help you grow, learn, and share ideas. And you will also learn about Indicators; what they are and how to use them.
There are two video lessons in this module which has a total runtime of 16 minutes. Nothing fancy here, the lessons are just to prepare your mind for the remaining part of the course.
Module 2: Beginners
Module 2 packs 11 video lessons which run for 78 minutes. This module will be teaching you all the basics every newbie FOREX trader should know. 
Some of the lessons you will be learning in this module include:
Candlesticks
Support and resistance
Up down and sideways
What is a pip and tick
Chart patterns
How to place a trade
What time to trade
Brokers, etc
Module 3: What I Learned from Studying Professional Traders
This module gives you only one video lesson which runs for 20 minutes. In module 3, Ben gives his personal experience of all that he had learned from studying professional traders. 
Is it the right thing to do? Did their strategy work for him? Was it worth it? — watch the video lesson to find out.
I personally think this video will save you from a lot of mistakes. Whenever you are tempted to try something new, you can go back to this video to see how it ends for people that already tried it; learning from experience.
Module 4: The Way The Markets Move
In this module, you will learn exactly what makes the market move; why we have up and down fluctuations in price movements — all in 7 video lessons with a total runtime of 72 minutes.
Spoiler alerts, Supply and Demand move the market. But in this course, you will get to learn everything that connects supply and demand to the market movement.
You will also learn exactly how to understand supply and demand like a pro, plus how to use it to your biggest advantage.
Module 5: How to Build a Small Account
Every newbie FOREX trader has to start from somewhere, and that somewhere should be a small account, especially if you don't have enough capital.
So, in module 5, there are 8 video lessons with a total runtime of 154 minutes all designed to teach you how to build a small trading account.
Even if you have enough money to trade with big equity and lot size, it's still very crucial to start trading with a small investment, at least to practice your skill. Then when you are confident about your skill, you can increase your investment.
This is why this module is very important. If you can follow it through and learn how to build a small account to a big one, then you will become a trading expert. The lessons in this module are over 2 hours and 30 minutes, so I recommend you settle down to watch it.
Module 6: How To Trade Traps (Setups)
Traps can be very confusing to trade and can cause traders to blow their accounts, even for advanced FOREX traders. 
So, to help you gain mastery over trading traps in case the situation should arise (as it always does), this module has only one video lesson which runs for 12 minutes covering everything you need to know about trading traps successfully.
Module 7: Setups and How To Exit
It can be hard to know what signs to watch out for before entering a trade. Or what signs scream "exit the trade right now!"
But in this module, you will find 4 video lessons with a total runtime of 269 minutes explaining all you need to know about all the signs you need to watch out for before entering a trade (setups) and how to exit a trade.
This module is also one of the most important in this course. In fact, if you watch only the lessons in this module and you become good at identifying the signs, you can confidently call yourself a trader.
Module 8: How To Master Reversals and Deep Pullbacks
We can't beat the possibility of a trend reversal or pullback happening when trading. These are a few of the mishaps that can get traders to blow their accounts, especially newbies.
To help you master reversals and deep pullbacks, this module has packed in 9 video lessons with a total runtime of 285 minutes, all offering distinct lessons on how-to and trading setups.
After taking this module, you should never fall into the same mistake newbies make when analyzing Reversals and Deep Pullbacks.
Module 9: Professional Trading
In module 9, you will find 8 video lessons with a total runtime of 136 minutes, all focused on teaching you professional trading strategies to make the huge profits you always wanted.
If you have consumed the course up to this module, then you must have known the key methods of trading. However, in this module, Ben will teach you most of the professional trading strategies that him and other expert traders use.
This module should set you up to become a Professional Trader.
Module 10: Swing Trading Examples
Module 10 has only one video lesson that runs for 19 minutes. This lesson, Swing Trading examples, will introduce to you what swing trading is about. 
Also, you will get to see swing trading examples from professional swing traders. Of course, the best way to learn is by seeing and studying proven examples.
Module 11: Smart Money Manipulation
When it comes to FOREX trading, you are only a small fish in the sea. The sharks are made up of brokers, institutional investors, central banks, market mavens, and other financial professionals that have billions of money to manipulate the FOREX market.
The capital that is controlled by these sharks is called smart money. But in this module, you will learn how to take advantage of those sharks' money. 
In module 11, there are two video lessons with a total runtime of 42 minutes crafted to teach you all the smart money tricks to manipulate your way to profits.
Module 12: What to Do and What Not to Do
Are there times when you felt like you had a manual that states what to do and what not to do when trading? Here, now you have one.
This module contains two video lessons with a total runtime of 16mins that spell out what you should do and what not to do when trading in the FOREX market.
So if you ever need a guide to look at when trading, this become is very handy.
Module 13 – How to Journal like a Pro
Journaling is important for every FOREX trader to keep track of what works and does not, and this module has just the right lessons to help you journal like a pro.
In module 13, there are two video lessons with a total runtime of 18 minutes covering everything about journaling.
Module 14 – How to Set Up your Indicator
Indicators are handy tools or pointers that indicate when to enter or exit a trade. In other words, they can give you trading signals without you having to stare at candlesticks blankly.
Setting up an indicator is usually personal and it is usually infused with your trading strategy. But in this module, you will learn about the many FOREX trading indicators and how to set them up in the most basic manner.
In module 14, you will find 4 video lessons with a total runtime of 59 minutes, that will teach you about setting up your indicators.
Module 15 – How To Become A Better Trader
In module 15, you only get one video lesson with 36 minutes run time. As the final lesson in this course, the module 15 lesson is filled with pro tips and pieces of advice you can take to take your trading to the next level.
Pros & Cons of Day Trading Addict Course (Trade Win Profit Academy):
Pros:
Provides a structured and organized approach to learning about trading
Helps you understand the basics and fundamentals of trading
Offers practical knowledge and techniques for successful trading
Provides real-life examples of successful trading strategies
Teaches risk management and how to minimize losses
Helps traders develop a trading plan and discipline
Offers access to mentors or experienced traders for guidance and support
Provides access to trading tools and platforms
Offers opportunities for networking with other traders
Can save time and reduce trial-and-error learning
Cons:
Not the cheapest trading course
How Much Does the Day Trading Addict Course Cost?
The Trade Win Profit Academy Price Action Course cost $349 (one-time off). Buying this course will give you membership to the course and a chat room to share ideas and learn amongst traders like you.
However, Ben is running a limited-time discount on the TWP Price Action course. Click here to get your 15% discount today. So you will be paying $297 instead of $349.
In addition, you will also be getting a bonus valued at $400 — the exclusive custom-made supply and demand indicator, for free. You can check out the course here.
Conclusion on Trade Win Profit Academy Review
To round it up, if you are a newbie when it comes to day FOREX trading, or you keep getting confused when you look at your charts, or you are at advanced levels and need some more brush-up tutoring, you should definitely check out the Trade Win Profit Academy Price Action Course.
This course covers everything that will make you stop losing your trades and start doubling your profits even enough to make you quit your 9 to 5 job. There are no requirements and no hidden monthly fees to pay.
All you have to do is purchase the course and let Ben, the FOREX trading expert with over 14 years of experience, download the secret knowledge that has been fetching him tons of dollars monthly, into you.
In the concluding part of this Day Trading Addict course review, I recommend that you check out the Price Action Trading course here.
Read also: