Our content is reader-supported. If you click a link and buy something, we may get a commission at no extra cost to you. Read the full disclosure here.
In the past, I have written on Shopify for Artists, Shopify for Photographers, Shopify for Restaurants, and many other Shopify guides.
Today, I will explain the benefits of Shopify Plus to help you understand if this plan is suitable for you.
Shopify is a fully-hosted e-commerce store builder that makes creating and managing an online store stress-free. With Shopify Plus, managing a store is taken to a different level. The plan comes with tons of advanced features and tools suitable for established stores.
Shopify Plus benefits are so many. This is why many established brands are happy to move their business to Shopify plus.
For big names like Gymshark, Red Bull, Kylie Cosmetics, and Nestlé to move to Shopify Plus, there must be something unique about this plan.
If you are thinking of moving to Shopify plus, but you want to be sure it's worth the investment, you will find this article interesting. In this guide, we will discuss:
Without further ado, let's dive in.
Shopify Plus Benefits: 11 Mouth-watering Features you will enjoy
1. Store Cloning
One of the Shopify plus benefits that stand out is store cloning. If your business target multiple countries, the plus' plan allows you to clone your site to 9 different places, allowing you to optimize for other countries perfectly. All this at no extra cost.
For example, if your target audiences are from Belgium and France, you can clone your store in 2 places, with the same products and pages, targeting those two countries. This allows you to tailor each store to capture the target customers efficiently.
Most established stores target the global market. Therefore, this Shopify plus feature is a game-changer for them.
2. Custom Page Checkout
One of the reasons Shopify became the preferred choice of many merchants is the plethora of features and customizations it offers for creating an online store without any coding or design skill. However, advanced checkout customization is only available on Shopify Plus.
Shopify Plus merchants can customize the default two-page checkout and convert it to one page, three, or any variation. This allows merchants to run A/B testing to see which checkout style brings the highest conversion. 
Having complete control over the checkout page is vital, as it is a stage where money can be earned or lost. In fact, a study shows that using the right checkout optimization strategies increases conversion by 35.65%.
This is why custom page checkout is a big deal for most merchants.
Related: How much does Shopify Cost a Month
3. Launchpad
With the Launchpad tool, merchants can quickly set up and track product launches and flash sales. This app allows you to schedule tasks like limited-time sales, with the price correlating the task. The price drops when the limited sale begins and returns to default at the end of the event.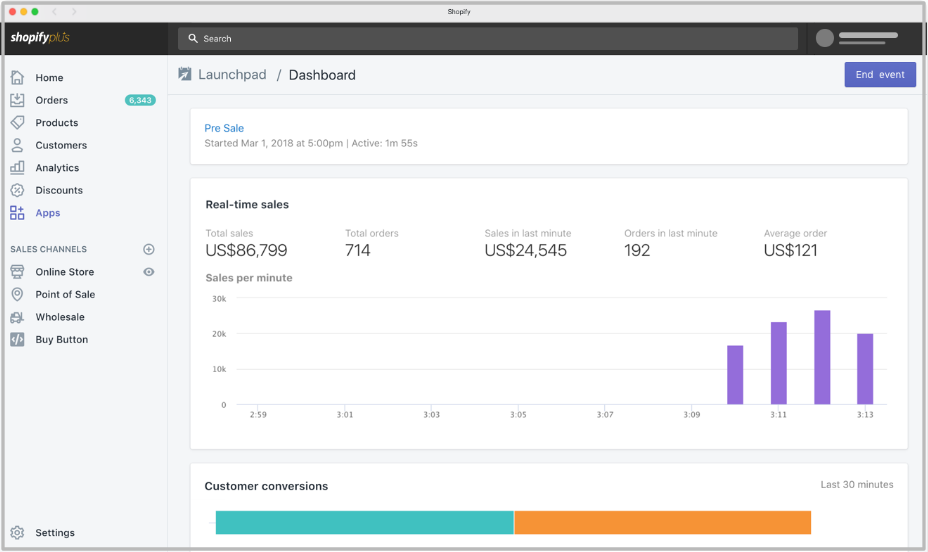 What's more interesting is you can trigger theme changes during events, trigger specific scripts to run, push products out to specific sales channels, and enable reCaptcha to block bots spamming. On top of that, you have a real-time analytics dashboard for tracking the performance of the events.
The launchpad tool is excellent for merchants running several events on their store. Instead of customizing and altering your store in the case of new events, you can leverage the tool to handle that.
Related: Spocket or Aliexpress
4. Scalability
One of the major setbacks for most merchants is that their store slows down when there is too much traffic or many orders at the same time. This problem could result in losses of sales.
But with Shopify plus plan, merchants get unlimited bandwidth capable of processing over 8,000 orders per minute. Also, this plan hosts online stores on a scalable SaaS (cloud-hosted software), making high variation checkouts and flash sales easy to manage.
With the plus plan, losing sales due to massive orders or high volume traffic is settled.
Relate: Spocket Products reviews
5. Script Editor Access
It's no secret that Shopify allows merchants to customize their stores to their tastes. But with Shopify plus, customization is on a whole different level. Merchants can leverage the Script editor to tailor their store to perfection.
While most Shopify stores customization is done through apps, the Script editor empowers merchants to write scripts that are hosted and run by Shopify. This makes branding your business easy by customizing your checkout and shopping experience to your taste.
The Script editor is most helpful if you can't find an app to meet your end (rarely happens) or you need something more personal for your brand. 
6. Wholesale Management
Venturing into wholesale with Shopify plus is easy; the wholesale channel allows you to expand into wholesale by creating an additional storefront as an extension of your online store. This will enable you to run a separate wholesale site from your existing Shopify account.
7. Higher API Call Limits
An API call happens whenever an app takes action. That is when a visitor interacts with your store. Shopify frowns at API calls, limiting the number of calls per second—to reduce the load on its server.
But for Shopify Plus users receiving a voluminous amount of traffic than the average Shopify users, the API calls are doubled. This also explains the scalability mentioned above; that the plus plan can process 8,000 orders per minute.
8. High-level Security
Due to the nature of online stores, a security breach could mean thousands of dollars in loss. Scammers are always looking for ways to hack into online stores' backend to access private information like credit card details.
Shopify itself is a fully-hosted platform, which takes care of site security. However, one of the Shopify plus benefits is that merchants enjoy a level 1 PCI DSS which obligates Shopify to take 100% burden of the security of your store, including a dedicated SSL certificate that protects merchants and customers' private information.
Shopify also has several undisclosed means it uses for protecting and securing stores, regardless of the plan. 
9. Access to Shopify Flow
One of the hurdles of an e-commerce business is that it takes a lot of time and requires daily management. Failure to attend to little tasks like updating customers' status could cause complications. Now imagine having to work on thousands of tedious tasks every day.
This is where the Shopify flow steps in. It's an automation tool available to Shopify plus users, allowing them to automate day-to-day repetitive, boring activities in the hope of cutting down work hours.
There is a lot that could be done with Shopify flow, including:
Detecting, and if necessary, canceling high-risk orders
Hiding out of stock products from your store and republish inventory when back in store
Following up on customers based on specific behaviors
Adding customer tags for high-value customers; to track loyalty
Create triggers that re-order inventory when a certain threshold is reached
Flow helps merchants to reduce their workload by handling tedious automated tasks. This way, merchants can focus on being productive by concentrating on vital operations.
10. Advanced Multichannel Capabilities
One of the most intriguing Shopify plus benefits is that it allows merchants to expand their business and drive more sales through various platforms like Instagram or Facebook—by syncing them with your store.
Social networks like Facebook or Instagram are where people spend most of their time. Marketing your products directly to these people—without pulling a string—is very comforting and likely to increase your sale.
For example, fashion retailer chubbies allow shoppers to sync their Facebook messenger profiles when adding items to carts. 


This allows them to send promos, updates, and abandoned cart reminders directly to each customer's messenger app. This has a very high engagement rate than e-mails. 
Shopify Plus also allows users to leverage the POS system to interact with customers and make sales in-person (real world).
Read also: Shopify for Ecommerce
11. Dedicated Success Manager
Apart from the fact that Shopify Plus offers tons of advanced features that blow your business to success, it's even enjoyable to know you will be assigned a success manager, which goal is to work you through your success path.
This success manager works closely with merchants to understand their goals and formulate a plan to achieve them. The manager will also introduce merchants to new tools that increase productivity and makes running an online store more manageable.
Whenever a Shopify plus user needs help, the success manager is always there to help.
Shopify Plus Pricing
The Shopify plus pricing varies; It's usually gauged by usage and monthly sales volume. Even Shopify themselves didn't state any specific price; instead, they persuade merchants to contact them for a quote.
This is because businesses use different resources and make different sales. The bigger the monthly sales, the higher the price could be. Here is the brief breakdown of the Shopify plus pricing:
1. Website build costs – Shopify has a theme store containing tons of themes that allow merchants to build an elegant store. However, most Shopify plus users prefer custom-built stores, so they outsource to a designer. This could cost between $30,000 to $250,000.
2. Platform fee – Using the Shopify plus plan incurs a monthly platform fee that could be between $2,000 to $40,000. If you are making $800,000 monthly sales or below, you are under the $2,000 monthly payment. In comparison, merchants making above that will be charged 0.25% of their monthly revenue. For example, $1million sales a month incurs a $2,500 platform fee, while $16Million monthly sales attract $40,000 monthly fees, which is the highest fee.
3. Transaction costs – Payment processing fees of 1.6% + $0.35 are charged per transaction when using the Shopify payments (in-built payment on Shopify). And there is an extra 0.15% when using a third-party gateway.
The only compulsory costs are platform fees and transaction fees. You don't need to build a custom website if you find a perfect theme for your business. This will save you thousands of dollars. 
Another additional cost could be for Apps. You need to pay for apps (some are free) if you need them.
Conclusion
There are tons of Shopify plus benefits that make the plan unique. The fact that you can scale, manage, and automate your operations is enough reason to jump on this plan.
The price sounds like a big investment, but it's worth it.
If you think about the cost of manually managing a featured-pack online store, you will see that it's very costly than the Shopify plus plan. 
The developers you will hire will request that you pay for monthly maintenance, which in the end, will eat a big chunk of your profits. But with Shopify plus, everything will be handled perfectly without any hidden cost. Most merchants agree that Shopify is the best e-commerce platform for running their online businesses.
You can try Shopify plus free for 14 days.