Our content is reader-supported. If you click a link and buy something, we may get a commission at no extra cost to you. Read the full disclosure here.
The Covid 19 pandemic has reshaped the business world, from selling in-person to selling online. This also affects the food business.
Many restaurants had no choice than moving their businesses online, using eCommerce store builders such as Shopify.
Shopify is a robust eCommerce store builder that makes creating and managing an online store easier, even for a beginner. 
If you want to create your online restaurant ordering system now, follow this Shopify for restaurants review to the end. But before we dive in, let's quickly see a few things you should know to get ready.
Packaging, Branding, and labeling
Selling online is very challenging; when it's Food, it's even more difficult. The critical decision-maker, which is taste, is not accessible by the customers. This means customers can only follow their guts patronizing your business.
They will patronize you based on how they perceive your products. This is why packaging, branding, and labeling is very vital for any eCommerce business.
To sell food online, you must ensure your product page, package design, website, photography, and copy sells your products well and gives customers the impression that your food tastes delicious.
Also, every country has its labeling requirements like Country of Origin, best-before dates, allergen warnings,  nutritional information, etc. Make sure to check these requirements, especially if you are shipping across borders.
Food and the Law
In every country, there are laws surrounding food selling. You need to do a lot of research, obtain the necessary licenses, and make sure every box is ticked. Else, you might get into legal trouble.
If you are not sure about the legal implications or obligations of selling food online, it's better to work with a lawyer that understands food law. This might be costly but will save you from the costlier consequences.
Shopify for Restaurants Review: Starting an Online Restaurant in 10 Steps
As we have taken the vital aspects out of the way, it's time to start your online restaurant. In this Shopify for restaurants review, there are 10 steps to get started.
1. Signing Up on Shopify
First, you need to sign up for Shopify's free trial, which allows you to run your business free for 14 days. Go to Shopify's official website, enter your email address, and click on "start free trial."


Next, you need to pick a store name that's personal to your business alone. Any store name you choose will be part of your temporary domain name. And, you can add a custom domain name later (we will get there).
Lastly, Shopify will ask for your name, country, and address. They will also ask a few questions about your business; make sure you answer them correctly. Remember, you are creating an online restaurant. Notifying Shopify early about this will make further steps smooth.
Also, if you are just checking out the platform to understand how it works, you should select "I'm just playing around", then click "I'm done".
2. Creating an Online Menu
After successful signup, the next step is to create your restaurant's online menu. That is, adding your products and prices to your online store.
On your Shopify dashboard, navigate to "Products", then click on the green "add product" button. In the product title, you are to name the product—for example, chicken wings.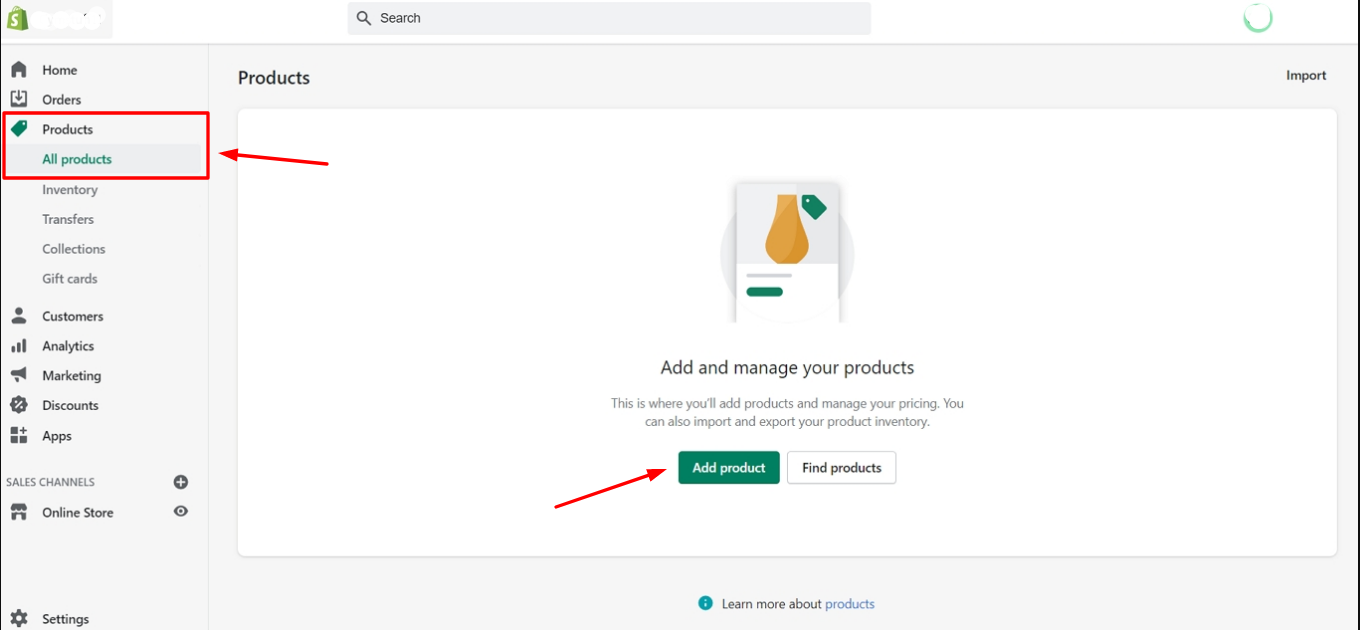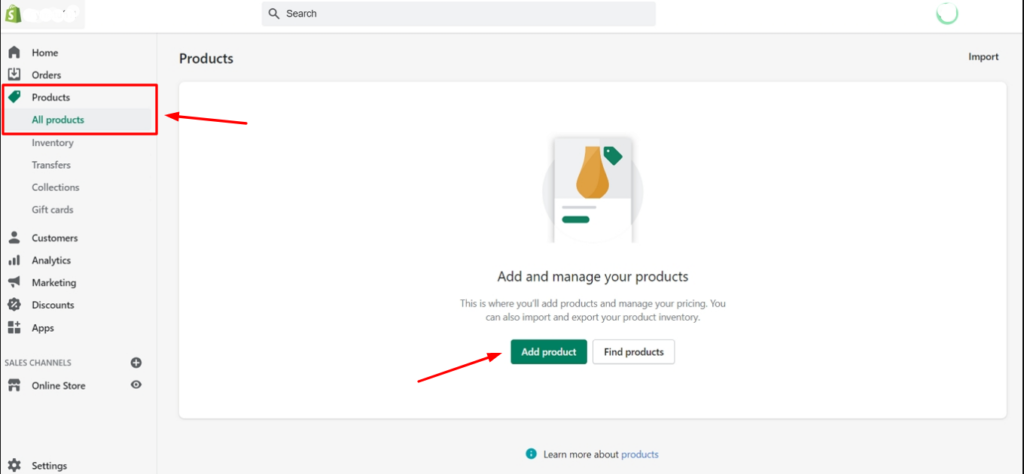 The product descriptions should give more insight into what customers should expect from the product. It basically explains what the product contains. Since this is about food, you want to write an enticing description that triggers customers to buy.
Finally, the product image should be quality enough to make customers salivate. Recall I mentioned how photography is essential for an online restaurant. With good photos, Customers will have a good feeling about your products.
If you can take photos by yourself with quality cameras, that's fine. But for better results, you should hire expert photographers that understand how to take quality food photographs.
Also, you can add your products in bulk using a CSV file. This saves you a lot of time. 
Related: How much does Shopify cost?
3. Choosing a Theme
A theme allows you to design your store from scratch without any coding. 
To convince consumers to patronise you, they need to feel the beauty of your store. Your store should be elegant and responsive so customers can have a lovely shopping experience. Think about this as a physical restaurant; you want to keep everywhere clean and sparkling.
In the Shopify theme store, there are over 75 elegant and responsive themes you can use to design your online restaurant from start to finish—without coding. These themes could be $0 (free) or $100+ one-time cost (paid). 
If you have selected Restaurants as your industry in the earlier steps, the free Express theme will be automatically added to your store.
Express is built with simplicity and professionality in mind. It allows you to start selling even if you have minimal inventory or limited photography. This theme is just perfect for an online restaurant.


Express also has a features collection section that allows you to display multiple collections. This is good for grouping your collections into a menu on your homepage. This also makes it easy for your customers to quickly find what they need by navigating between the tabs of your collections.
For example, you can create collections such as main dishes, desserts, appetizers, etc.
The Avenue and Vantage themes are also suitable for online restaurants. They have sleek designs that allow you to start selling online immediately. To find the best Shopify themes for your online restaurant, you should navigate to "Food and Drink" in the Theme Store.
After picking a theme, you can customize it under Themes > Customize. Most Shopify themes allow you to:
Design your Homepage
Upload Logo
Pick Fonts
Select Colours
Choose how many items appear on each line of the collection pages
And a lot more
Customizing a theme shouldn't waste your time. You can always do that whenever you wish. Also, you can hire a Shopify expert to design your store for you.
Related: Shopify Enterprise Pricing and Features
4. Designing your Homepage and Creating other Pages
Imagine a new customer visiting your physical restaurant for the first time; you surely want everything well organised—the same with an online restaurant. Your homepage is the first thing a customer will see when they visit your store. 
You should make it appealing enough to build curiosity as to what buyers should expect. Shopify allows you to set up your homepage yourself.
Like a physical restaurant, you should include every information customers need to know, like working hours, special offers, branding, delivery options, etc.
Also, you should add products to your homepage and categorize them using the featured collections in the Express theme. If you don't use the Express theme, you can do this with any theme too.
You can always customize your homepage using the theme editor.
Additionally, there are some pages you need to create. They allow your customers to have a deeper understanding of your brand and can also influence their purchases. 
Every product and collection you create on your store are automatically given a page. Also, consider creating the following pages:
About our menu
About us
Contact us
Business hours
Hygiene Standards
Policy Pages
Policy pages reflect how your business operates, including how you handle delivery and pickup, privacy, refunds, etc. By default, these policies are displayed in the checkout. But you can also create direct links to them in your site's menu.
To create these pages, navigate to Online Store > Pages from your dashboard. Luckily for you, Shopify has tons of ready-to-use templates you can use for creating these pages in a few seconds.
5. Installing Apps for your Online Restaurant
Shopify, being one of the best eCommerce store builders, has an App Store where merchants can find tons of apps (free and paid) suitable for managing their business. For an online restaurant, some apps are helpful.
Store Pickup + Delivery app (by Zapiet): this app allows you to provide options for shoppers to choose how they receive their orders; pickup or delivery. With this app, you can also get analytics on what percentage of orders are deliveries and pickups. The dashboard is smooth; there can't be any mixup.
Shopify POS: if you still operate a physical restaurant or sell through a drive-through, you can manage your orders (both offline and online) in a single place, including overseeing your revenue from one place, using the Shopify POS app.
Free Trust Badge by ShopClimb: With this app, you can add a trust badge to your checkout to assure customers that your store is secure and uses an encrypted payment gateway, preventing hackers' access and blocking malicious activities. Online Shoppers aren't very comfortable with releasing their card details to just any site.
Tidio Live Chat: This app allows you to set up a live support system to attend to customers' complaints in real-time. Shoppers might need some clarifications about your foods or products before making orders. You need to interact with them to win them over.
Flits: You can personalize customers' accounts with Flits. For example, you can display a "reorder" button that shows customers' last orders, so they can quickly buy the same products they purchased on their previous visit. There are a lot more personalizations you can do with flits.
These are just a few apps I think are essential for an online restaurant ordering website. Of course, you can find a lot more in the Shopify app store.
Related: Shopify for Artists
6. Payment and Tip Settings
To accept payment on your website, you need to set up payment gateways. Shopify supports over 100 payment methods. It's left to you to pick your choice. There is also a Shopify built-in payment method (called Shopify payments), which Shopify manages.
The good thing with Shopify payments is that you don't pay a transaction fee per sale. But if you use third-party payment gateways, transaction fees are compulsory.
Also, Shopify payments don't work in every country. If your country is restricted, you surely need to connect third-party payment gateways. You also need to check if Shopify payments support your product. The payment system doesn't work with all products.
If you are using a third-payment gateway, you need to do your homework diligently on its pros and cons.
Lastly, you can activate tips from your checkout settings to enable customers to add tips when ordering a product.
Related: Spocket dropshipping review
7. Setting Up Pickup and Delivery
You need to choose how shoppers receive their orders, which could either be through pickup or delivery. If you have a team of workers that can travel to deliver customer orders, setting up a local delivery is good. 
Also, you can enable pickup, so that customers can come to collect their orders when it's ready.
There are many apps you can use to provide delivery, for example, the Shopify Local Delivery app. It allows you to optimize delivery routes, make order lists, and view the map of your delivery location. 
For your convenience, you can use the Shopify mobile app to update customers' status in real-time as you deliver their orders.
To activate local delivery, follow these steps:
From your Shopify dashboard, navigate to Settings > Shipping.
In the Local delivery part, click Manage next to the location you do delivery.
Activate This location offers local delivery.
In the Delivery area section, specify the area you want to offer delivery.
In the Information at checkout, you can set a delivery fee and other settings related to your delivery.
Click Save.
After implementing the above settings, you can successfully use any delivery app. 
Also, you can enable local pickup, which allows customers to come for their orders at your retail store, curbside, or any other location. This means you need to activate a local pickup option for every area where customers can go to pick up their orders.
Pickup doesn't involve shipping, so the shipping rate is set to Free by default and can't be changed.
When customers select pickup as their choice, you or your staff must verify that the item still exists in the stock. After the confirmation, you can then signal the customer that the order is ready. You can also print a pickup slip and attach it to the order.
As the order gets picked up by the customer, you or your staff must change the order status from unfulfilled to fulfilled to avoid mix-ups.
Since there is an app like Store Pickup + delivery by Zapiet that allows you to manage pickups and deliveries in one place, that will be more recommended.
8. Add a Custom Domain Name
A domain name is a web address that shoppers could use to find their business online. For example, myshop.com.
The best practice for picking a custom domain name is to make it short, sweet, and brandable. If you already had a physical restaurant, you definitely want your domain name to be your restaurant name.
You can either buy a domain name ($9 – $14 per year) from Shopify or from a third-party provider. If you buy on Shopify, the domain will be automatically connected to your store.


To add a custom domain and manage your domains, navigate to Online Store > Domains.
9. Building a Mobile App for your Restaurant
Having an app that allows customers to shop conveniently from their phones is essential for an online restaurant. It's more convenient for shoppers to open and place orders from an app than browsing through a website.
The good news is you can effortlessly convert your online store into a native app that's downloadable on Android and Apple play stores. On top of it being convenient, it also boosts brand awareness, increases customer retention, and makes it easy for customers to shop again.
Shopify app like Plobal is perfect for converting your store into a native app. It also makes it easy to customise the app based on your preferences.
Related: Shopify for Photographers (2021)
10. Telling the World about your Online Restaurant
Now it's the time to launch your store and start selling to your customers. 
Since this is a new online business, you need to do your marketing right to capture your target customers. There are a lot of ways to increase visibility online.
Social Media: Since you already had a physical restaurant, your already existing social media pages are the best place to start your marketing. You should break the exciting news to your customers that they can now order food online.
Advertising: The fastest way to let more people know about your business is through advertising; Any type of advertising. You can advertise in your local radio station to let people know your restaurant now take online orders. Also, Google, Facebook, Instagram are all excellent choices for online advertising. They allow you to personalise your adverts to target audiences in specific locations, certain age ranges, hobbies, interests, etc.
SEO: SEO allows you to drive organic traffic to your website through search engines like Google. For example, assuming you sell chicken wings online, when a user searches for "buy chicken wings online", your store can appear as a top search result depending on the location. Learning Shopify SEO is not negligible.
When it comes to marketing your online restaurant, do anything that works for you. Try different approaches until you find one you can capitalise on.
Shopify Pricing for Restaurants
In this Shopify for Restaurants review, you have seen how to build your store from start to finish. Also, you don't have to pay to create your store; you can enjoy a 14-day free trial. But you will need to pay for a plan once your trial period ends. You can also subscribe to an annual Shopify payment plan, which lets you enjoy a 10% discount when you pay upfront.
But how much does this platform cost per month? 
Shopify provides five different plans:
Shopify Lite ($9 per month)
Basic Shopify ($29 per month)
Shopify ($79 per month)
Advanced Shopify ($299 per month)
Shopify Plus ($2000+ per month)
The significant difference within this pricing is that the higher the price, the more features and support you can get. Let's quickly go through the plans:
Shopify Lite doesn't include phone support.
There is no transaction fee when using Shopify payments.
Each plan allows you to create account login access to your staff (2, 5, 15 on Basic, Shopify, and Advanced Shopify plan, respectively).
Shopify Lite ($9) allows you to sell on an existing website or Facebook page by adding the "Shopify Buy" button. It doesn't allow you to build a standalone, functional online store.
Basic Shopify ($29) is perfect for building an online store on a budget, of course, with only vital features accessible. And it attracts a 2% transaction fee per sale.
Shopify Plan ($79) is famously used by most Shopify merchants. It comes with tons of mouth-watering features that simplifies creating and managing an online store. And 1% transaction fee per sale.
Advanced Shopify ($299) is suitable for businesses doing a significant number of sales per month. It has a lot of advanced features and tools that make business operations easy and fast. And a 0.5% transaction fee per sale.
Shopify Plus ($2000+) is a specially built plan for enterprises and businesses doing high volume sales and need more features, resources, tools, and support to run their business smoothly without trading their time. And a 0.15% transaction fee per sale. There are many benefits of Shopify plus that made it special.
So what plan is perfect for an online restaurant?
In my view, I will suggest either the Advanced Shopify plan ($299 per month) or the Shopify Plus plan ($2000+ per month) for the following reasons:
A restaurant business involves many sales per day, so a robust plan that offers more features is needed.
You surely will need more than five staff to oversee the operations of your online store. And only the Advanced (15 staff) and the Plus plan (unlimited Staff) allows that number of users to a Shopify account.
Considering the number of orders an online restaurant can get a day, it's only ideal to pick a plan with a lower transaction fee; Advanced Shopify is 1% while Shopify Plus is 0.15% when Shopify payments isn't used.
Conclusion on Shopify for Restaurants
While having a physical restaurant is good, selling food online is even better. Most restaurants already diversify to online selling, especially during the Covid.
Many brands discovered that Shopify is the best platform to build their online restaurants but don't actually know how to set things up. They keep asking questions like, "how do I run a restaurant on Shopify", can you sell food on Shopify", how do I add a restaurant website on Shopify", and many more.
If you follow this guide step-by-step, you should have successfully set up your online restaurants on Shopify by now. 
If you have any questions about this Shopify for restaurants review, let me know in the comment section.
Related:
Flourish and Thrive Academy Review