Our content is reader-supported. If you click a link and buy something, we may get a commission at no extra cost to you. Read the full disclosure here.
While there are tons of eCommerce platforms suitable for building a standard online store, Shopify seems to be getting more attention than others. As a result, one of the most popular Shopify questions "is Shopify the best eCommerce platform" needs an answer.
Well, the answer depends on the user. Shopify is a robust eCommerce store builder, considering how easy and time-saving it is to use. Shopify has several tools and functionality that make an eCommerce business easy to operate.
Let's start with the basics.
What is Shopify?
Shopify is an easy-to-use online store builder that allows anyone to build and manage an eCommerce store, without any coding or technical skill. The platform operates from a web browser, so you don't need to download any software or even pay for hosting to use it.
Is Shopify the Best Ecommerce Platform? (19 Convincing Reasons)
Now to the big question: is Shopify the best eCommerce platform? Well, maybe the following reasons might convince you.
1. Secure Checkout
Checkout is definitely the most vital operation of an online store. It's where shoppers take a leap of faith and proceed with paying for the products they already add to the cart. And if things go wrong at this stage, many shoppers won't be able to complete their purchases.
The best eCommerce platform is the one that makes it easy for customers to finalize their orders. Shopify has a sleek and secure checkout that allows customers to have a good shopping experience without encountering any technical difficulty. Depending on your Shopify plan, you can also enjoy advanced checkout customization.
Related: Shopify Enterprise Pricing
2. SEO (Search Engine Optimization)
A quicker and more reliable way to get customers to your eCommerce store is with SEO. You want to ensure that your store is properly optimized for search engines like Google and Bing. By doing that, when potential buyers search for your products on Google, your store could appear as a search result.
By default, Shopify's backend is designed with SEO in mind. It allows you to work with:
Meta Description: This is a feature that enables you to add a title and description to a page, product, or blog.
Robot.txt: Shopify handles robot.txt by default, which improves the search engine crawlers' rate on your store.
Sitemap: Sitemaps are auto-generated by Shopify, and it enhances the crawling and indexing of pages on your store. I.e, when you create a new page, it's added on the sitemap so search engines register it.
Auto Redirects: By default, Shopify does 301 redirects. This means whenever you change the name or URL of a page, the old page automatically leads to the new one. This is helpful for SEO purposes and also for a smooth user experience.
HTTPS: Every store on Shopify is secured with SSL certificates which is helpful in building trust in the heart of customers. An SSL/HTTPS security certificate enables a secure transaction flow between the shoppers and the server.
3. User-friendly Backend
Shopify's backend works like any CMS, for example, WordPress. It's pretty easy to use and contains tons of features that allow you to manage the affairs of your online store. And this is why even beginners find Shopify stress-free to use.
The backend also includes a report section that provides relevant stats helpful in analyzing the store's sales and traffic. This allows merchants to have a deeper understanding of their traffic sources so they could further optimize their stores for better conversions.
4. Themes
Shopify has tons of themes (free and paid) you could use to design your store without any coding. The free themes are pretty good, but if you want something more, you should settle for a premium theme, which usually costs $140 to $180 one-time fee.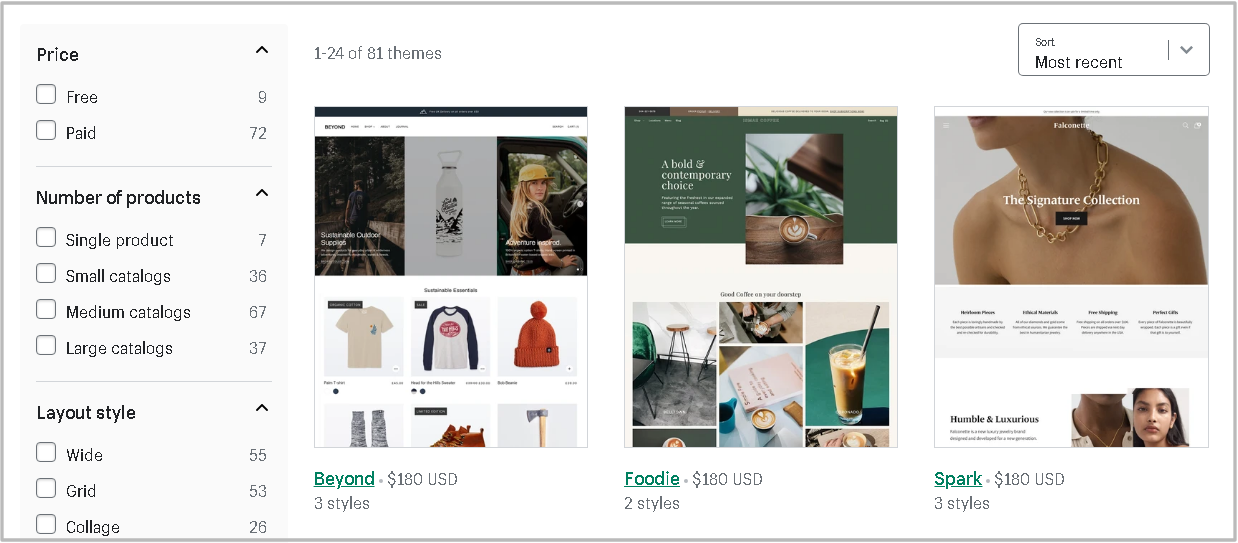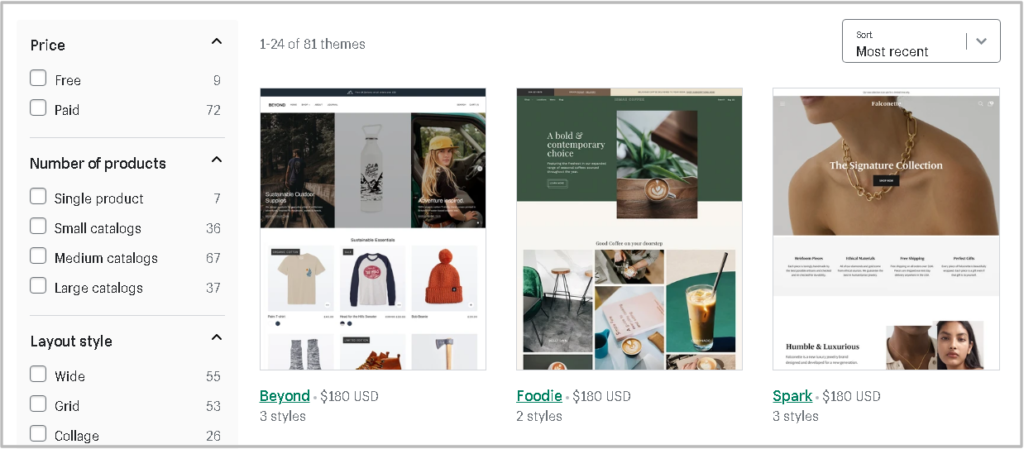 Since you have several options of themes to design your store, you only need a little bit of time to build an elegant-looking store. Regardless of your industry, you will find a theme that suits you.
5. Shopify Apps
Shopify is a perfect eCommerce store builder that includes almost every feature. However, if you need to strengthen the functionality of your store and you couldn't find a way to do that, using a Shopify app is your best option.


Shopify has an app store containing thousands of apps that serve different purposes. And there is an app for any e-commerce solution you are looking for. So it's up to you to find the perfect app that suits your needs.
It's also worth mentioning that some apps are free, while orders require a one-time fee.
Related: Shopify for Artists
6. Built-in Hosting
If you build your online store on any CMS like SquareSpace or on some store builders, you will still need to pay for hosting, which is usually a yearly fee. Also, every online store needs to be hosted on a server before it becomes accessible online.
However, with a Shopify monthly plan, you don't need to pay for hosting anymore. Shopify will host your store on its server and you will never experience any downtime. In the end, you get a secure hosting service for a cheap price.
7. Speed & Security
Speed is very important for an online store. Recent research has shown that if it takes more than 3 seconds for a page to load, customers will abandon it. This means if your store takes forever to load, you will be losing tons of customers on a regular basis.
One of the reasons why Shopify is the best eCommerce platform is that it's built to load fast by leveraging CDNs. When files like CSS, JS, images are managed by CDN, web pages tend to load pretty fast.
8. 24/7 Technical Support
Even though Shopify is an easy eCommerce solution that needs no technical skill to use, chances are you could get stuck and need support at some points. Don't worry, Shopify got that covered. You can reach out to their support team through chat, phone calls, or email. They also have an active information forum you could get help from.
9. Shopify POS
Shopify doesn't just allow its users to sell online, it also enables them to sell in the real world using its point-of-sale (POS) feature. The POS system is accessible on any plan, but to get the best of it, users need to buy the Shopify POS Pro add-on.
To use Shopify in a physical store, you only need a mobile device, the Shopify app, and a credit card reader, so you can track sales and update your inventory accordingly. This means you can use Shopify to manage both online and physical stores at the same time.
10. Payment Gateways
To start with, Shopify has its own payment processor called 'Shopify Payments', which is backed by Stripe. When you process payment with this internal gateway, you don't have to pay transaction fees.
Also, Shopify supports 100+ payment gateways like PayPal, Amazon pay, Authorize.net, etc, that allow users to receive payment into their bank account. However, using an external payment method includes transaction fees.
11. Blogging
One of the best ways to increase your store visibility is through content marketing. This implies writing blog posts on topics that are related to products you sell and promoting your product in between the content. To do this, you will need a blog.
Shopify has a blogging functionality—but with few limitations—that allows users to publish and edit blog content just like any CMS, for example, WordPress. The bottom line is, Shopify allows you to run an active blog on any plan.
12. Product Customizability
One of those features you should always look out for when finding the perfect eCommerce platform is product customizability. You want to be sure you could customize your products and present them in an elegant way.
And Shopify made this easy. It allows you to use several product features so you can create an amazon-standard product page.
These features include product presentation (adding pictures and videos, zooming ability), customer ratings, variants (colour, size, etc), cart function, and many more.
Related: Shopify for Restaurants
13. Shopify API
API is a powerful tool useful for tweaking a web page. Shopify APIs allow you to create special features for your store. They are usually used when users can't find an app to meet their needs or they prefer something better.
14. Facebook Pixel
This feature is super amazing for store owners that use Facebook ads. It allows them to track conversions of their store advertisements on Facebook. Shopify comes with a default feature that automatically allows users to run their remarketing advertisements on Facebook.
And this is another great reason why Shopify is the best eCommerce platform.
15. Social Marketing
Any serious business already knows the importance of having a presence on Social media; it allows brands to interact and sell to your customers easily. Shopify has a built-in feature that sets up your store on many social platforms like Facebook, Amazon, etc.
All that is required from you is to create accounts on social media platforms, and Shopify will proceed with uploading your products on your business pages. With this Social media feature, you can save a lot of time, you don't have to go through the stress of integrating your store on social media separately.
16. Shopify App for Mobile
Aside from running your online store from a browser, Shopify has its app—available on both IOS and Android—containing tons of features that allow you to oversee your store performance and functionality from your mobile device.
For example, when there is a new order made on your online store, you get a notification from the app. Additional benefits of the app include getting stats like overall sales, the total number of visitors to your store, etc. Once you log in to your account on the app, you can start enjoying all these features.
17. Shopify Supported SDK
An SDK is a built-in library suitable for building public and private apps. And Shopify provides tons of SDK in several programming languages so developers could get the APIs and carry on from there.
18. Abandoned Cart Recovery
Abandoned cart recovery is one of the best eCommerce features today. When shoppers add products to the cart, reach the checkout then leave without making a purchase, those are abandoned carts.
Shopify has a built-in feature called abandoned cart recovery that allows you to identify shoppers who add products to the cart but didn't finalize purchases before leaving your store.
This way you can easily target them with follow-up emails and convince them to buy the products they already added to the cart. You can even entice them with a lead magnet like discounts or free shipping.
The fun part is you could either send these follow-up emails yourself or automate them from your cart settings.
Related: Shopify for Photographers
19. Free Trial
Even after answering the question 'is Shopify the best eCommerce platform", you might not yet be convinced and would like to try things yourself. Thanks to Shopify's 14-day free trial, you can explore this platform and test all its features free for 14 days. Did I also mention that no credit card is required?
After your free trial period expires, you need to choose a pricing plan. There is also the Shopify yearly plan pricing if you prefer that. So how much does Shopify cost per month?
Basic Shopify – $29 per month
Shopify – $79 per month
Advanced Shopify – $299 per month
Shopify Plus – starts at $2000 per month
If you need a robust online store with a minimal budget, the 'basic' plan of $29 is enough for you. If you want more advanced features, you should stick with the 'Shopify' $79 plan. And if you are doing pretty high sales per month and need more sophisticated features, the 'advanced' plan of $299 is the best choice. Shopify plus is for established brands with high volume sales. Read my guide on Shopify Plus benefits to learn more.
Conclusion: Is Shopify the Best Ecommerce Platform?
The short answer is: Yes. Shopify is one of the best eCommerce platforms considering the plethora of features it offers for creating and managing an online store, without any special skill.
I will recommend that you sign up for the 14-day free trial so you can test the platform yourself. It's simple, you only need to insert your email address, your credit card is not required.
Related: