Our content is reader-supported. If you click a link and buy something, we may get a commission at no extra cost to you. Read the full disclosure here.
Are you a photographer looking to earn money by selling your stock photos online? Then you will agree with me that Shopify is the best platform for launching your online photography store.
Shopify is an online store builder that works for any kind of business. The platform is popular for its powerful features and the convenience it provides for its users. In the last 12 months, the Shopify trend is pretty consistent worldwide. 


If you want to learn how to start selling photos on Shopify, you are in luck, as this 'Shopify for photographers' guide will cover everything you need to know from creating your store to gaining traffic and making sales. 
Note: This guide is solely about Shopify for Photographers looking to sell their photos online. If you want to sell your artwork online, I recommend you check this 'Shopify for Artists' guide.
Legal Aspect of Selling Photos Online 
Millions of photos are uploaded on the internet every day. That doesn't mean you can just download photos from a random website and start selling. Selling images online entails that you understand the legal aspect attached to it. 
As a photographer trying to use Shopify to sell your photos, it's reasonable to assume you are selling pictures you shoot yourself. Alternatively, you can sell photos you do not own but have the right to. For example, photos under public domains have no restriction; you can use them as you wish – including making profits off them.
The bottom line is: you can't sell photos you do not own unless you have the right to. Else, you might get sued for infringing someone's copyright.
Now that we've taken the legal part out of the way, let's see the step-by-step processes of how to sell photos on Shopify.
Shopify for Photographers: 8 Steps to Start Selling Photos on Shopify
1. Signing Up with Shopify
First, you need to sign up for Shopify 14-day free trial. Go to Shopify's official website enter your email address, then click on "start free trial."


Shopify might ask you to pick a unique store name but if you don't have a name yet in mind, you can skip that stage. The store name will also be part of your temporary domain name (you can later pick a custom domain name).
Next, you will need to fill in additional details like name, contact, address, and country. You will also be asked questions about your product; make sure to answer them accordingly. If you are not ready to create your store yet, you can choose "I'm just playing around."
Next, click "I'm done."
2. Create Vital Pages for your Store
For any business website or online store, some pages are just inevitable. They give your audience a clear picture of what you got to offer and help them know more about you and your business. You should consider creating the following pages:
Contact Page: Even though your customers can purchase your products directly from your store, there are hundreds of reasons they might want to reach out to you. This is why having a "Contact Us" page is vital; it connects you with your customers.
FAQ Page: A frequently asked questions page gives answers to the most common customer inquiries. A well-detailed FAQ page will limit how Customers use the contact page since they already found solutions to most of their problems.
About Page: This page tells a bit about you and your business. It also addresses your business vision and mission. Some companies prefer to name their about page "Our Story," but it serves the same purpose as an about page.
Policy Pages: Policy pages include terms of service, return policy, privacy policy, shipping policy, etc. The pages you will need depend on your business model. For example, you don't need a refund policy page to sell photos online since you won't accept returns.
You can create most of these pages under Online Store > Pages. You can create most of these pages with already-designed templates, so you don't have to build them from scratch.
Related: Facebook Shop vs Shopify comparison
3. Pick a Theme and Customize your Online Store
A theme or template is about the design of your store. You surely want your store to be elegant and responsive so that customers can have a smooth experience.
Unfortunately, at the moment, there's only one theme created for selling stock images with Shopify and it's called PhotoLoro. This 3rd-party Shopify theme costs only $79 or plus $49 if you want an expert to install and activate it for you, which is not needed.
Once you purchase this theme, to install and activate it, follow these steps:
From your Shopify admin, go to Online Store > Themes.
In the Theme library section, click Upload theme.
From the Upload theme window, click Choose File to select the ZIP file that you want to upload.
Click Upload. The theme will be added to the Themes page of your admin.
After installing the template, the next thing is to customize it as per your wish. Under themes, on your admin page, click on "customize" and play around with your theme settings until you are satisfied.
The basic settings of most themes allow you to:
Design your Homepage
Upload logos
Font choices
Color schemes
Upload slides to a homepage carousel
Add related item functionality to product pages
Choose how many items appear on each line of the collection pages
Don't get stuck with designing and customizing your store. It's a never-ending task. You can always tweak your store when you want to.
The theme did come with a lot of functionalities that allow you to quickly set up your photography store without any technical skills. Once you play around with it, you will understand how it works best.
Also, here is a real demo of what the theme looks like. Since it's not a real site, most of the features are not activated on it.
Related: 11 Shopify Plus Benefits
4. Add your Products to your Store
As a photographer, your products are your photos. And this is why it's tricky selling photos on Shopify. But it's still doable.
On your admin panel, navigate to "Products," then click on the green "Add a product" button in the middle of the page. In the product title, you are expected to give a name to the image. For example, an image of an ocean wave should be named "Ocean Wave".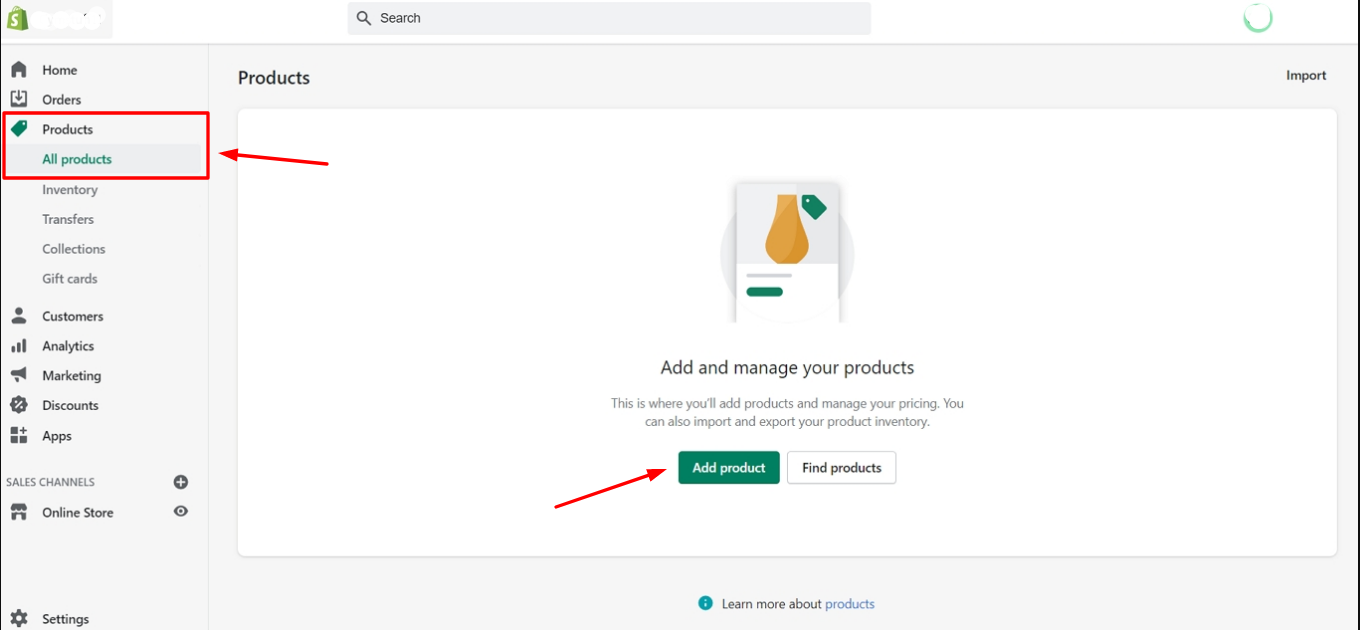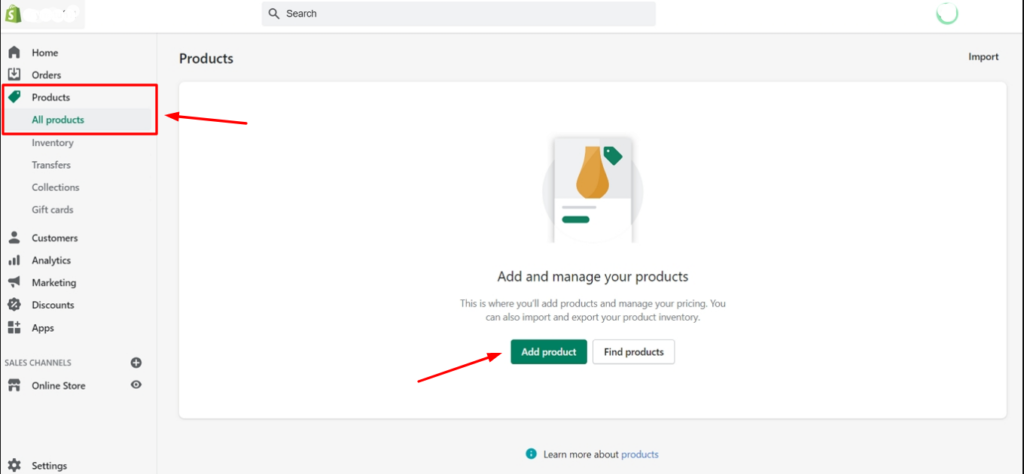 The product description should describe the product (image) better; It's usually a few words that explain the product title.
It's also important to remember that online photos are Digital Products, they don't need shipping, inventory, etc.
After adding the product title and description, you need to add the product image, in this scenario, the smaller version, or the watermarked version of the image you want to sell. This means they can see what the image they are about to purchase looks like but they can't get it until they pay the price.
In the Shipping part, uncheck "This is a physical product", and save.
The next step is where you will add the original images you want visitors to download after making their purchases.
5. Install the Digital Download or SendOwl App
To give customers access to download their photos after purchasing them, you need to install the free Digital Downloads app from the Shopify App Store. It provides a download link for customers after they make a payment on your store.
Once you download and install this app, you can watch the video below to see how to add your images as digital products to your store or read the guide here:
Once you are done with all that, the next thing is to decide whether you want your customers to have access to the download links on the checkout page or via their emails. 
If you choose the checkout, it means they will see the download link immediately after they finalize the payment. And if you select via email, the download link will be sent to their email addresses. You can also decide to activate both. It's your choice to make.
The Digital Download App is not only suitable for selling photos on Shopify, it works for all digital products.
SendOwl is another digital download app you can use to sell your images on Shopify. It works exactly like the previous app. However, it's not free but it offers more features and tweaking. 
This should only be your option if you want access to extra customizations, if not, the Shopify Digital Download App is enough.
For a detailed breakdown of how to use the Digital Download app, check here.
6. Choose Payment Gateways
Payments gateways ( Settings > Payments) allow you to accept payment in many ways. Shopify supports over 100 payment methods, including the Shopify internal payment gateway.
If you use the Shopify built-in payment method, you won't be paying any transaction fee per sale. For all the other payment modes that Shopify supports (PayPal, Stripe, etc.), a transaction fee is attached to each sale. 
Most stores that sell photos online allow multiple payment methods. For example, Shutterstock is one of the biggest stores to buy photos online, and they accept payment through PayPal, Payoneer, and Skrill. This is because most people won't be comfortable releasing their credit card details.
For everything related to Payment settings, currency, transaction fees, etc., you can customize them in Settings > Payments.
Related: Shopify for Restaurants
7. Add a Custom Domain
Remember you picked a store name in step one? That is a store name, not a domain name.
Now you need to add a custom domain name to make your store more unique and credible. An example of a domain name is yourstorename.com.
To add a custom domain name, you have two options:
Buy a domain name from Shopify
Buy a domain name from a third-party
If you buy from Shopify, your domain will be connected to your store automatically. But if you purchase your domain from a third-party like Namecheap, you will need to manually connect it to Shopify.
A domain usually costs between $9-$14 per year. Navigate to Online Store > Domains to add and manage your domains.


While thinking of the perfect domain name for your photography store, you should ensure picking a name that represents your brand. For example, by merely looking at iStockphoto.com, you can tell that the site sells stock photos. This should give you a better idea of what domain name to pick.
Related: Spocket Shopify App review
8. Launch your Online Store
Now it's time to launch your store and make it go live. Since this is a photography store, you can skip other settings like shipping and taxes. In some countries, taxes are applied to digital products. You should confirm you are on the right part before launching your store.
To make your Store go live and give customers access to start purchasing,  you need to disable the password protection under Online Store > Preferences. After that, you can now start selling your photos.
You should also understand that your store is not perfect yet. You will keep tweaking it as you get new results.
Also, to increase your revenue and make it easy for your clients to reach you, you can leverage software like the Passion.io app to create mobile apps for your business.
Shopify Customer Support is your Best Friend
Even though Shopify is an easy-to-use store builder, chances are you might get lost at some point. Luckily for you, Shopify customer support is hyperactive; they are your best bet when you need help.
For example, if you want to start selling Arts on Shopify alongside your stock photos, you can ask their support to guide you on what step to take.
Overall, you will never go wrong with the Shopify support team.
How Much Does Shopify Cost?
Shopify offers five monthly plans:
Shopify Lite — $9 per month
Basic Shopify — $29 per month
Shopify — $79 per month
Advanced Shopify — $299 per month
Shopify Plus — pricing varies depending on requirements (but fees are usually around $2000 per month). It's also called the Shopify Enterprise plan.
There aren't many differences in the plans; the higher the plans, the higher the options available. These are the significant differences between the plans:
Each plan has its limitation on the number of users that can access your account (2, 5, 15 staffs are allowed on the basic, Shopify, and advanced Shopify, respectively).
Only users in the 'Basic plan' and higher plans are entitled to phone support.
The 'Shopify Lite' ($9) doesn't allow you to build a standalone online store. Instead, it enables you to sell your photos on an existing website or a Facebook shop by adding the 'Shopify Buy' button.
The 'Basic Shopify plan' ($29) is suitable for users that want to create an online store on a low budget, with limited features, and it also attracts a transaction fee of 2% per sale.
The 'Shopify plan' ($79) is the most popular among Shopify merchants. It has many great features for running a successful online store, and it attracts a lower transaction fee of 1% per sale.
The 'Advanced Shopify plan' ($229) is most popular among established stores making solid sales. It has all the features merchants need to skyrocket their business to the moon while incurring only a 0.5% transaction fee per sale.
The 'Shopify Plus' plan ($2000+) is suitable for big companies and corporations making an insane number of monthly sales. It's surely not designed for photographers (except if your photography store is doing huge numbers of sales per month). It attracts no transaction fee per sale.
The plan you should pick depends on your goal and budget. For example, if you want to hire up to five staff to oversee your photography store's affairs, you will do well with the 'Advanced Shopify' plan. 
Drive Traffic to your Photography Website
If you are still reading, you must have successfully launched your photography website on Shopify. What next? Making sales!.
You want customers to be able to find your photos and buy them. There are many ways to drive traffic to a photo store, but I will focus on SEO.
SEO (Search Engine Optimization)
SEO is the process of tweaking your site to appear on Google's first page. This time, tweak your images to appear in the top results so potential buyers can see them and then buy them.
SEO involves several processes like finding the right keywords, using keywords in the right places, picking the proper URLs, etc.
For example, assuming you took a beautiful picture of an ocean wave, and you decide to sell it on your Shopify store. For SEO purposes, you need to know what your potential customers are using to search for such an image and the monthly search volume.
You can use a freemium tool like Ubbersuggest to find hundreds of keywords to name your image. I use a free chrome extension (Keyword Surfer) that displays the search volume of any keyword I typed.

The chrome extension shows that, in the US alone, over 800 people are searching for 'Ocean Wave Images' per month. This means you should name your image file with that keyword, also include the keyword in your product title and description.
Another thing worth mentioning is that don't upload the original image you want to sell in your product image on Shopify; upload a smaller version or a watermarked version to avoid people downloading it for free. 
The Photolock app from the Shopify app store is helpful for adding watermarks to your images.
If you consistently do SEO practices for your images, you can easily rank them on Google, gain free traffic, and make sales.
There are other ways of getting traffic to your photography website, including:
Social media
Paid Ads (PPC)
Blog, etc.
But the best way to start strong is by leveraging SEO since it's free and promises long time ROI.
Conclusion on Shopify for Photographers
Over the past couple of months, I have seen questions like 'is shopify good for photographers?', 'can you sell photos on Shopify?' and many more.
The truth is, Shopify is good for photographers looking to sell their stock images online. And it's not just photos; you can also sell your arts with Shopify and make money. Shopify can also serve as your virtual office where clients contact you for real-life paid gigs.
If you have searched for Shopify for photographers, I believe you want to know how to sell photos on Shopify or how to use Shopify to promote your photography service. I hope this guide helps.
Congrats on taking your photography business to the next level.
Related: