Our content is reader-supported. If you click a link and buy something, we may get a commission at no extra cost to you. Read the full disclosure here.
Are you an artist looking to sell your artwork online? Or, You want to create an online store for your art business on Shopify? If yes, then you are in the right place.
Shopify is a feature-packed e-commerce store builder that makes creating and managing an online store stress-free. In this Shopify for artists guide, we will cover:
Without further ado, let's dive in.
Note: This is a 'Shopify for artists' guide, and it's for artists looking to create an online store on Shopify. If you want to sell your photos online, you should check out this 'Shopify for Photographers' article.
Is Shopify Good for Selling Art 
The short answer is: Yes. Shopify is a robust e-commerce platform suitable for any online business, including selling artwork online and offline. 
As an artist looking to leverage Shopify for growing your business, you could either be a creator or a curator. 
Being a creator means you create all the artwork you are willing to sell on your online store, and you keep 100% of the profits. By being a curator, you can help other artists sell their work through your store, and you get a commission per sale. The commission rate is based on an agreement with the creator of the work.
Another thing is deciding what to sell between originals and reproductions.
This depends on your choice. You can decide to sell only your original work or reproductions. Or better still, you could combine both. Some artworks are difficult to reproduce, for example, sculpture. In contrast, others like art prints are easily replicated.
With Shopify, selling and marketing your artwork becomes easier. More on this later.
Printing your Artwork
For an artist, having an excellent printer is not debatable. To sell art prints online, you must have an eye for the perfect printer. You could either do the printing yourself or resort to a printing company.
If your business is still at the early stage, you could create quality prints yourself with the correct ink, paper, and home office printer. Of course, this method isn't scalable, and it's only limited to selling art prints on paper. However, some special printers print on canvas paper.
Also, if you don't want to go through the stress of printing yourself, you can work with a printing company, and you can even get discounts if you are printing in bulk. Using a printing company is more scalable and produces better results. 
It's also worth mentioning that the company won't be responsible for packaging and shipping your art prints.
What's even better is print-on-demand (POD). Assuming you are selling your work printed on t-shirts or caps, you can connect a print-on-demand service to your store. This allows you to upload your designs, and when customers make orders, the POD company prints and send to them.
In the POD model, you are not involved in the packaging and shipping of the work; the POD company will handle that.
However, setting up print-on-demand on Shopify is surprisingly easy.
Related: Shopify for Restaurants: Ultimate Guide
Photographing and Scanning Art
Customers willing to purchase your work online can't see or touch it; they only rely on the images on your site to influence their purchases. This means even if your artwork is good, a bad photographic representation will drastically drop your sale.
Photographing art is different from shooting other products. The basic lighting that works perfectly for other product shots might look horrible when shooting artwork. Your best bet is to hire an expert photographer to shoot larger work for you, so you get the desired result.
For 2D works, scanning seems to be more budget-friendly than photography. While for merch and other items, the general product photography rules are applied. That is, taking several shots from different angles, zoom-in shots, etc.
Brand Building for your Art Business
As an artist, you must be unique to stand out in the crowd. The style and medium you use for creating your art are what defines your brand. At this point, you should see yourself as more of an entrepreneur than an artist.
Artwork is very personal, so you need to understand how to personalize your work to attract the right customers. Art is most times an emotional purchase. This means understanding emotional marketing can keep you ahead in your business.
Once you build a strong brand, selling your works becomes super-easy.
Pricing your Art Strategically
To make good money from your artwork, you must value your work and price them correctly. Unfortunately, pricing art is challenging compared to other products—especially for new artists.
For your original art, you should calculate your labor costs (hourly rate), material costs, and other expenses, then add your profit. This simple formula will help you set the perfect price for your work. Alternatively, you can check how other artists are pricing similar work to give you a heads up.
Pricing art prints and other reproductions is a lot easier; you need to calculate your cost of printing + your cost to sell and market the print and then add your profit. 
Related: Kevin David Courses
How to start selling your artwork on Shopify? 
Assuming you have created plans for printing your art, photographing, pricing and branding, the next move is setting up your online store to start selling your artwork.
First, you will need to sign up for the Shopify 14-day free trial. This will allow you to test-run the platform for free, so you can decide if it's worth your time. Go to the Shopify website, enter your email address, and click on "start free trial."


After that, you will need to pick a unique store name, which will also be part of your temporary domain name. You can always connect a custom domain name later.
On the next page, you need to input additional information like name, address, country, etc. Shopify will also ask a few questions about your business; make sure you answer them accordingly. 
Create Essential Pages
As an artist selling your work online, there are some pages you need to have on your store; they give your store more credibility and allow customers to understand what you've got to offer them. 
For example, customers might want to check your return and refund policy before making purchases. Failure to have such a page means you might lose tons of customers. So, you should consider creating these pages:
Contact us page
FAQ Page
About Us Page
Terms of Service
Privacy Policy
Return and Refund Policy
Shipping Policy Page, etc.
Once you log in to your Shopify store, you can create most of these pages in Online Store > Pages. You can also use pre-designed page templates to create these pages, so you don't have to build them from scratch.
Design and Customize your Store
Art is beauty. And the best way to sell artwork is to present them more beautifully. Shopify has a theme store containing over 75 sleek and elegant themes you can use to design your store-free and paid.
All you need to do is to find the best Shopify themes for artists
In the Shopify theme store, navigate to "art and photography," so you can find themes suitable for building your store. You can either pick a free or paid theme. You can also test the themes before making a choice.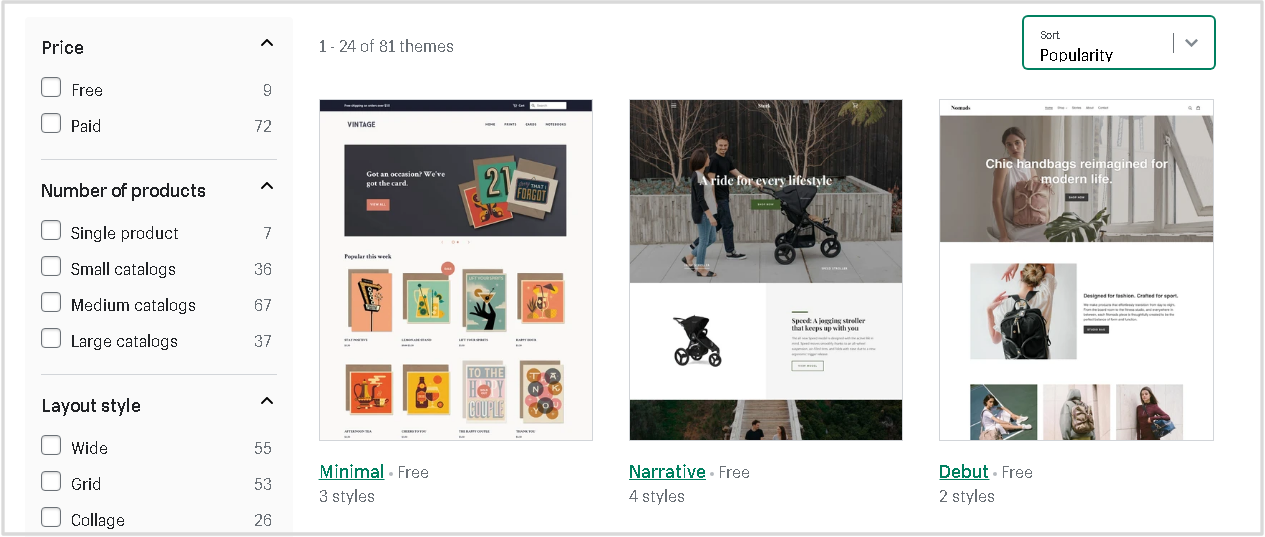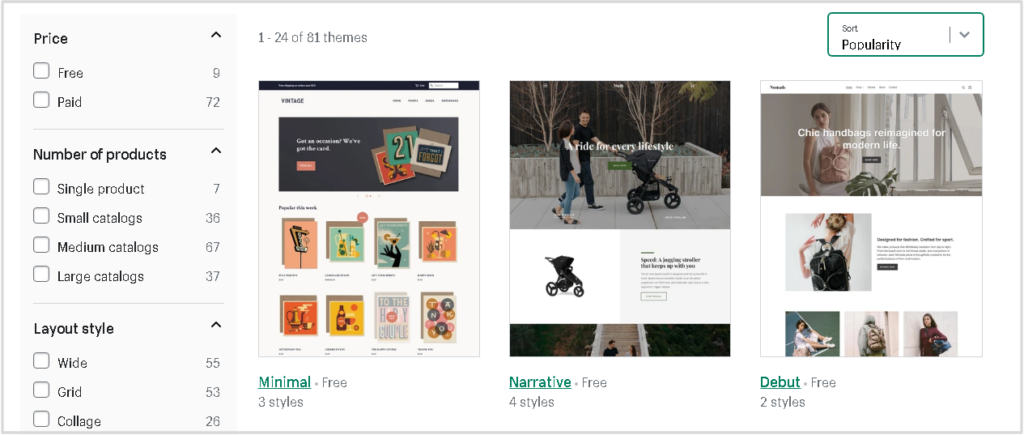 Once you pick a beautiful theme, you can customize it to your taste under themes > customize.
Every theme in the Shopify store has tons of settings that allow you to customize your store. Ensure to play around with these settings until you are sure your store is perfect.
Related: How much does Shopify Cost Monthly
Add Products to your Store
Now it's time to add your artwork to your store. On your Shopify dashboard, navigate to "products" and click on the green "add a product" button at the middle of the page.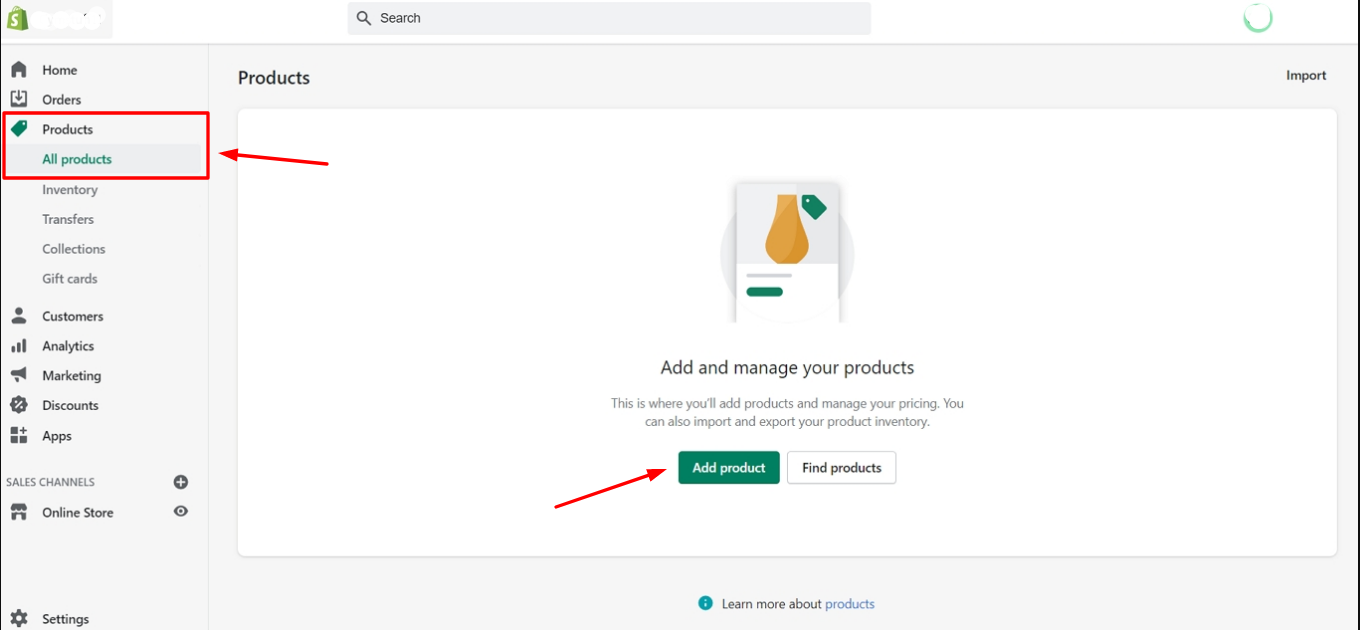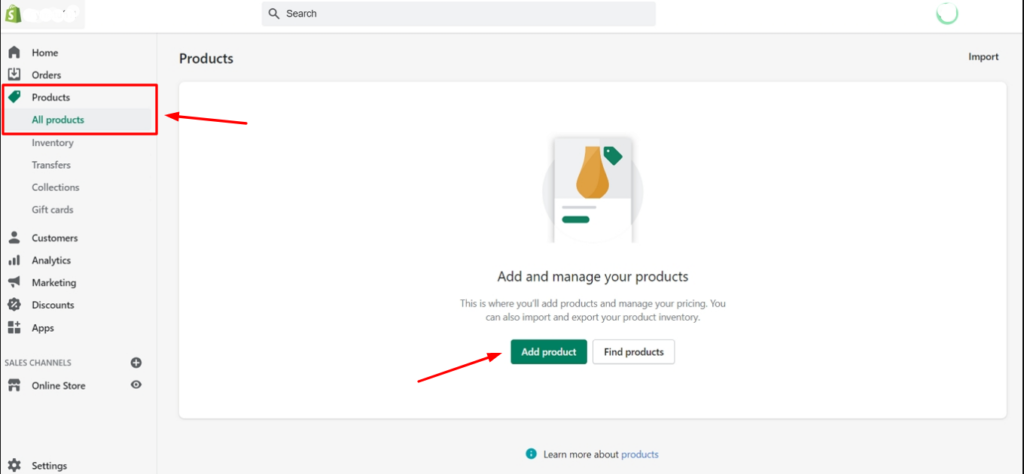 You will need to add the product title, description, and image. To give you inspiration on how to add a product, check out this image:


It's best that you add a short and sweet title, the name of the artwork. The product description should show more details of the artwork. Lastly, your product image should be clear enough to showcase the quality of the artwork.
Choose Payment Gateways
When selling art online, you can accept payment in several ways. Shopify supports over 100 payment methods so that you can find the best gateway with reasonable charges.
Also, Shopify has a built-in payment method that allows you to receive payment through the Shopify platform. This means your customer pays to Shopify, while Shopify sends you the money.
Most art stores accept several payment gateways, including the popular ones like Paypal, Stripe, Visa, etc. This allows them to serve customers with different payment gateway choices.
To customize your payment settings and everything related to it, navigate to Settings > Payments.
Related: Facebook Shop or Shopify?
Add a Custom Domain
A custom domain name is the unique web address that customers could use to find you on the internet. An example of a custom domain name is mystore.com.
While thinking of the perfect domain name for your art store, you should ensure to pick a brandable domain name that instantly showcases your business. For example, the domain artfinder.com made it clear that the store is selling art. 
You can either buy your domain name from Shopify or a third-party provider. A domain name usually costs $9-$14 per year.


To add a custom domain to your store, navigate to Online Store > Domains. You can also transfer your domain from another registrar to Shopify.
Install Apps for Art Stores
The Shopify app store is filled with apps that make running an online store a breeze. Thinking of a unique feature you need in your store? There is an app for it.
For running an art store, you don't need hundreds of apps. But some apps make your operations easy.
Print-on-demand apps: If you sell artwork through merch and prints, you can integrate apps like Printify, Creativehub, or Printful to run your print-on-demand business.
Gallery apps: If you want to partner with brands or galleries, apps like POWR gallery can showcase your works, including the past ones, to serve as a portfolio or entire catalog of your work.
Social Marketing apps: Being an artist requires you to be on social platforms like Instagram that your target customers already spend most of their time. Apps like Instafeed help to keep your site content fresh by pulling Instagram images into your site gallery.
If you browse through the Shopify app store, you will find tons of apps suitable for running the operations of your art store. Install only the apps that align with your business goal.
Related: What is Spocket Dropshipping?
Launch your Online Store
Now it's time to make your store accessible online. To do this, you must disable password protection under Online Store > Preferences. If you are a taxpayer, you shouldn't forget taxes; Shopify has apps that make tax management easier.
How much does it cost to sell art on Shopify?
In this Shopify for artists guide, we have discussed everything from setting up your store, marketing, and expanding your business.  But how much does it cost to use this platform?
Shopify offers several pricing models:
Shopify Lite—$9 per month
Basic Shopify—$29 per month
Shopify—$79 per month
Shopify Plus—$2000+ per month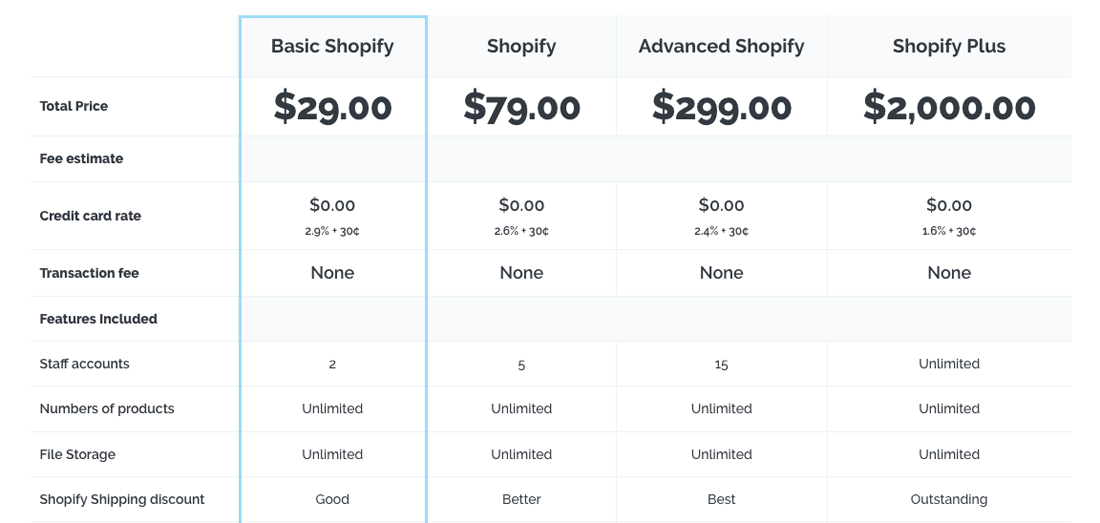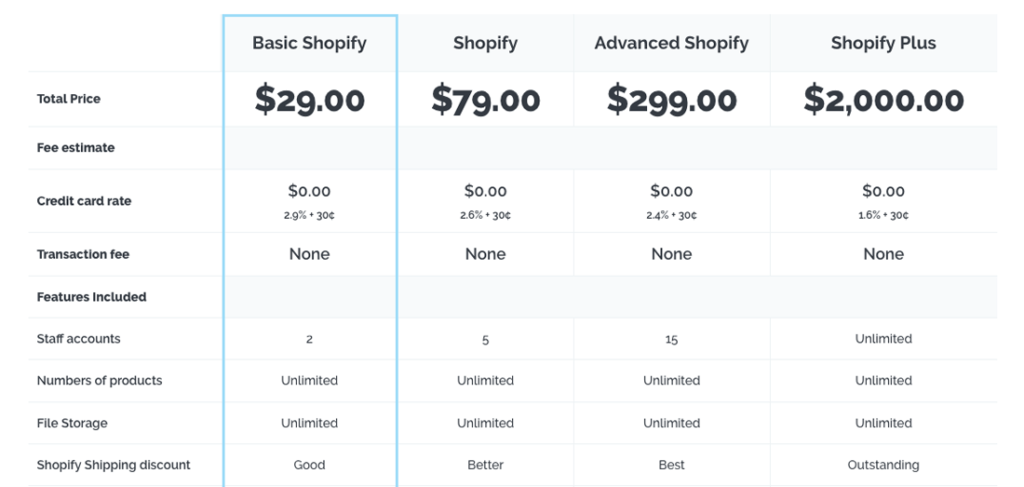 As you might have guessed, the higher the plan, the better resources you can enjoy. This is the breakdown of the plans:
Every plan has restrictions on the number of users that can access your account (2,5,15 staff are allowed on the Basic, Shopify, and Advanced Shopify, respectively).
Users on the 'Basic Shopify' ($9) plan can't receive phone support, but higher plans could.
The 'Shopify Lite' plan ($9) allows users to connect Shopify to an existing website or Facebook shop by adding a "buy" button. It is not for building a standalone site.
The 'Basic Shopify' plan ($29) is best for artists that need to create an online store but on a meager budget. This plan comes with some features and attracts a 2% transaction fee per sale when using a third-party payment gateway.
The 'Shopify' plan ($79), being the most popular plan, comes with tons of great features that help with running and managing an online store efficiently and incurs only a 1% transaction fee per sale when using a third-party payment gateway.
The 'Advanced Shopify' plan ($299) is common among merchants making huge sales per month. The plan comes with tons of features and customizations that makes running an online store a breeze. And 0.5% transaction fee per sale when using a third-party payment gateway.
The 'Shopify Plus' plan ($2000+) is perfect for big companies and organizations that want special features, tools, resources, and support to manage their business. You can consider this plan when you hit a $500k+ monthly sale. There are plenty benefits of Shopify Plus for established brands.
Any plan you choose depends on your choice. But it's ideal to pick a plan that has enough features you need. Just remember that the higher the plan, the better.
Related: Shopify Enterprise Pricing Review
Expanding your Art Business
Aside from selling your artwork through your online store, the next best place to sell artwork is where your target customers already exist. 
If you have already built a large audience on any platform, it makes sense to integrate such a platform with your store for maximum brand exposure.
Online marketplaces like eBay or Etsy can integrate directly with your online store, so you can sync sales and increase your brand reach. 
Social media platforms like Facebook and Instagram are also good places to sell. You can connect these platforms to your Shopify store and market your art to your followers.
Lastly, you can wholesale to online boutiques and galleries that sell similar products to yours. By exploring wholesale marketplaces like Handshake, you can find tons of prolific retailers that can sell your art.
At the beginning of your journey, it's better to focus only on your online store so you can build your brand. Then later, you can switch to having multiple sales channels.
Marketing your Brand for More Exposure
Most artists started from social media, gaining a few thousand followers, then selling to them. But marketing your online store follows many paths.
You need to boost your online presence to make a good number of sales. The more traffic you can drive to your store, the more chances of making high sales. There are various ways to gain traffic to your store.
Content marketing
Content marketing allows you to drive organic traffic to your store by creating content that solves your target audience's problem. As an artist, you must have several experiences with art. By turning those experiences into blog posts, you can easily promote your artwork.
For example, in the US alone, over 22,000 people are searching for "types of art" every month. By creating content targeting that exact keyword (types of art), you can get thousands of people to read your content, and you can market your artwork to them efficiently without being too salesy.

You will need to modify the keyword to something like "5 types of art you need to know". Use tools like Ahref or SemRush to get thousands of keywords to create blog posts on.
The idea is simple, create a blog page on your Shopify store and gain organic traffic through content marketing.
Run Ad Campaigns
Content marketing is good, but it might take some time to get people to read your content. The faster way is running ad campaigns. Platforms like Facebook, Google, and Instagram are perfect for running ads to target your potential customers.
But to get the best ROI, Google ads should be your top choice.
For example, if you search "buy art online" on Google, the first few results are ads from stores selling artwork. This means those stores will have their ads appear anytime someone searches for that keyword. Also, you can run ad campaigns targeting multiple keywords.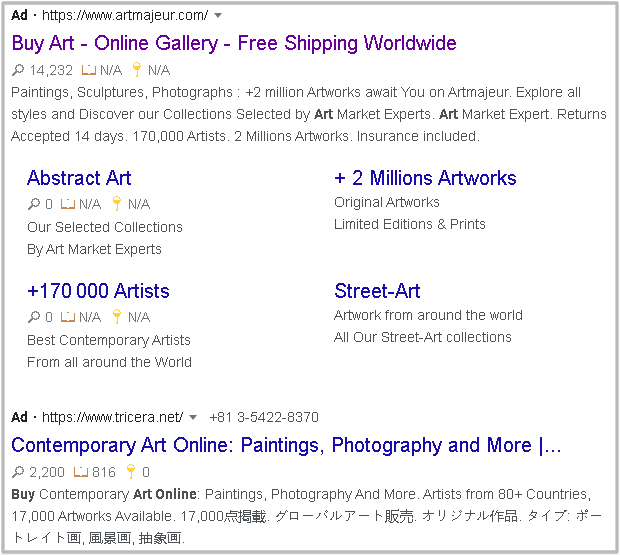 You can try running ads on several platforms until you find the perfect one with the best conversion. The joy of running ads is that: you can start making sales from day one.
Optimize your Store for Search Engine (SEO)
By optimizing your store for search engines, you are guaranteed consistent free organic traffic every time someone searches for keywords you optimized for. 
Shopify is suitable for search engine optimization (SEO), considering the plethora of SEO features and apps they offer. Doing SEO for your Shopify store is easy. Check out this guide.
Other ways to market your art store include:
Influencer Marketing
Running Contests
Offline marketing
Social, organic marketing
Optimizing for Google my Business (GMB)
Packaging and Shipping Art
Shopify is a complete e-commerce platform, but it doesn't help with shipping products. You can either do the shipping yourself or invest in a shipping company.
If you are shipping your artwork yourself, you must take precautions and ensure you get things right to avoid damages. Smaller prints are best shipped in rigid cardboard mailing envelopes and larger prints in larger mailing tubes.
But if you work with a shipping and fulfillment company, they will note all the precautions. You can also work with print-on-demand companies if that's your business model.
Shopify for Artists – Try it for Free
Selling your artwork online can be tricky; you need to get every box ticked. But with Shopify, everything you need to build your art store is available.
I hope this Shopify for artists guide helps you to expand your art business and maximize your profits.
Fortunately, You don't have to pay to start using Shopify. You can enjoy a 14-day free trial to explore and test the platform. Grab Shopify 14-day free trial here.
Related:
Flourish & Thrive Academy Reviews