In this Spocket vs Shopify debate, you'll learn everything you need to know about both platforms, including how to use them for your dropshipping business.
Without further ado, let's dive in.
Spocket vs Shopify Overview
What is Spocket?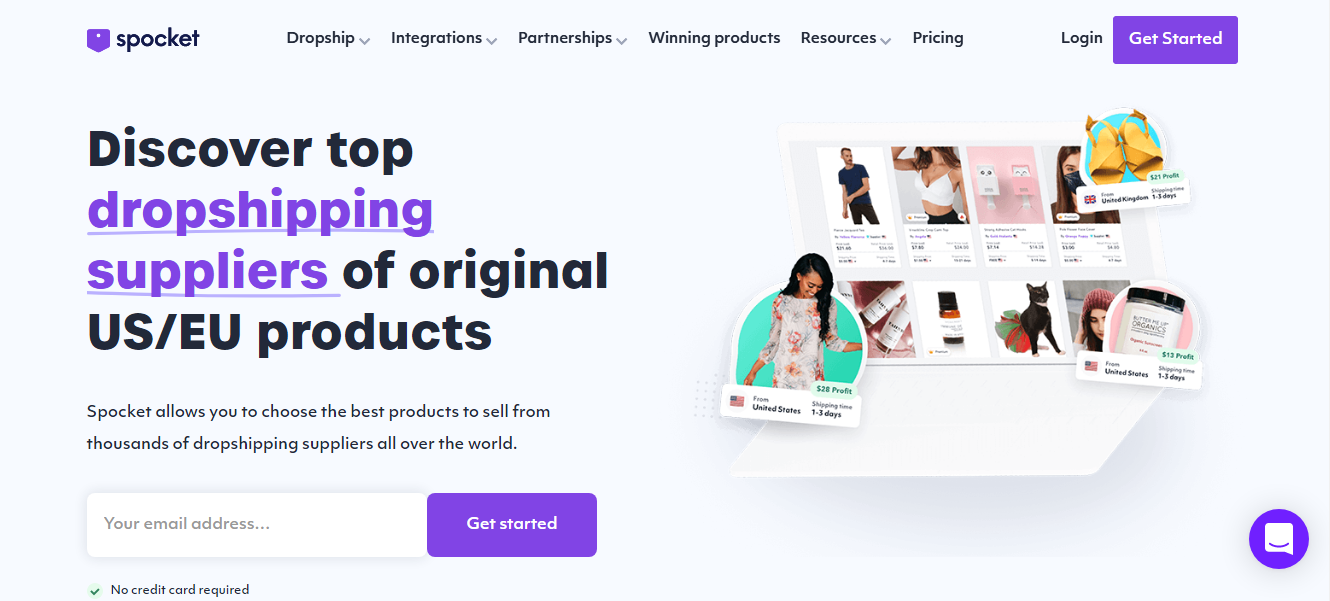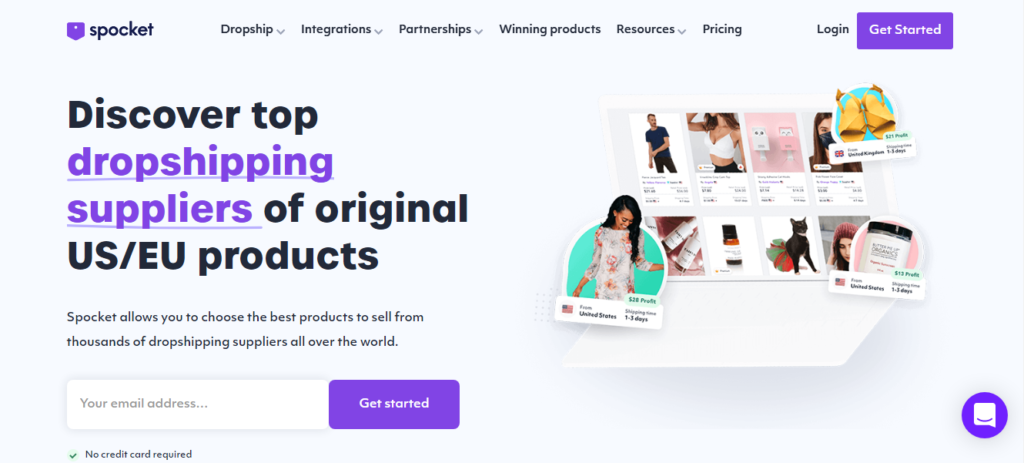 Spocket is a game-changing supplier and product sourcing app to take your dropshipping business to the next level. It offers many competitive advantages you can leverage to outperform your competitors. In addition, it grants you access to better products, faster shipping times, personal branding, and excellent customer support, among others.
You can read this in-depth Spocket dropshipping review to learn more.
What is Shopify?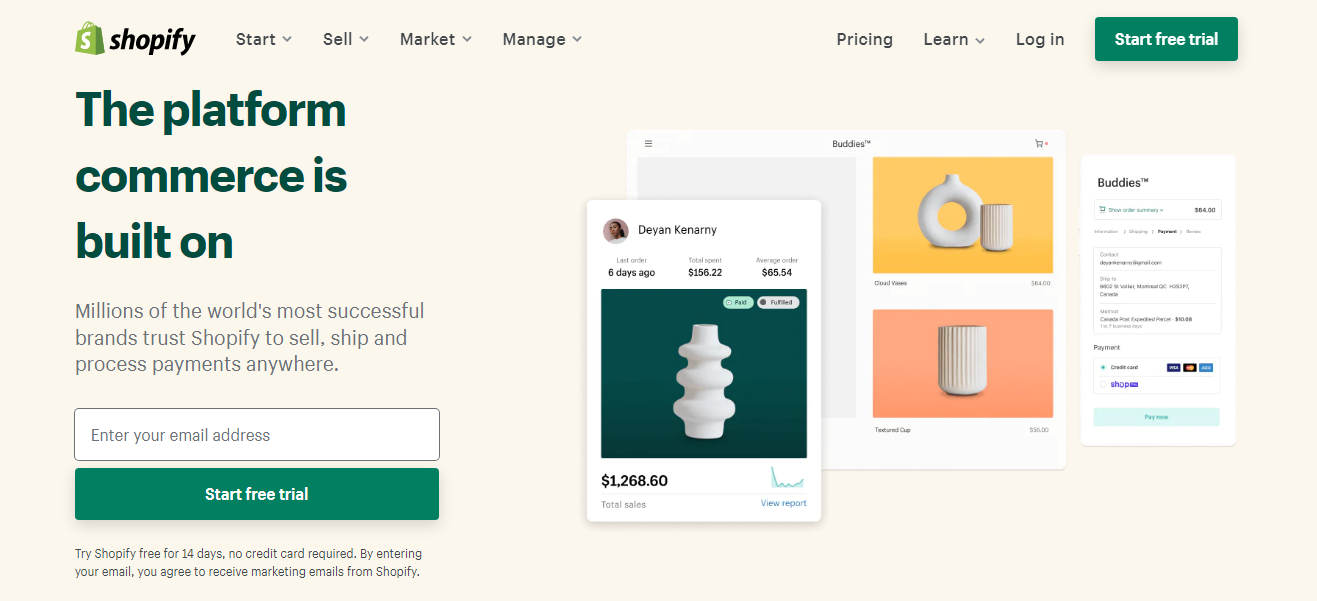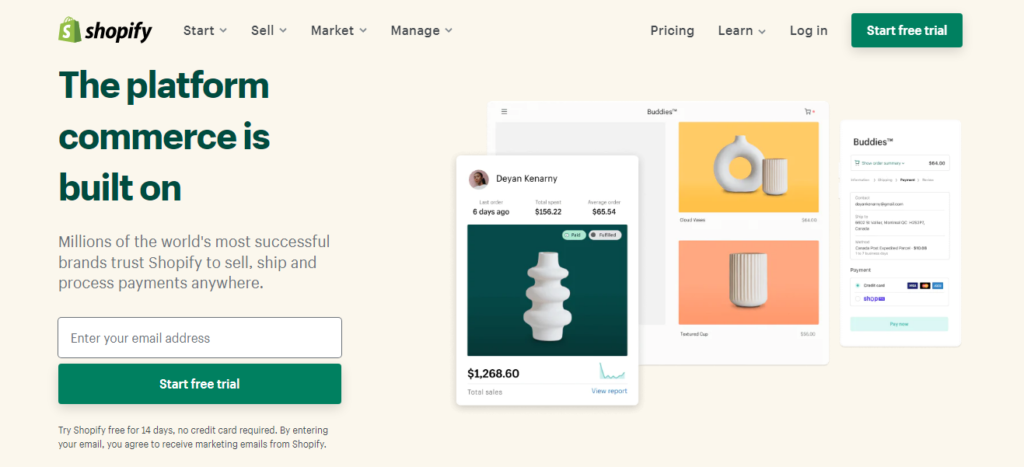 Shopify is a versatile e-commerce store builder that lets anyone build a fully-functional online store without technical skill. The platform operates on a web browser, so you don't have to download any software to use it.
Shopify is feature-packed. It provides tools and features that help you manage your e-commerce business efficiently. You also don't need to pay for hosting; it's already included in every plan.
Shopify and Spocket are Two Different Platforms 
I love to quickly clarify that Spocket and Shopify are two separate platforms. 
Spocket is best for finding quality dropshipping products from vetted suppliers and importing them to your store in 1 click. Shopify, on the other hand, is an e-commerce platform that allows you to create a fully-functional online store by offering you all the needed tools and resources.
So to use Spocket, you must have built your dropshipping store on eCommerce platforms like Shopify, WordPress, etc. You can then connect Spocket to your store. I will expound more on that later.
However, Shopify allows you to build any kind of online store. It also supports third-party integrations. For example, you can install apps like Spocket and Oberlo on your Shopify store.
By reading this Spocket vs Shopify comparison to the end, you will learn what both platforms can offer. I will also enlighten you on how to use them, including how to connect Spocket with your Shopify store or any other e-commerce platform.
Here is how Spocket works:
Sign up for a 14-day free trial (credit card not required)
Connect your store to Spocket
Take a tour around the platform
Find products on the marketplace
Pick the best supplier
Order a sample
Import products to your store with one-click
Create a branded invoice
Fulfill orders in one click
Here is how Shopify works:
Choose a theme
Create important pages
Add products
Install crucial apps
Pick a plan at the end of the trial
Advantages of Spocket
Here are the features of Spocket for dropshippers.
1. Easy to Use
Spocket is beginner-friendly and easy to use. Once you sign up for your 14-day free trial, you can have access to every tool and feature on the platform. The dashboard is easy to navigate, and there is a 4-step onboarding guide that shows you around the website.
Connecting Spocket to your online store is also stress-free. You can go under the "MyShop" tab to connect your store. Spocket can work with Shopify, Wix, Square, BigCommerce, and more.
2. Wide Range of Products
Why do you think dropshippers love Spocket? One answer: Quality Products.
If you know how dropshipping works, you will understand that mediocre products are the major setback for dropshippers. This is because sellers usually source products from AlliExpress. And the truth is most products on that marketplace suck.
However, Spocket grants you access to better products, better returns, better communication, sample policies, and more.
You will also have access to products in 15+ categories. Under the "Trending" section, you can find products with upward sales trends. 
If your Spocket plan gives you access to "premium products," you can dropship some handpicked items that are usually the best-selling and offer a 30 – 60% discount. 
To crown it all, Spocket has an impressive return policy. If something is incorrect, unfairly damaged, sent to the wrong address, or late, Spocket will take it upon them to ensure you get your total refund.
3. Verified Suppliers
I mentioned that Spocket sells only quality products. But how could that be possible if their suppliers are not doing well?
We can attribute Spocket's product quality to its trusted suppliers. 
Spocket doesn't usually accept suppliers. To get accepted, the suppliers must complete a difficult screening process, from online interviews, sending product samples for testing, and sometimes physical interviews.
Also, Spocket vets and rates suppliers based on their processing and shipping times and product quality, which allows you to identify the best products quickly.
4. Support Sample Ordering
Unlike AliExpress, Spocket allows you to order and test the product you want to dropship before adding them to your store. 
Once you click on a product, you will see an option to order samples, which will be delivered in 2 – 3 days. This process allows you to verify shipment policies, inspect the product, and take personalized photos you can use as product images.
5. One-Click Import Product
Once you find a product you are confident about on the Spocket marketplace, you can add it to your store using the 1-click importer.
This is very easy. Just place your cursor on the product you want to add, then click "add to import list."
You can modify the product settings, including the product name, description, type, tags, images, variants, profit margin, and more. 
The "Global Pricing Rules" allow you to automatically price your product without changing the price manually. It gives you many options like a multiplier, percentage, and fixed profit.
6. Supports Branded Invoicing
Another reason Spocket beats other dropshipping sourcing platforms and tools is its branded invoicing feature. Judging from one analysis that shows that 80% of customers identify brand trust as a dealbreaker, you should leverage this feature to your advantage.
Spocket allows you to create a branded invoice per order that carries your store's name, address, logo, email, phone number, and a personal note.
7. Quick Shipping Time
With AliExpress, it takes weeks for your products to be delivered to your customers. Unfortunately, this is why most AliExpress dropshippers' fails. 
This is where Spocket won the game. You can be confident any product dropship from Spocket's marketplace will be delivered to your customers in 2 – 5 days. 
8. Order Fulfillment
Thanks to Spocket, you no longer need to manually send every order to your suppliers, which is a big time-waster. Instead, the process is now automated.
Once your customers enter their details and pay for products, you only need to click on "confirm" to send their information to your suppliers. You can manage your orders and track shipping from the "MyOrders" tab.
I should also mention that Spocket updates inventory automatically. So you can know the status of products you are dropshipping, whether they are out-of-stock or about to.
Spocket customer service is also commendable. They are always willing to help when you need them.
Spocket Pricing
Here is how much it costs to use Spocket:
Free – $0 per month
Starter – $24 per month after 14 days free trial
Pro – $49 per month after 14 days free trial
Empire – $99 per month after 14 days free trial
Unicorn – $948 per year after 14 days free trial
The features you will have access to depend on your plan. To know more about that, I recommend you check How much is Spocket dropshipping.
Benefits of Shopify
1. Easy to Set Up
Creating a Shopify store is very easy. First, you must sign up for a 14-day free trial (no credit card required). This allows you to access your admin dashboard, where you can manage all your store's activities. 
Shopify also provides extensive documentation and video tutorials to guide you on building your store. With Shopify, all you need are products to sell; everything else is in place.
2. Built-in Payment Gateway
Shopify has its built-in payment gateway (supported by Stripe) that allows you to process payments from your store without installing a third-party gateway.
Using this payment mode also means you won't be paying any transaction fee per sale, and your credit card fees will be low. But, of course, you can also use other payment providers if you don't want the built-in payment system.
3. Easy to Customize
With Shopify, you can access over 160 pre-design themes you can install on your store and customize to your taste. Every theme is designed based on what you intend to sell on your store,
For example, if you go to the clothing category on the Shopify theme store, you will find themes created for displaying and selling clothing products. 
Plus, these themes are easy to customize. You can modify the designs using drags and drops—no learning curves. Using a Shopify theme, you don't have to design your store from scratch or hire a developer.
4. Extensive App Store
Shopify has an App Store containing apps for everything. Think of any activity you need on your store; there is an app for it.
You can add reviews, customer wishlists, loyalty programs, get detailed analytics, print labels and packing slips, integrate with shipping companies, accounting software, social media sites, and more. 
With over 1,500 options to choose from, you can find any app you need to take your business to the next level.
5. Abandoned Cart Recovery
The Abandoned Cart Recovery is a powerful feature available on all Shopify plans. 
According to research, over two-thirds of visitors will check your store without buying anything. 
If this happens on a Shopify store, you can use the Abandoned Cart Recovery setting to automatically track and email those visitors who check your online store and add some products to the cart but didn't purchase.
You can remind them about the products they wanted to purchase earlier and even offer them discounts to encourage them to proceed with the order.
Shopify Pricing
Shopify costs money. But you can sign up for a free trial to use the platform for 14 days without paying a dime. No credit card is required. Shopify has three popular paid plans; Basic ($29 per month), Shopify ($79 per month), and Advanced ($299 per month).
To understand the plans and what they offer, check out this article: How much does Shopify cost per month.
Connecting Spocket to Shopify
Here is how to connect Spocket with Shopify in 6 steps:
Sign up for Spocket's 14-day free trial to have personal login details (you will need it to log in)
Log into your Shopify store
Go to the Shopify App Store and search for Spocket. 
Install Spocket onto your Shopify store by clicking on Add App
Allow the necessary authorizations and permissions to integrate with Spocket
Once installed, you will then be redirected to the Spocket dashboard
Once you build your online store on Shopify or any other eCommerce, you can connect it with Spocket and start adding products to your store.
Conclusion
It makes no sense to compare Spocket vs Shopify because they are two different platforms but can work together.
If you are just starting your dropshipping business, I highly recommend signing up for Shopify's 14-day free trial to build your store. It has everything you need, and it's easy to use.
Then sign up for Spocket's 14-day free trial to find quality products and add them to your store in one click. 
Combining these two platforms produces magic for a dropshipping business. You will be ahead of other dropshippers in no time.
The best time to start is now.
Related: